Tyson Fury interview: British heavyweight embraces Mexican independence spirit ahead of Otto Wallin clash
The Independent
12/09/2019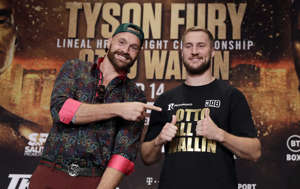 On his Las Vegas debut 13 weeks ago, Tyson Fury wore Stars and Stripes and emerged to James Brown's seminal track Living in America while flanked by Sin City showgirls.
Three months on, Fury is back in the Nevada desert and is this time embracing his outing on Mexican Independence Weekend with similar vim and vigour.
© Provided by Independent Digital News & Media Limited But the Gypsy King, who has renamed himself El Rey Gitano for the occasion, explained why he believes what has been described as a low-key clash with the little-known Swede Otto Wallin is his opportunity to make a socio-political statement on The Strip.
A few hours after performing an open workout at the MGM Grand in a white and gold Lucha Libre mask, Fury sat down at the offices of his new American promoters, Top Rank, more relaxed and happy than he has been at any point since making his comeback last year following nearly 1,000 days out of the ring.
And so he should be. His deal with Top Rank and ESPN is worth a reported $100m, and this is his second consecutive fight headlining in Vegas.
"It comes at a great time," he says red baseball cap on back-to-front. "And isn't it a great thing that a total outsider from this country is showing so much love, passion and respect for the Mexican people who, at the minute, are being oppressed by the people here – building a wall, chucking 'em all out and treating them terrible.
"Every Mexican person I've met has shown love, respect and honour. They're God-fearing people. I don't know what is going on but it is nice to see a total stranger, heavyweight champion of the world, coming here and respecting people and paying homage to their beliefs and special days."
One of the signature campaign promises of Donald Trump's successful campaign to become President in 2016 was to 'build a wall' along the Mexico/America border and 'make Mexico pay for it'. He has since allocated billions of dollars to begin the construction along huge parts of the 2,000 mile border.
Now Fury believes he feels a deep connection with the Mexicans living in America due to his own experiences growing up as a traveller in England.
"I 100 per cent know that feeling," he adds. "I've grown up around it, I've been brought up around it.
"But this weekend is a very special time; it is when the Mexicans became independent of Spain. Up until a few days ago, I thought it was when the Mexicans became independent from America.
"That was a bit of educational information for me, I don't know what I will do with it. It is one of those things that you store and bring it back up in five years maybe as a quiz question.
"It's a big celebration. I was told there is going to be a lot of Mexicans here, it's a big celebration. We have Mexicans on the team, we have our trainer Jorge.
"He has been with us for the last few camps here. We have got a lot of Mexican influence around us here. We show respect to all cultures and religions and all walks of life.
"I've got the Mexican shorts, the Mexican gloves, the Mexican mask, the Mexican music, the Mexican flag. I don't know how much more respect I can show."
Boxing on Mexican Independence Weekend has become synonymous with Las
Vegas ever since the days of the nation's idol Julio Cesar Chavez. Oscar De La Hoya assumed the mantle once Chavez retired before Floyd Mayweather cashed in on the date himself in the latter years of his career.
Mexico's latest superstar Saul 'Canelo' Alvarez has since made the date a cornerstone of his annual calendar but when he decided to push his next fight date back into the winter, Fury took full advantage.
"That is quite a list of names there," he says. "The funny fact of it was Canelo was supposed to box this weekend here in Vegas but for whatever reason he decided not to.
"But I stepped up for the Mexican people because they were not going to have big boxing on this date for the first time in a long time.
"I brought the fight forward four weeks in order to do this. Good job I stayed fit. I am in shape and always ready. It was supposed to be in New York in October but I decided to bring it forward and box on a special date.
"After I beat Tom Schwarz in June, this is the second fight back to back and I'm starting to feel like part of the furniture here.
"My face is as popular now as David Copperfield's is on the MGM. It is everywhere."
Tyson Fury takes on Otto Wallin live on BT Sport Box Office this Saturday and the fight can be watched through BT Sport Box Office on BT TV, Virgin TV, Sky, online via the web or the BT Sport Box Office App.
MSN UK is committed to Empowering the Planet and taking urgent action to protect our environment. We're supporting Friends of the Earth to help solve the climate crisis, please give generously here or find out more about our campaign here.
Related: Boxing's greatest ever upsets [Read Sport]