'When I said five his eyes popped open like I startled him': Referee Jack Reiss explains why he allowed Tyson Fury to continue after heavy knockdown in final round of Deontay Wilder clash

Daily Mail
05/12/2018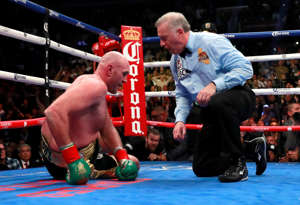 A special message from MSN:

While Christmas is a time of joy for most of us, that's not the case for the UK's most vulnerable children and young people. We've partnered with giving platform Benevity to raise funds for two charities - the NSPCC and The Children's Society – to try to help change that. You can help make a difference - please donate now.
Referee Jack Reiss has lifted the lid on the stunning few moments after Tyson Fury was savagely knocked down by Deontay Wilder - and explained why he allowed the Gypsy King to continue. 
Fury and Wilder battled to a controversial draw in Los Angeles on Saturday night, with the challenger twice climbing off the canvas to hear the final bell.
Wilder looked set to continue his impressive knockout record when he floored Fury in the final round, leaving the heavyweight flat on his back and seemingly out for the count.
Video: Fury - Hand of God brought me back (Sky Sports)
But Fury somehow rose to his feet and survived the rest of the fight. Reiss has been lauded for his decision not to wave the fight off and now the referee has explained the thinking behind his decision. 

KNOCKDOWN RULES 
A knockout occurs when an boxer is floored by his opponent or otherwise is down and the referee reaches the count of 10 before the boxer is back on his/her feet.
Even if a fighter rises to his/her feet, referees will check they are fit to continue before the waving the fight on. 
Fighters are often made to walk towards the referee to check they're on steady legs. On Saturday, Reiss asked Fury to walk towards the corner of the ring and asked him if he could carry on. 
'I was evaluating these guys throughout the whole fight (and) in the 12th round, they'd boxed their hearts out, threw a lot of punches but there wasn't a lot of heavy damage taken by either guy,' he told SiriusXM Boxing. 
"He needs banning from boxing because he can't judge!"

"Rochin, you need sacking!" 😡

The Lineal Champ, Tyson Fury, pulls no punches as he slates Alejandro Rochin who scored the fight 115-111 to Deontay Wilder... pic.twitter.com/oVNP0USAwW

— Boxing on BT Sport 🥊 (@BTSportBoxing) December 3, 2018
'They both moved into the 12th round tired but not extremely hurt. When (Fury) got hit and he went down hard, that was an unbelievable knockdown.
'Two things went through my mind - No 1 always count a champion out and No 2 give this guy the benefit of the doubt and let's see how he still is. 
'So when I went down to count... not only did I get down, I scooted in so he could see my hand and hear my voice.'
Fury was floored by a huge right hand-left hook combination that snapped his head back and sent him crashing into the canvas.
Though he lay motionless on his back for several seconds, Reiss always knew he was not knocked out. 

'I said three, four... he was grimacing, his eyes and his cheeks, he was grimacing so I knew he was awake and then when I said five his eyes popped open like I startled him,' the official added. 
'He rolled over and got up and said "I'm OK! Jack I'm OK" or whatever he said.'
'I said, "Do you want to continue?", he said "Yes" and put his arms on my shoulders. I pushed his arms off and said walk over there, come back to me and show me you're OK. He did and we let it go.'
Gallery: What's next for Fury? (Read Sport)
Reiss has come under fire from some observers, who claim he gave the Gypsy King more than his allocated time to recover.
But the referee hit back at his critics, insisting: 'The 10 count doesn't mean 10 seconds. 
'It is the referee's opportunity to make sure the fighter who is hurt can intelligently defend himself because you're about to let a guy come hurtling across the ring and finish this guy. 
'People started making them walk in a straight line, any drunk can walk in a straight line. Doctors taught us it is hard to hide things are off when they have to change direction. That's what I was doing.'