Robin Smith interview: 'I had worked out how I was going to kill myself'

The Telegraph
4 days ago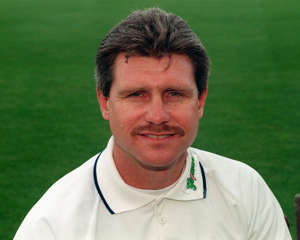 The England team's social media campaign during this World Cup is entitled 'Express Yourself' and includes flashing images of switch hits, ramp shots, stumps splayed by fast bowlers and players dressed up as Roman soldiers.
Robin Smith laughs when I tell him this at the end of an hour's long interview in which he has talked about how his alcoholism, infidelity and depression eventually led to him planning his own suicide. How he and others of his generation could have benefited from that kind of backing. 
"I love the way they are now encouraged to express themselves and are supported by the management. I love they can do everything that we were not able to do in our day. They get a lot of support, and I don't think they are scared of failure because of that. I like to see personalities, too. In my day after the old guard [Ian Botham, Allan Lamb and David Gower] had gone personalities were suppressed. We were not encouraged to go out and express our personality."
Robin Smith's book is released tomorrow. It is brilliantly done by his ghost Rob Smyth and Smith himself has left nothing out. Plenty of cricket in there for the fans of his batting too.
Raw and honest.

— Nick Hoult (@NHoultCricket) June 12, 2019
Smith's book, entitled The Judge after his nickname and alter ego, is published on Thursday and is a fine sports autobiography. It is candid and moving without being mawkish or forgetting its readers will also primarily be cricket fans who want to know what it was really like facing Curtly Ambrose, Courtney Walsh and Ian Bishop (he loved it) and what it takes to play a square cut (he includes his seven-step plan on how to play it). 
But Smith's public face is well known - the man who averaged 43.67 in Test cricket, played some fine innings in an era of outstanding fast bowling, had his career cut short due to a perceived inability to play spin and was a popular figure loved by fans and fellow players alike.
The book tells the other story, revealing what happened when 'The Judge' relocated to Perth, Australia and had to become plain Robin Smith. He had not prepared for life after cricket and, quite simply, could not cope. The most harrowing passage is in the final chapter. He had already revealed how he would take his own life. 
It was only his family, and the chance meeting with his new partner, Karin, that turned his life around and prevented him from going through with his plan. But last year in order to address his demons so he could write about his suicidal thoughts, he checked in to the Rendezvous with Karin. He thought it would help summon the courage to talk about the darkest phase in his life. Instead he came face to face with the reality of suicide. 
Gallery: England's all-time ODI XI (Read Sport)
"We had just got back from the beach and were in our room. I went out for a fag on the balcony and about a yard away from me I saw someone falling. I said: 'Jesus Karin, someone has just taken their life.' We looked down and saw she had landed in the gutter on a roof below and was still breathing. We called the ambulance, then found the lady and we were right there with her, looking in this lady's eyes as she passed on. It was one of the most devastating moments of my life. 
"I was very upset and it took a long time to get over that because that was exactly what I was planning. I was grateful I had been saved. I remember she was an attractive lady, her nails were done beautifully and her hair. People would have looked and wondered why someone like her would do that. But I know what drives people because I was that close to doing it myself."
Smith reached that point after the break-up of his marriage to Kath, and the collapse of his business selling cricket helmets. He confesses to being a serial adulterer in his book and admits he was not equipped to cope with running a business and ended up downing two bottles of vodka a day for four years.
"That led to the break-up of my marriage, a disconnection with my children and loss of respect from the children," he says. "I lost my house, my dignity, a lot of money and my business. It just spiralled down.  I thought if I was no longer on this planet I would not be such a burden on the family, or on the children. 
Gallery: Cricket World Cup legends then and now (Photos)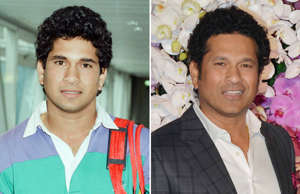 "It was going to happen, without doubt. Then my son found me curled up in my apartment in not a very good shape. I went back to stay with my brother and that was the start of the rehab. I had not stopped drinking completely but I curbed my habits. I then moved to another apartment but I was lonely, started drinking more and then I thought the only way for me to recover was to have the support of my parents so I moved back in with them. 
"Karin had moved into another apartment in the same block a month earlier and that is when I met her. She didn't know who I was. The only cricketer she had heard of was Shane Warne. It was nice to meet someone neutral."
Karin is sitting next to him as we speak in the boardroom of Random House, his publisher, holding his hand and butts in. "He was a good man with a bad problem," she says. His problem was alcohol.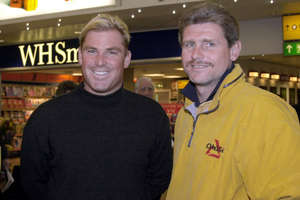 Smith believes he had a split personality. Not in the psychological sense but just two sides of his life that were always colliding. There was 'The Judge' and there was Robin Arnold Smith, two people he describes in a chapter entitled Fractured Identity. "Robin Smith for me is a shy, introverted, quiet, gentle person who found it very difficult to enjoy the limelight," he says. "A lot of sportsmen love being on the stage, love walking into a room and being recognised. I shudder with that. I found that very difficult to cope with and one of the reasons I used to drink. 
"'The Judge' was the cricketer who tried to put on this persona of being confident and self-assured, looking to have a presence. I put my shoulders back, head held high and walked with purpose to be positive. 
"I was amazed when Michael Vaughan wrote at the back of my book about how I was his hero and he really wanted to be like me with that confidence. I read it and went: 'Jeez, if only you had known I was not that person you thought I was'. 
"In the middle of my career they started to have big screens in the ground and they would put your stats up. As I walked out I would read those stats just to remind myself I was good enough to be in the paddock with the other players. That is how much I struggled with my confidence."
___________________________________________________________________________________________________________________________________________
The Samaritans offer support and advice to people feeling suicidal or vulnerable 24 hours a day, 365 days a year.
Their website is http://www.samaritans.org, email address jo@samaritans.org or call free on 116 123. ____________________________________________________________________________________________________________________________________________
When he suggested a sports psychologist he was angrily turned down by Keith Fletcher, then England coach. "He said: 'If you need a f------ psychiatrist - he didn't even know the difference between a psychiatrist and a psychologist -  then you shouldn't be playing for f------ England anyway' and walked off. I thought if it is good enough for the best golfers in the world and American sports it must be good enough for the England cricket team but they were old school in their approach and saw it as weakness."
Who knows how things would have turned out if help had been available in the mid-1990s when there was little regard for mental well-being in sport. Even now, it is clearly difficult for Smith to talk about the darker periods in his life. Although he says the book has "cleansed" him of some tough memories, the publicity around publication brings it back. 
He will be at his old county, Hampshire, on Friday to see England play West Indies in the World Cup and it would be a lovely gesture if he was invited to nets and to spend some time with the current players, who could regale him with tales of how they are encouraged to express themselves in this new, enlightened era of man-management.
Smith cannot resist another laugh. "Maybe they should have listened to me 20 years ago," he jokes. He is right.