Paul Scholes expecting to be scrutinised by Jose Mourinho as he takes on Oldham job

Press Association
11/02/2019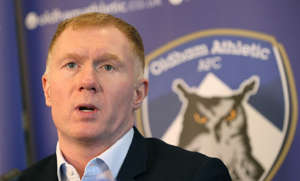 © getty Paul Scholes expects his first attempt at management with Oldham to be scrutinised by Jose Mourinho – although probably not in person. Paul Scholes expects his first attempt at management with Oldham to be scrutinised by Jose Mourinho – although probably not in person.

As a pundit the former Manchester United midfielder, who has signed an 18-month contract with Latics, was one of the Portuguese's most damning critics during his spell at Old Trafford.
However, Scholes has now swapped the television studio for the dugout as he seeks to lead Oldham – his boyhood club and close to where he now lives – out of League Two.
__________________________________

MORE ON MSN:
Root century puts England on top[The Independent]
Solskjaer in bullish mood ahead of PSG test [Daily Mail]
Blanc: I spoke to Man Utd [Sky Sports]
__________________________________

"I think he will be watching results," said Scholes when asked about Mourinho.
"Whether he will be watching the games I am not too sure.
"That is part of the thing that bugged me a little bit. I wanted to get into it (management) anyway but I have left myself wide open. I have been quite critical.
© Barrington Coombs New Oldham manager Paul Scholes is ready for the criticism which may come his way from pundits (Barrington Coombs/PA) "I don't think we will get many pundits watching – (although) if we are losing games I am sure people will be popping up – can say what they want.
"I have never really understood why players and managers take notice of what pundits say anyway. They are just giving an opinion on the game and get paid for doing so.
Ole Gunnar Solskjaer's advice for Paul Scholes?

"All the best... Watch out for the pundits!"

"He's been asking for it..." 😂 pic.twitter.com/kTMkovBXuW

— Football on BT Sport (@btsportfootball) February 11, 2019
"If anyone wants to have a dig at me, I won't be taking any notice. The only person I answer to is the owner."
Scholes has plenty of former colleagues and friends for support and advice and while he may tap into contacts at Manchester United (friend Nicky Butt is head of the academy there) he is keen to find his own way in management.
But he always has the great Sir Alex Ferguson to call on should he need some wisdom.
"I'd speak to anyone yeah, I'm sure the gaffer is on the other end of the phone," he added.
© Provided by The Press Association Former Manchester United's midfielder Paul Scholes has former boss Sir Alex Ferguson to speak to for advice as he begins his first steps in management (Martin Rickett/PA) "He'll want me to do well and if I need any help from him, I'll be ringing him, of course I will.
"I've got great experience with Gary (Neville) too, what he did in Valencia, Ryan (Giggs) with Wales and under Louis Van Gaal (at United).

"I'll definitely be speaking to them a lot. When I'm not quite sure what to do I'll be looking to them for advice."
There have been reports of interference in team affairs from club owner Abdallah Lemsagam and his brother Mohamed, who is the club's sporting director.
However, Scholes insists he will not stand for that.
Here's the news you've been waiting for...

Latics Appoint Paul Scholes As New Manager! #oafchttps://t.co/Kc4O6jLvxa

— Oldham Athletic AFC (@OfficialOAFC) February 11, 2019
"I don't think there was any need for a conversation. As the owner of a football club, he is going to be interested in his team, I am sure about that," said the 44-year-old.
"He won't be picking the team – myself and the coaching staff will be picking the team, so I think we are quite clear on that.
"I wouldn't be here if I wasn't confident on that.
"Like I say he is interested in his football club but he runs the football club and I run the football team along with my staff."
Gallery: How England legends have fared in first managerial roles (ReadSport)