Neymar leaves Brazil training session limping

Associated Press
20/06/2018
(Sports Illustrated)
SOCHI, Russia — Neymar limped out of Brazil's training session at the World Cup on Tuesday because of pain in his right ankle.
The Brazilian soccer confederation said the injury was not serious, adding Neymar left as a precaution and would be back in training on Wednesday.
Fixtures, results, player profiles and more: Find everything you need to know about the World Cup on Bing
The federation said Neymar has been in pain since the team's 1-1 draw against Switzerland on Friday, when he was consistently fouled.

Neymar started practising with the rest of the squad but left accompanied by a doctor about 30 minutes into the session in Sochi.
© The Associated Press Brazil's Neymar leaves a training session because of pain in his right ankle, in Sochi, Russia, Tuesday, June 19, 2018. Brazil will face Costa Rica on June 22 in the group E for the soccer World Cup. (AP Photo/Andre Penner) He had been playing keep-away with a few other players when he started showing signs of discomfort in his ankle. He was visibly in pain after he tried to intercept a ball with his right foot while at the center of the keep-away circle.

At one point, he bent down and grabbed his ankle, but tried to continue playing anyway. A few moments later he finally decided to leave, kicking a ball away with his left foot before limping away beside the team doctor.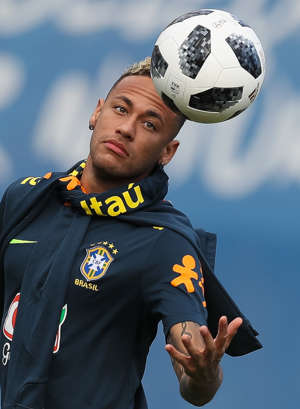 © Getty SOCHI, RUSSIA - JUNE 19: Neymar Jr controls the ball during a training session at Yug-Sport Stadium on June 19, 2018 in Sochi, Russia. (Photo by Buda Mendes/Getty Images) "Neymar left the training session with some pain in his right ankle because of the number of fouls he suffered in the game against Switzerland," federation spokesman Vinicius Rodrigues said. "Since today was only a recovery session for the starters, and he complained about pain, he ended going to rehabilitation."
Rodrigues said Neymar would continue his recovery process but was set to practice normally on Wednesday, two days before the team's match against Costa Rica in St. Petersburg. Brazil and Switzerland are two points behind group leader Serbia, which defeated Costa Rica 1-0 in its opener.
Neymar had already practiced separately from his teammates on Monday.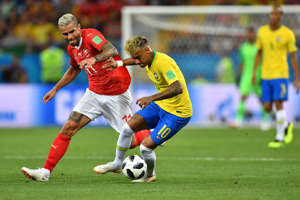 © Getty Switzerland's midfielder Valon Behrami (L) and Brazil's forward Neymar compete for the ball during the Russia 2018 World Cup Group E football match between Brazil and Switzerland at the Rostov Arena in Rostov-On-Don on June 17, 2018. (Photo by JOE KLAMAR / AFP) / RESTRICTED TO EDITORIAL USE - NO MOBILE PUSH ALERTS/DOWNLOADS (Photo credit should read JOE KLAMAR/AFP/Getty Images) Rodrigues said the pain Neymar felt Tuesday was not in the same place where he injured his foot earlier this year. Neymar was sidelined for about three months because of the injury and was not fully fit when he arrived in Russia for the World Cup.

Heavily marked and far from his best, Neymar was fouled 10 times in the match against Switzerland in Rostov-on-Don. He was limping when he talked to reporters after the match, when doctors dismissed anything serious.
Brazil coach Tite said before the tournament started that Neymar wouldn't likely be in his best form until the third match of the group stage.
"Neymar is one of the best players in the world and it's a great plus to have him in the team," said Philippe Coutinho, who has gained a bigger role as Neymar struggles with his fitness. "When he is on the field he helps us a lot. He is a very important player for us."
Related: 5 players apart from Neymar who can decide the World Cup for Brazil ( Sportskeeda)
MSN Loneliness Campaign: Could you go a week without seeing anyone? We're helping three charities raise funds for the 9 million people affected by Britain's 'silent epidemic'. Find out more and please donate now.