Pride of a nation: Heartbroken England squad promised a hero's welcome despite crashing out of World Cup

Evening Standard
12/07/2018
© Provided by Evening Standard Limited The nation has called for a hero's welcome for England's football team despite crashing out of the World Cup in the semi-finals.
Millions of heartbroken fans will today return to offices with their heads held high despite World Cup dreams being dashed.
Players slumped to the floor at full time following Mario Mandzukic's 109th minute winner at the Luzhniki Stadium in Moscow.
Match highlights - Provided by SB Nation
England fans left the stadium singing "Don't look back in Anger" as they faced taunts from several groups of Colombian fans on the concourse.
Croatia robbed England of a place in the final for the first time in 52 years but the nation has praised their team for "uniting the country" and hailed their manager a "national hero".
The squad are expected to return home to a hero's welcome following the third place play-offs against Belgium on Saturday.
Captain Harry Kane echoed the thoughts of the nation and said: "We can hold our heads up high. We have gone further than a lot of people thought we would do.
Related: For all the latest news and opinion, visit our World Cup hub HERE
"Obviously it has been great to get to this stage and we know we have done everyone proud — but we wanted to win. We wanted more and are sad we couldn't give our fans a final."

Manager Gareth Southgate comforted his devastated players on the pitch before embracing his family.
© Provided by Evening Standard Limited Gareth Southgate supports his squad (AP) He said in a rallying cry to the nation: "We've come an incredibly long way in a short space of time.
"The whole thing is beyond where we thought we might go. Tonight we weren't quite there. But the team will be stronger for it."

The sorrow of broken dreams showed on the faces of millions of heartbroken fans who gathered at screenings across the country.
© Provided by Evening Standard Limited Fans sob in Hyde Park following the game (Getty Images) Tears flowed among 30,000 hopefuls at London's Hyde Park echoing scenes of despair across the UK.

Prince William led praise for England's men as he took to the official Kensington Palace Twitter account to speak of his pride in the team.
"You've had an incredible #WorldCup, made history, and gave us fans something to believe in.
"We know there is more to come from this @england team."
Prime Minister Theresa May said: "Wasn't to be this time but it's been a great journey that's made the country proud. We'll be flying the flag on Saturday."

England came to a standstill as the 7pm kick-off approached, with roads deserted and shopping centres abandoned as fans dashed home to catch the historic game.
The 23-man England squad, which has an average age of just over 26 and was the tournament's third youngest, had the hopes and expectations of a nation on their shoulders.
© Provided by Evening Standard Limited Dele Alli is comforted by Eric Dier after the game (PA) But a place in the World Cup final against France was not to be.
Within the first five minutes, English fans were given cause for celebration when Kieran Trippier scored a free kick, giving his side a dream 1-0 lead.

The crowd in Hyde Park went berserk as England scored, and those watching on the huge screen were drenched in beer as plastic cups flew through the air amid wild celebrations.
But emotions were to change, and fans in Bristol held their heads in their hands and wept following England's defeat.
Things we learned - Provided by Read Sport
Some threw drinks to the ground and stormed out of Ashton Gate Stadium, though some struck a more conciliatory tone.
Josh Quinn, 22, from Bristol, said: "It was a disappointing performance from England.
"The first half was amazing and the second half was terrible. I feel disappointed but proud."

Max Pemberton, 24, from Gloucester, had worn a waistcoat to watch the match.
© Provided by Evening Standard Limited The devastated England team (AP) "I'm devastated," he said.
"They have done so well. I'm devastated for them. It is the first time in our lifetime that we have seen a semi final. I really thought we'd see a final though."
Supporters at Birmingham's Archway outdoor cinema screen broke into applause for Southgate's team within a minute of the final whistle.
As some fans sunk to their knees in disappointment, 24-year-old sports coach Jaihon Sedgley said: "I am absolutely gutted but we go again in two years at the next tournament.
© Provided by Evening Standard Limited Gareth Southgate is greeted by his wife Alison and teenage children (Getty Images) "At the end of the day no one expected us to do anything at this World Cup and we got to the semi-final.
"That speaks volumes in itself. You have got to be proud."

Pockets within the Hyde Park crowd continued to clap and chant but the disappointment was obvious with some people with hands on their heads, tears in their eyes and too upset to talk.
Chris Treloar, 34, said: "I'm absolutely gutted, especially with the way the goal went in. It's a horrible way to go out of the World Cup.
"It's been fantastic until now."
© Provided by Evening Standard Limited Dejected fans leave Hyde Park (Getty Images) Reiss Malone, 33, said: "Overall you've got to look at it, and to get to the semis is a massive achievement and it could be our time in four years.

"But you won't get a better chance than this to win the Word Cup."
Nick Branch, 35, joked: "I'm a West Ham fan so I'm used to disappointment."
But he added: "There's a lot of positives and I'd like to think this is the start of something good."
England went ahead in the fifth minute of the first half after an unstoppable Kieran Trippier free kick found the net.
 In pictures: Extra-time goal brings heartbreak to England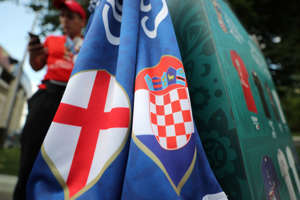 Croatia equalised in the 68th minute through Ivan Perisic who beat Jordan Pickford and England weathered a late storm to take it to extra time.

John Stones saw his header cleared off the line from another England corner before Croatia struck the winner.
Thousands of Russians fans inside the stadium made their boos heard whenever Croatia's Domagoj Vida touched the ball.
He is under investigation for allegedly making a video in which he shouts a phrase associated with anti-Russian Ukrainian nationalists.
Devastated fans who paid upwards of £500 for a ticket filed away from the stadium with thoughts of what might have been had Harry Kane converted a first half chance.
Fixtures, results, player profiles and more: Find everything you need to know about the World Cup on Bing