Raheem Sterling believes England are developing a 'winning mentality' as Euro 2020 final at Wembley looms

The Telegraph
10/10/2019
Raheem Sterling says that England are developing a "winning mentality" but can only be properly judged if they win a major tournament.
With England on the brink of qualifying for Euro 2020 if they beat the Czech Republic here in Prague Sterling admitted he had allowed himself to dream of winning it – with next summer's final, of course, at Wembley.
The forward said that having had a taste of going deep into a tournament – with England reaching the semi-finals of the 2018 World Cup – there is a determination to go one step further.
This was echoed by Gareth Southgate with the England manager saying that although he did not expect "to be doing laps of honour for qualifying" it remained a "a big deal" with his team likely to play all three group games at Wembley where the semi-finals and final will also he hosted.
It was Sterling, who will start in a three-man attack along with Harry Kane and Jadon Sancho who articulated the enthusiasm of the players who have come a long way – not just in the overhaul of the squad – but in confidence since Southgate took charge three years ago this week.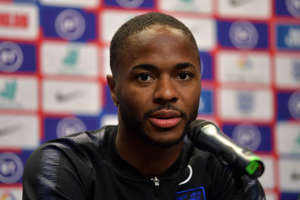 Asked whether he had allowed himself to think what it would be like to win a trophy with England at Wembley – he grew up a goal-kick away from the stadium – the 24-year-old said: "It's something you think of all the time, especially coming so close in the World Cup and having such a good run as a team.
"I think we're developing and we're kind of getting that winning mentality. The Nations League was a bit disappointing, but we've got another chance now and I feel that a lot of the players don't just want to be involved in tournaments and finish in the quarter-finals and say that was a good run, or the semi-finals.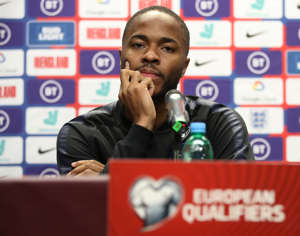 "I'd say every single player, and the manager, all want to go into tournaments with the thought of winning it. It will be a difficult task but it's definitely something that we all dream of winning."
Praise has been heaped on Sterling, Kane, Sancho and also Marcus Rashford with Southgate having recently said he has a "world-class" attacking roster to choose from but Sterling himself was more circumspect.
"I think that there are a lot of great front threes in the world," he said. "I think with the players you mention, they're all players that are still getting better, still learning, but at the same time are producing as well, so it's an exciting front three, but you know, we've got to do it in big games, big tournaments. That's when we'll be judged if we're a great front three or not."
England will seal qualification from Group A – where they have a perfect record so far of four wins from four – with another victory meaning they have achieved it with three fixtures to spare. In fairness Southgate has already said it is hardly the most taxing group and while this match will be among the most difficult it should be one that England should negotiate – especially if they have pretensions of doing well in the finals and having already beaten the Czechs 5-0 at Wembley, with Sterling scoring a hat-trick.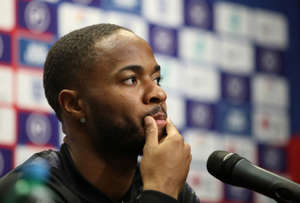 If they win Southgate will weigh up whether to allow the players to celebrate – with the next fixture against Bulgaria coming on Monday – depending on how the game goes. "You've always got to enjoy any wins," Southgate said.
"I always like to remind the players that sometimes, the tournament seems so far away, but it's the opportunity to qualify. The fact that we've got three matches at Wembley in the group stage is hugely exciting, so to qualify for any major tournament is a big deal, and just because to this point we've made that look comfortable, we should never take it for granted.
Gallery: England stars left out of current squad who'll be pushing for a place at Euro 2020(ReadSport)
"I can remember the last time we qualified for the World Cup, it was very flat and then we were watching France and Portugal celebrate, it seemed very strange. So, I let them all have a drink in Lithuania and we got on with it."
There is a balance to be struck. So often in the past England have been – rightly – accused of arrogance and presumption only to then be consumed by a lack of confidence, fear and, as Fabio Capello said, a sense that the shirt was heavy on their shoulders. One of Southgate's achievements has been to remove that fear, partly by blooding so many young players, a process he said he will continue with and with 20-year-old Mason Mount due to get his first competitive start against the Czechs.
Suddenly Sterling has become one of the elder statesman and also, with his club Manchester City, one of the few players who has won silverware. What makes the difference? "I'd say momentum, scoring goals but at the same time being able to see games out when it's not your day," he explained. "You know, there will be games when our attack is not quite up to scratch but we've got to grind out a result and wait for a key moment in the game, which will be a set piece, and score that. I think little key moments like that are definitely vital for England."
That should not be a concern against the Czechs, who have slipped down the Fifa rankings and are not the force they were when reaching the final of Euro 96, the last tournament where a final was held at Wembley and where, of course, Southgate played such a fateful part in England's semi-final defeat. He did not deliver then but he is determined to deliver for England now.
MSN UK is committed to Empowering the Planet and taking urgent action to protect our environment. We're supporting Friends of the Earth to help solve the climate crisis, please give generously here or find out more about our campaign here.