'England is a strange country': Gareth Southgate baffled by response to Wayne Rooney tribute

Evening Standard
08/11/2018
(Video provided by Sky Sports)
Gareth Southgate has labelled England a "strange country" in response to criticism of the Football Association's decision to hand Wayne Rooney a farewell appearance against the United States.
Rooney was this afternoon named in a 28-man squad which also included a first call-up for Bournemouth striker Callum Wilson, while Everton defender Michael Keane was also selected for the first time in a year.
One last cap. 🙌 pic.twitter.com/VYSlKyxxgU

— England (@England) November 5, 2018
It is, however, Rooney's return which has dominated the agenda since it emerged he would earn his 120th and final cap as a substitute in next Thursday's friendly against the USA. He will not be part of the group for the Uefa Nations League clash with Croatia three days later.
Download the Microsoft News app for your Android or iPhone device and get news & live updates on the go.
Rooney last played for England two years ago before announcing his international retirement but Southgate claims talks have been ongoing for more than a year over honouring England's all-time leading goalscorer and most capped outfield player.

Southgate referenced Germany's lavish send-off for Lukas Podolski in addition to the Netherlands recognising Wesley Sneijder's career in September and Spain's plans to allow David Silva to take a ceremonial kick-off in a suit on his last appearance against Bosnia later this month.
Gallery: Rooney's most memorable international goals (Microsoft GES)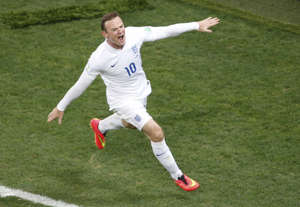 The England boss said: "If anybody deserves one more cap, it is somebody who had 119, more than somebody that has had one or a handful. He has earned the right to that cap over a period of over 10 years and six major tournaments with England and to be the record goalscorer.
"I think there would be numerous examples of people that have earned caps in different circumstances. The fact is it is an opportunity to pay tribute to what he has achieved. We are a strange country in that we bemoan the fact we haven't achieved as much as we'd like and then we have a player who should be held in the highest regard and we are spending a lot of time justifying giving him that tribute.
Wayne Rooney England return@IanWright0 v @chris_sutton73

Any 'discussion' which includes "hang on, let me finish" has to be worth a watch 💥 💥 💥#teamwrighty or #teamsutton?

⚽ https://t.co/QyEtthokcZ pic.twitter.com/OL2GZTIZKr

— BBC 5 Live Sport on BBC Sounds (@5liveSport) November 5, 2018
"From my point of view, I am looking forward to seeing him, working with him over the next few days, giving him the send-off I think he deserves, which isn't always possible for players. With this opportunity, it is possible and I am sure the crowd will give him the opportunity he deserves."
Southgate also revealed Rooney turned down the chance of a similar tribute prior to England's World Cup campaign in Russia because of the distraction it may have caused the squad.
"I was actually quite happy for the tribute to be before the World Cup but in fairness to Wayne, he didn't want to detract from the team at that time," he said. "So, of course everybody respected [him] and we saw the sense in that. Now we have the opportunity with a game at Wembley to pay that tribute.
Wayne Rooney nominated for @MLS MVP. 12 goals and six assists in 19 games. But he probably got the nod for this alone 🔥🔥: pic.twitter.com/j2wdJAvf6Q

— STATSports (@statsports) October 31, 2018
"As a manager, my involvement was 'was I happy for him to play a part in the game?' and I think actually, yes. I am still able to look to the future in terms of the squad I've picked and the things I want to see but also I've talked a lot to the players about the importance of the shirt, the history and honouring former players.
"We've brought a lot of former players back in to speak to the squad. We've brought former players to present first shirts to the squad and all of the players respect Wayne's contribution deserves the best possible send-off. I understand that has caused a lot of debate and conjecture but for me I think it is a small way of appreciating what he has done for his country."