Southgate not writing off England's World Cup chances despite young squad

Press Association
17/05/2018
© Provided by The Press Association England v Italy – England Training Session and Press Conference – Enfield Training Centre Gareth Southgate has rejected suggestions England should write off their chances at this summer's World Cup as unacceptable and has told his young squad to "enjoy the ride".
Southgate appeared at Wembley to discuss his fresh-faced 23-man squad for Russia and insisted he had selected the best available players, not just those with the most to learn.
Long-term number one Joe Hart was one of those who fell on the wrong side of Southgate's judgement but the Three Lions boss was careful to stress it was not the end of the road for the 31-year-old.
For the nation, by the nation. The #ThreeLions' official @FIFAWorldCup squad announcement. pic.twitter.com/YecUWPUZfJ

— England (@England) May 16, 2018
His chosen goalkeeping unit of Jordan Pickford, Jack Butland and Nick Pope have a combined nine international caps to Hart's 75, Ruben Loftus-Cheek and Fabian Delph have 11 in total and Trent Alexander-Arnold has yet to feature, but Southgate countered Gary Lineker's suggestion that the tournament should be seen as nothing more than a learning curve.
"I don't think when you play or are involved with England you can ever write off any game or any tournament. That wouldn't be acceptable," he said.
"We know usually teams that win tournaments have a lot more caps than we do, a lot more experience of semi-finals and finals.
Watch: Southgate insists Alexander-Arnold is ready [Sky Sports]
"This group, we really don't know. We have great faith in them, we know they lack big match experience but how are they going to get that? The only way is to put them in.
"We think this is the best group of players available, we think they can be very exciting now and even more exciting in the future. I don't want to limit what they think is possible because they're young and hungry and they want to have a go at things.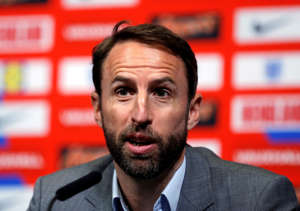 "That's what we've got to do at this tournament, really enjoy the ride."
Southgate confirmed it was his decision to leave Hart off the standby list as well as the main squad – Burnley's Tom Heaton takes that role – but suggested it would not be appropriate to ask the former first choice to act as back-up.
The door remains open to a future call-up, though, assuming Hart finds a new club in the summer and regains top form.
Southgate on Wilshere & Hart not being standby list: "My decision. You have to look at it as a separate entity. What are the requirements? There's an opportunity for those guys & each of those scenarios is slightly different"

— Simon Peach (@SimonPeach) May 17, 2018
"Of course it was a difficult call. He played in most of our qualifying matches, he's been a big part of the England team the last few years and he's a valued member of the squad," said Southgate.
"But in the end I've got to look at performances over the last 18 months with their clubs and the three lads we picked were the three best goalkeepers in the league this year.
"I pick players on form and if he (Hart) is playing well for his club, why wouldn't we select him?
"There's no reason for this to be the end. He has an important career decision this summer and I hope he can be back at his very best."
Related: The possible formations England could use at the World Cup [ReadSport]