The revitalisation of Per Mertesacker: 'I want to build a world class academy at Arsenal'
The Independent
6 days ago
Per Mertesacker remembers the nausea. The twitching nights on the eve of each match, the punch he'd feel rip through his gut as he sat in the dressing room and the dizzying walk through the tunnel as air sputtered uncontrollably from his lungs… and then he laughs. A deep, throaty machine gun treble that echoes through the North London townhouse. It's only when the recently retired centre-back chuckles that his schoolmasterish aura disintegrates and a thicker German accent returns to his voice. "No, I don't miss [playing]," he says, relaxing into his chair. "I've played for 15 years and played in five major tournaments. I know what it gives me in terms of the joy, in terms of the love for the game. But I'm done with it."
Mertesacker's metamorphosis from player to coach was unnaturally smooth. Still only 34, he might have attempted to extend his illustrious playing career well beyond his time at Arsenal. But, after the doctor informed him that the cartilage in his knee was worn to a cinder, he was consumed by a sense of relief. For years, he'd hidden his anxiety from his teammates, even his own family, and his body ached with exhaustion. During his final season at Arsenal, he even found himself praying to be left on the bench, fearing he'd meet a bitter end like an aged boxer before finally making his escape. "Once I had made the decision to stop, it relaxed me," he says. "I was making sure that I was well prepared for something that is totally unknown to me."
The thought of moving into the small office that overlooks the training pitches at London Colney had never appealed to Mertesacker. In the year after winning the World Cup, he revealed he was desperate "to get respected in a different way, not in football". Yet, when Arsenal offered him the position of Academy Manager, he was captivated by the prospect of returning to a time when his love of football was still raw – a second life in the sport he instead refers to in his new autobiography as "the beginning".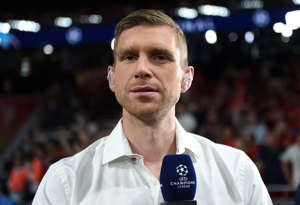 "For almost 15 years, professional football is about yourself: How can I improve? How can I make myself better?" He says. "Before winning a game was the short-term reward that meant everything. Now, I can look at the bigger picture. I want to make an impact on young players' lives. I want be part of their future."
It is the way past professionals live vicariously through their proteges. Mertesacker may have gracefully walked out on a 15-year career, but he still carries the addiction. He treats his role at Arsenal with the same leadership and diligence he did as a player, combatting the interfering bubbles of social media and premature wealth just as he approached uniting a national team fractured between Bayern and Borussia or barking at Mesut Ozil. He is unashamedly old fashioned, a tailored suit in an era of tracksuits but, most importantly, Mertesacker can still relate to the younger generation.
Within seconds of sitting down, he recalls the horror of being a teenager told by his father that "this is the end of the line. You won't make it. Let's just forget about the whole thing." It's the oldest scar Mertesacker carries, the smoking gun that kickstarted his career, and the rock he leans on when he has to issue that same verdict to idling prospects.
"You need to deliver those messages when kids are 15," he says. "Do you get a scholarship, yes or no. Do you get a pro deal when you are 17/18, yes or no. I'll be up front, try and paint the picture of my experiences.
"You cannot turn the clock back 20 years. I had a totally different upbringing, totally different background, raised in Germany, small town, now I am in London taking care of 180 kids who think they are the one percent who can make it in professional football. So that's what I deal with on a daily basis. How do I manage that? By being myself, being authentic, and not lying.
"If someone had judged me as a 16-year-old then I would have been out of academy football. How do you recover from that? That's what I'm trying to bring in now, so you can say: 'if we don't take you now, don't worry, there's another pathway for you'… A similar reward would be, just for the sake of argument, a doctor in America."
Mertesacker handles his role combatively. After accepting the job, he declared that he wanted to "attack the system" and describes his first year in the position as tackling "a monster". To him, football has always been black and white, a case of hard work trumps talent. It's why the biggest changes he's sought to make thus far have been cultural. "I would say these three words: respect, discipline and humility play a big part in what we are trying to achieve and are the foundation for me to have an impact," he says, beating his hand against an invisible drum. "If there is a really good player at U16 level who disrespects the coach, if you then say: 'You can go somewhere else then. That is not how we do things here.' That would be powerful."
They are, after all, the core values that moulded Mertesacker from a self-described "blond beanpole who should have stuck to swimming" into a 104-cap international. The same man who spent 18 months as a teenager working in a psychiatric hospital and insisted €50,000 of his transfer fee from Hannover to Werder Bremen be spent on an artificial pitch for the former's academy.
But Mertesacker isn't blind to the business-centric and often cynical nature of his position either. He hails the rejuvenating success of Joe Willock and Reiss Nelson, but goes on to list the sales and percentages recouped from Alex Iwobi, Xavier Amaechi and Krystian Bielik's departures – "getting value back to invest again" – as key motivators of a "really positive summer".
In the long term, he hopes to transform that air of optimism into a renewed connection with the fans and build an A-list academy capable of pushing the club towards Premier League titles. "I think you really want to build the best connection between players and fans so that everyone feels that this is actually the best club," he says. "A real culture [where] everyone trusts each other that we can be world class again."
That desire is in part debted to Mertesacker's lasting allegiance to Arsene Wenger, as well as the grief he still feels over the manager's sacking. "You feel almost responsible for the lack of success," he says. "I just want to build on that legacy and thank him [Wenger] for what he did for myself, for the club and give it a real go towards the titles we expect.
"To be world class again, that is what I am looking at. He built the expectations of the club, he built the profile of this club."
As Mertesacker continues to reiterate his desire to return Arsenal to those heights, it's hard to envisage the dog-tired figure who's choking anxiety had left him unable to eat properly in the hours before each match. After months spent craving the end to his playing career, he finds himself reliving its beginning with a freedom that's allowed him to fall in love with football all over again.
Related: Football superstars who you probably didn't know are still playing [Grid]