Australian Grand Prix qualifying results: Lewis Hamilton leaves it late to snatch sixth consecutive Melbourne pole position
The Independent
16/03/2019
Lewis Hamilton will start Sunday's Australian Grand Prix for the sixth consecutive year after overcoming Mercedes teammate Valtteri Bottas to take top spot in the first qualifying session of the year, with the reigning Formula One world champions completely out-performing Ferrari to finish more than seven-tenths ahead of Ferrari's Sebastian Vettel.
Bottas drew first blood after the initial runs, producing a 1:20.598s that caught the attention of the paddock as it not only broke the lap record for Albert Park but put him nearly half-a-second faster than teammate Hamilton, who could only muster a 1:21.055s. Vettel filled third, but was more than six-tenths off the pace, with his new teammate Charles Leclerc a further two-tenths back.
But Hamilton's first lap was scrappy as he clouted the inside kerb in Turn One, and as he put in a tidy lap on his second and final outing, it was normal service resumed as the five-time world champion posted a 1:20.486s to overhaul Bottas, who despite improving was still +0.112s off the Briton.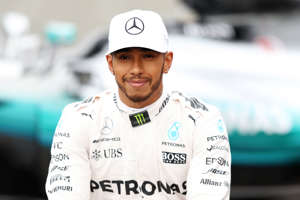 Photos: Lewis Hamilton - Life in the Fast Lane
The concerns were obvious for Ferrari, with Vettel +0.704s slower than Hamilton's pole position time, while teammate Leclerc was pushed down into fifth by the Red Bull of Max Verstappen who left it to the last lap of the session to post a 1:21.320s. The two Haas' followed as Romain Grosjean headed teammate Kevin Magnussen to confirm the pace that the US-based outfit have demonstrated so far this weekend.
"I'm shaking, what a beautiful day and thank you to the crowd for a great atmosphere," Hamilton said.
"The team had no idea during testing what we would be up against and they've worked so hard in the factory and here this weekend - the team have worked to perfection.
"Congratulations to Valtteri [Bottas] also. It's great to see the top six teams top within a second of each, it's great to see."
Bottas was keen to see the positives of his display, having endured a difficult day up until qualifying. "We really made some good progress, I had a difficult practice three and we turned things around for the qualifying.
"The Q3 lap one was really good, I enjoyed that. Unfortunately it wasn't enough for pole but Lewis did a great job at the end and I struggled a bit in the first sector on the second run.
"Anyway, it was fun and I look forward to tomorrow."
And that was very much the opinion of Vettel, who believes that he can take hope out of the fact that the gap to pole-sitter Hamilton is the same as it was last year, when the four-time world champion went on to win the opening race of the season.
"Of course I think we can, you never know what's happening. The race is over when there's a chequered flag we have a good car and a good strategy we are here to race so we'll see what happens tomorrow."
It was a strong debut for British driver Lando Norris though, with the 19-year-old putting in an impressive 1:22.304s to qualify in 8th as the lead McLaren. However, McLaren were handed a fine of 5,000 Euros (£4,250) for unsafely releasing Norris into the path of Kubica's Williams during the final practice session. The top 10 was rounded out by Alfa Romeo's Kimi Raikkonen and the Racing Point of Carlos Sainz.
But perhaps the performance of the day was that from teenager Norris, who admitted that he was not able to fully take in his top-10 finish until he got out of his McLaren as he looked to control his emotions with his first full F1 qualifying session.
"I enjoyed it to a point," said Norris. "I was so nervous that it almost ruined the enjoyment. Enjoyment comes once I know I can complete a fast lap - that's what makes me happy, to see it all work and see a good qualifying session.
"We had three runs and used three sets of softs our aim was just to try and get it to Q2 but we pushed and got it to Q3. It's massive to see that it is possible to do it and in some ways we've moved forward form last year - not that much but I feel I've maximized it as much as possible and we still need to do a lot of work to maintain these Q3's, today isn't a one off."
It proved to be a disappointing day for Renault as not only did home favourite Daniel Ricciardo miss out on Q3, but hiss teammate Nico Hulkenberg also failed to progress as the German will start 11th ahead of his Australian colleague in 12th. They were joined in elimination by Toro Rosso's Thai-British debutant Alexander Albon, who delighted the team in progressing to Q2, Racing Point's Antonio Giovinazzi and Albon's teammate Daniil Kvyat on his return to the sport.
There was an early shock in Q1 as the Pierre Gasly, who qualified last in Melbourne 12 months ago with Toro Rosso, suffered another early elimination in his first race with Red Bull. The Frenchman could only manage a disappointing 17th, ahead of the two Williams' of George Russell and Robeert Kubica, with the former out-qualifying his teammate by 1.7 seconds after the returning Pole suffered a right-rear puncture when he kissed the wall at Turn 10. Carlos Sainz was also another disappointment as he could only manage 18th for McLaren, with the experienced Spaniard having to watch his rookie teammate Norris cruise into the second phase, while Racing Point's Lance Stroll was the fifth man eliminated in 16th.
Final Positions after Qualifying:
1 Lewis Hamilton (Gbr) Mercedes GP 1min 20.486secs
2 Valtteri Bottas (Fin) Mercedes GP 1:20.598
3 Sebastian Vettel (Ger) Ferrari 1:21.190
4 Max Verstappen (Ned) Red Bull 1:21.320
5 Charles Leclerc (Mon) Ferrari 1:21.442
6 Romain Grosjean (Fra) Haas F1 1:21.826
7 Kevin Magnussen (Den) Haas F1 1:22.099
8 Lando Norris (Gbr) McLaren 1:22.304
9 Kimi Raikkonen (Fin) Alfa Romeo Racing 1:22.314
10 Sergio Perez (Mex) Racing Point 1:22.781
11 Nico Hulkenberg (Ger) Renault 1:22.562
12 Daniel Ricciardo (Aus) Renault 1:22.570
13 Alexander Albon (Tha) Scuderia Toro Rosso 1:22.636
14 Antonio Giovinazzi (Ita) Alfa Romeo Racing 1:22.714
15 Daniil Kvyat (Rus) Scuderia Toro Rosso 1:22.774
16 Lance Stroll (Can) Racing Point 1:23.017
17 Pierre Gasly (Fra) Red Bull 1:23.020
18 Carlos Sainz (Spa) McLaren 1:23.084
19 George Russell (Gbr) Williams 1:24.360
20 Robert Kubica (Pol) Williams 1:26.067
More follows…