Formula 1 hints British Grand Prix could move from Silverstone

Autosport
08/11/2018
© LAT Images F1 hints British GP could leave Silverstone Formula 1's commercial managing director Sean Bratches has hinted the British Grand Prix could move away from Silverstone to preserve the future of the race.
Last year Silverstone bosses activated a break clause in the race's contract, agreed under F1's previous ownership, and the 2019 event is the last one under the current deal.
There has not been any public progress on negotiating a new deal. Liberty Media, which has owned F1 since late-2016, has stated it wishes to preserve historic races like the British GP but has also moved to formally announce a bid for a race in Miami and confirmed Vietnam will join the calendar in '20.
Download the all-new Microsoft News app to receive up-to-the minute news from the world's best sources – available now on iOS and Android
In an interview issued by F1 ahead of this weekend's Brazilian GP, Bratches was asked if there was any likelihood of a historic race like Britain or Italy moving to a street track.
Bratches replied: "We're a 68-year-old entity and the nature of grand prix racing is that it is dynamic.
"Silverstone was the first grand prix, but we haven't raced at Silverstone all those 68 years.
© LAT Images F1 hints British GP could leave Silverstone "The race has been held at Brands Hatch and other venues. "Nothing is immutable in this sport in terms of where we race.

"We do value certain races highly and we do what we can to preserve racing there, but we are a business.
"We are a public company and we have a lot of stakeholders and shareholders and we're trying to marry what's best for fans with running a successful business."
The British GP has been an ever-present on the F1 calendar since kicking off the first world championship in 1950.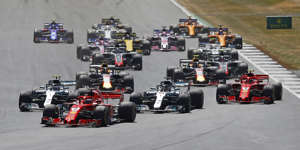 © Getty Ferrari's Sebastian Vettel leads into the first corner followed by Mercedes' Valtteri Bottas and Lewis Hamilton during the 2018 British Grand Prix at Silverstone Circuit, Towcester. (Photo by Martin Rickett/PA Images via Getty Images) Silverstone has been the home of the race since 1987, having alternated with Brands Hatch for more than two decades before that, and is the only current British track capable of hosting F1.

Brands and former-European GP venue Donington Park are not currently at the required level, but earlier this year Red Bull boss Christian Horner claimed Liberty was still keen on pursuing a race in London.
Bratches made it clear that city-based GPs have a major appeal to F1 because it puts the racing closer to bigger populations, which is why Vietnam's race in Hanoi will join Monaco, Singapore and Azerbaijan as a street race.
© Getty NORTHAMPTON, ENGLAND - JULY 08: Cars stand in parc ferme in the pit lane after the British F1 Grand Prix at Silverstone Circuit on July 8, 2018 in Northampton, England. (Photo by Leo Mason - Split Second/Corbis via Getty Images) He added: "We look at it in three ways. Firstly, we want to preserve the heritage races, they are very important to Formula 1 and they are very important to fans.

"I'm talking about the Silverstones, the Spas, the Monzas of this world. "Then we have a set of street races and hybrid street races, where we race in parks and on city streets, such as Melbourne, Montreal and Mexico City.
"The third segment features purpose-built facilities such as Shanghai, Austin, Texas and Bahrain.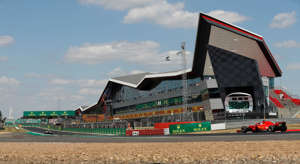 © Thomson Reuters Formula One F1 - British Grand Prix - Silverstone Circuit, Silverstone, Britain - July 8, 2018 Ferrari's Sebastian Vettel in action during the race Action Images via Reuters/Matthew Childs "Beyond that we are looking to identify further street races, so this race [Vietnam] is a further step in terms of our vision."