Lewis Hamilton at a crossroads as he contemplates life beyond F1 racing

The Guardian
11/05/2018
© REUTERS/Brandon Malone From child to world champion, Lewis Hamilton's journey has been strikingly singular in its course – his life dedicated to, and defined by, motor racing. He has reaped the rewards with four Formula One titles and fame, fortune, their trappings and burdens have followed but competing has remained fundamental. Now he is contemplating the bigger picture – life beyond racing. The future looms large and long and it is unsurprising that his decision on when to embrace it, the biggest of his career, is being given the same attention he devotes to driving.

Hamilton is at a crucial crossroads in his career. He first raced karts when he was six years old, was taken on by McLaren when he was 13 and made his debut for them in F1 in 2007. Now at Mercedes, 33 years old and in his 12th season in the sport, the British driver knows he could go on to take more titles but could yet choose to hang up his gloves for good.
Related: 'I'll need luck to win title' (Wochit)
Going into this weekend's Spanish Grand Prix, Hamilton has still to sign a new contract with Mercedes. A renewal with the team on a one or two year basis still seems the most likely option but he was once again tight-lipped on the situation at the Circuit de Catalunya. "When it's signed, it's signed," he said. His body language and slow, considered answers to queries on his future, indicating a clear reluctance to make anything public on a very personal decision.
Before the season began the impression was that the deal was all but done. Three months on, his future remains opaque and he has become explicit about the import of what would likely be his final deal. "The next contract is probably the most important one in my career," he had said in Bahrain. "The decision, how long you want to commit to being in F1, is becoming more and more important to me, being that I'm in the latter end of my career. It is one not to be rushed into and I will not be rushed into it."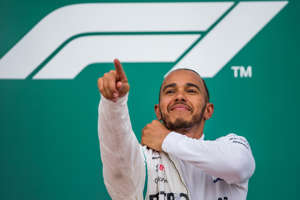 © Peter J Fox/Getty Images Hamilton after the Azerbaijan GP He has no fear of calling it a day, with well-documented interests in music and fashion he is eager to pursue, but there is still racing to be done. He stands amid exceptional company with four world championships. It is one more than his hero Ayrton Senna, equal to Alain Prost and Sebastian Vettel and one fewer than Juan Manuel Fangio. After the Argentine, only the seven-time champion Michael Schumacher has more – a record it was widely assumed would never be reached.

Hamilton has insisted he does not chase statistics but he is a knowledgeable student of the sport and has admitted that equalling Fangio would be an achievement he would take great pleasure in. He has every chance of doing so. Hamilton is currently leading Vettel by four points this season – one of the two almost certainly will make it to five titles and the British driver opened the weekend well, second fastest in first practice behind team-mate Valtteri Bottas.
Related: Azerbaijan GP driver ratings (Read Sport)
Beyond this season, however, looms the edifice of Schumacher's success. Hamilton has said he has no ambition to match the German but is intelligent enough to know that setting such targets can only lead to being regarded as a failure if they are not reached. If Schumacher's record is on, Hamilton knows enough not to talk about it but it is hard to imagine he has not considered it. With a fifth title this year, that once impossible target of seven looks reachable and for a driver at the peak of his powers, absolutely achievable.
Other factors over which he has little control also play their part. F1 is in the process of re-inventing itself, with new rules and commercial agreements with the teams set for 2021. Hamilton has been clear that how these changes impact on the sport will be a factor in his decision.
© AFP/Getty Images Lewis Hamilton was second fastest in first practice for Sunday's Spanish Grand Prix. As will the performance of his team. He has enjoyed remarkable success with Mercedes but to commit to continuing in the sport he needs to be confident he has a genuinely competitive car. However, this year Mercedes have been caught and eclipsed by Ferrari, they have yet to optimise the car's performance and it has been visibly frustrating to an exasperated Hamilton.

Which raises perhaps the most unlikely scenario but one which remains possible – to end his career with the Scuderia. It is improbable that Vettel would want him as a team-mate or that the team would want to manage two such forceful personalities across their garage. Yet it is not out of the question and while Hamilton has said he has not spoken to any teams except Mercedes about his future he will be fully aware of the prestige that winning for the sport's oldest and most famous competitor carries.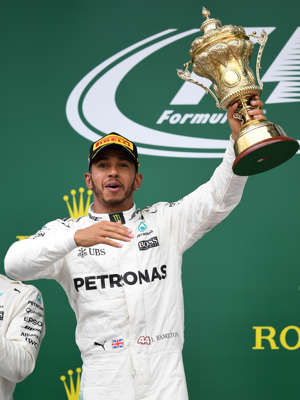 © Melzer/ullstein bild via Getty Images Hamilton celebrates after the British GP The former driver Johnny Herbert closed his 12-year career in F1 after his honest assessment that he was no longer enjoying racing but he believes Hamilton has more to come.

"I do think he can go for Michael's record," he said. "He is in his prime but he is at the crossroads. For him to achieve that he has got to be in the right place and that goes to motivation. Do I have that chance? Is it realistic? That is what he will be looking at. I would be very surprised if he said: 'Bang, I am out now'.'"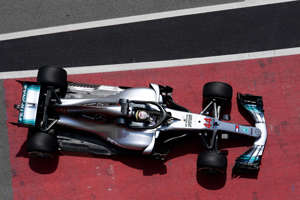 © LLUIS GENE/AFP/Getty Images Lewis Hamilton Hamilton is no stranger to making important decisions. Six years ago when he chose to leave McLaren for Mercedes it stunned the paddock but proved to be an inspired move. John Watson told me at the time it was "like a kid growing up and leaving home" and now Hamilton is giving the conclusion to a remarkable journey as much consideration.

"It's just my future," he said in Barcelona. "It's how long I want to go and what I want to do, and how long I plan to be here. That's why I'm taking my time."
Related: Formula 1 stars and their cars (Photo Services)