Helene Elliott: Lindsey Vonn's unrelenting toughness makes her a champion for all female athletes

Los Angeles Times
11/02/2019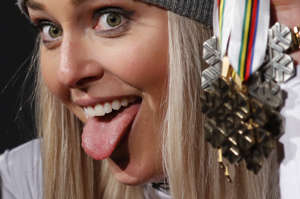 Editor's note: The opinions in this article are the author's, as published by our content partner, and do not represent the views of MSN or Microsoft.
She went all out to the very end, because that's the only way Lindsey Vonn knew how to ski. She was bruised and battered as she went to the start gate on Sunday for the final race of her career, sore all over and her right eye blackened by the impact of a crash she suffered during a super-giant slalom race earlier in the week at the World Championships. Her ligaments tore and her bones sometimes broke but her competitiveness was never dimmed, never dented, never compromised.
Vonn flew down the tricky World Championships downhill course at Are, Sweden, as if there were no tomorrow, and in terms of her career, there is not. The injuries she has suffered over the years finally overtook her at age 34, after a women's-record 82 World Cup wins, as well as 20 World Cup titles, four World Cup overall championships, three Olympic medals and more stitches and surgeries and rehabilitation stints than she cared to count. Her body simply would not take any more. It would not let her tuck or shift as she once could, but on Sunday it granted her the gift of one last and glorious performance that made her the oldest woman to earn a medal at the World Championships.
'A phenomenal performance!'@lindseyvonn with a stunning effort in her final race... pic.twitter.com/zX1jNEsrEN

— Eurosport UK (@Eurosport_UK) February 10, 2019
Vonn didn't win the gold Sunday. Skiing third, she held the lead for a while but was eventually passed by Ilka Stuhec of Slovenia and Corrine Suter of Switzerland. She finished 49 one-hundredths of a second behind Stuhec and won the bronze, a poetic full-circle journey if ever there was one as she earned her last medal in the place she won her first World Championships medals, a pair of silvers, in 2007. This bronze medal was no less a triumph for Vonn than finishing first would have been.

The Minnesota native didn't have to stand atop the medals podium to cap a career that transcended skiing and carried over to popular culture, and not just because she dated golfer Tiger Woods and, currently, hockey star P.K. Subban. Female athletes too often are still told how to behave (meek or deferential are preferred), how to look (not too muscled or you'll threaten men) and what they can't or shouldn't do. Vonn didn't care. She made strength and assertiveness virtues for women who followed her down the slopes or competed in any sport. That boldness, and her unrelenting toughness, will be her legacy long after her racing records are broken.
When the greatest moments in sport happen, Eurosport is there.

Our own @TinaMaze with on-the-spot reaction from @lindseyvonn following her incredible performance in today's ladies downhill @Are2019 pic.twitter.com/vX4bVroS2H

— Eurosport (@Eurosport) February 10, 2019
"She changed our sport to more popular. She did a big difference in (the) sport because of that American approach. A little bit Hollywood style, which we in Europe don't have," retired Slovenian skier Tina Maze, a four-time Olympic medalist, four-time world champion, 26-time World Cup winner and onetime rival of Vonn's, said during an interview with the Olympic Channel. "For me, Lindsey is always a big champion and always was and will always be."

After her run on Sunday, Vonn was greeted by Ingemar Stenmark, the shy Swede whose record of 86 World Cup victories had been Vonn's target. He gave her flowers and an embrace that she returned with unfiltered joy. She had texted him to ask him to be there - in all caps, she said, to emphasise the urgency - and he was. "It meant everything to me," she said during NBCSN's telecast. He returned the compliment. "I'm very impressed with Lindsey that she could come back," he said.
Lindsey Vonn.
Greatest Woman Skier of ALL Time.
8️⃣2️⃣ World Cup Wins.
2️⃣0️⃣ World Cup Titles.
3️⃣ Olympic Medals.
8️⃣ World Championship Medals.
World Championship Medals.
She carved a legacy that will forever be remembered.@lindseyvonn | #LV82 | #LindseyVonn | #GivesYouWings pic.twitter.com/dPYNKv0On1

— Red Bull (@redbull) February 10, 2019
He didn't have to specify which comeback or from what calamity she had rebounded because there are too many to mention. Even during the week, after she had announced she would move up the timetable of her retirement and call it quits after the World Championships instead of after the season, she had to deal with the consequences of that super-G crash. "If adversity makes you stronger I think I'm the Hulk at this point," she said Tuesday on her Twitter feed.

But there was no doubt she would compete on Sunday. "One last time I will stand in the starting gate. One last time I will feel the adrenaline running through my veins," she tweeted on Saturday. "One last time I will risk it all. One last time ... I will remember it forever. Let's do this!"
She was unusually antsy before the race, which started at a lower point on the hill than initially planned because of unfavourable weather conditions. That change probably helped her because she didn't have to push her wonky knees as far. "I laid it all on the line," she told NBCSN afterwards. "I had a really hard time controlling my nerves. I'm just happy I could finish strong. I soaked it in one last time."

She was greeted with cheers and signs and hugs at the finish. Her family was in the crowd and so was her beloved rescue dog Lucy. Subban, busy with the NHL Nashville Predators, couldn't be there but Vonn was shown on TV Facetiming with him. She made it down safely, she told him, with a smile.
Her legacy is safe too. Women's skiing thrived because of her. All female athletes did.
Visit the Los Angeles Times at www.latimes.com
Gallery: Vonn on and off the slopes (USA Today)