Chris Ashton describes England return as 'a small step in the right direction' after huge success in France

The Telegraph
06/08/2018
The first thing that Chris Ashton knew about his England recall was when he glanced at his phone last Thursday morning. It was not a phone call or text message from England head coach Eddie Jones that alerted him, but instead he noticed he had been added to a Rugby Football Union social media group entitled 'August camp'.
If his first return to an England training squad since 2016 may have lacked a degree of fanfare it did nothing to bridle his joy at being back in contention on the national stage, with the first message informing him of group timings and the training schedule.
Plans to move into a new house last Saturday following his move from Toulon to Sale Sharks were swiftly brought forward by 24 hours to allow the 31-year-old to join up with squad for the three-day camp in Teddington.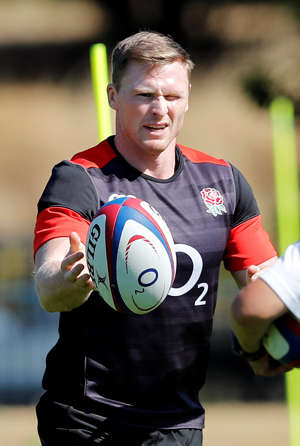 "I had no idea it was coming," said Ashton of his England recall. "I am grateful of the opportunity to come back into this environment. It is a small step in the right direction. Every conversation with Eddie and being around a team that has been so successful over the last couple of years is a bonus."
Ashton, who has 19 tries in 39 appearances for England, may know that a queue of top quality wingers including Elliot Daly, Anthony Watson, Jonny May, Jack Nowell as well as competition from full-back convert Mike Brown, are currently blocking his path to first cap since 2014. 
But after a year of revelling in his try-scoring exploits from full-back at Toulon, the recall appears to have already justified his decision to move back to England just one year into a three-year deal in order to have one last crack at winning his place back in the national side for the World Cup in Japan next year.
Jones once described Ashton, who broke the Top 14 try-scoring record last season with 24 tries in 23 appearances, as "mad as a cut snake" when he took charge in 2016. But the timing of two long suspensions for biting and eye-gouging saw deprived the winger of the chance to press claims to become part of England's try-scoring armoury.
The decision to move to France last year then appeared to signal that Ashton's international career was over, despite scoring tries for fun at Saracens as RFU rules prevent Jones from selecting overseas-based players. Instead the brief but successful sojourn effectively re-ignited those hopes and left desperate to prove to his worth to Jones all over again.
"With all the success I was fortunate enough to have at Saracens, I just felt with England and with the time in my career to go and do something different," said Ashton of his initial decision to quit the Premiership.
"The timing just fell into place for me and it felt right at the time. I had no idea it was going to go the way it did. You always hope for that and without winning a trophy it went as well as it could have done and it filled me the confidence again of being able to play rugby and enjoy it again.
"That want to come back and to be part of England again, I thought initially I would go out there and spend five or six years in Toulon playing rugby but as the year went on the more I realised I didn't want the opportunity of giving myself a chance of being involved with England and a World Cup around the corner to go amiss."
If Ashton relished the match-day experience with Toulon and feels the last 12 months have developed his game, being away from England with his young family made him appreciate what he had left behind. He was grateful for Toulon for not standing in his way.
"It is exactly what I though it was going to be, a different culture, a different environment," Ashton added. "I think I am a better person and player for experiencing it. I loved the match days. Playing at home in Toulon is one of a kind and you don't get it anywhere in Europe. Away days were special too. So it was a great experience for me and my family.
"I think we understood too how much we appreciate our families at home. We both have big families and going out there with a young baby and looking to have more babies we found harder than we anticipated.
A touch of homesickness? "Yeah, definitely. Although it is not far away, it felt far away at times. We definitely feel more settled back in England."
The move to Sale for the boy from Wigan was the only move he considered, despite links with Bristol, but the hardest bit was convincing Jones that even if he moved back to England he deserved a recall, even if it is just for a training squad at this point.
Ashton's selection for the Barbarians against England at Twickenham in May just before the tour of South Africa provided the winger with that platform and a hat-trick of tries he appeared to seize the moment.  
"At that point in time it was just pie in the sky, I was just hoping to play well against England for the Barbarians," Ashton added. "I did see it as a good opportunity to… not send a message but play well to say I am still hanging around, I'd had a good year at Toulon, full of confidence from it.
"It going so well probably brought a bit more attention to it, confirming what I already thought as the year went on that I still wanted to be back in England and playing for England.
"Having the experience of playing abroad in France maybe brought the best out of me in terms of my rugby and I still felt I had a lot to offer and have a good go at playing for England again."