Eddie Jones claims he is 'absolutely loving' the criticism as England head coach comes out swinging

The Telegraph
18/06/2018
Eddie Jones has come out swinging after England's fifth straight Test defeat in a row against South Africa, claiming he was "absolutely loving" the criticism despite admitting he had "knives in [his] back".
Jones held one-to-one interviews with his entire squad on Monday morning at their Indian Ocean base in Umhlanga, 48 hours after the 23-12 defeat in Bloemfontein which condemned his side to series defeat.
Afterwards, he insisted that these "bloody tough periods" were what defined a champion team and said that he felt "more positive" about England's prospects for the Rugby World Cup in 2019 than he had been previously. 
Even though three players had flown home over the weekend - Billy Vunipola (fractured arm), Mako Vunipola (paternity leave) and Ellis Genge (knee) - Jones was able to report that he had "never seen such an upbeat group", and was further buoyed by receiving a text that morning from Dylan Hartley informing him that he was back in full training after missing the tour due to on-going issues with concussion.
Player ratings: How England fared in 'horror movie' game against Springboks (Read Sport)
It was a bravura performance from Jones, a typically combative and candid appraisal of the firestorm that has risen up around him. It could yet raze his regime to the ground, if England's losing streak is extended in Cape Town on Saturday, and then in the November series when South Africa, New Zealand and Australia come visiting. Japan, too, are on the schedule. Surely not a loss against them? People in South Africa were saying the same thing at the start of the 2015 Rugby World Cup when a certain Eddie Jones was in the Japan corner.
Jones was asked if he needed any bolstering after such a critical savaging with some calling for him to be sacked.
"No, s---, I've been doing it for long enough, I don't need that," said Jones. "If someone decides that's not good enough, then they decide. I don't ask for the full support of [RFU chief executive] Steve Brown. I chat to him regularly. 
"I've been through this many times. There are the great periods, the ones you look forward to, where everyone thinks you're done and you have to find a way to win. When you are doing well, everyone pats you on the back and when you are not doing well, you're pulling knives out of your back. That's the reality of it. I'm enjoying it, loving it, absolutely loving it."
As for his team, they gave few outward signs that they were relishing the predicament they were in, although Jones' testimony indicated that they were as hell-bent as he was on finding a remedy to their woes, "to put in the best performance of the tour in Cape Town." The coach disclosed that not a single one of them had cited altitude as one of the possible reasons for their losses in Johannesburg and Bloemfontein.
Jones has embraced the situation and has inferred that his team have, too. "When everything is running well, it's easy," said Jones. "You've got your team humming, you're winning games you shouldn't. You get 50/50 decisions, everyone's available, you don't have any injuries. They are the easy parts. 
"The hard parts are when you've got injuries, you're not getting 50-50 decisions, there's pressure around, there's noise around and that's where you find your worth and you find what players in your team can really stand up to pressure. That's the most fascinating period. 
"Every team I've ever been involved with that's been a champion team goes through this period of time. You have to be able to get through it and it's painful and everyone knows better than you do at that time, but once you get through it, you've got the hallmarks of a champion team and that's where we're going. I've got no doubt about it."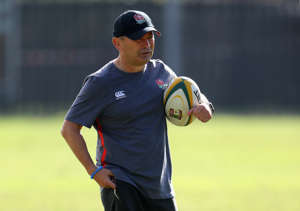 Jones claimed that he knew this sort of dip would happen even if he had not quite realised that it would become a slump with ominous overtones were it to carry on indefinitely.
"Yes, 100 per cent, I knew it was coming," said Jones. "You can't expect to just keep winning endlessly. And a lot of the wins we had, luck went on our side. Then you have these other periods which are bloody tough when you don't get any luck. And you've got to battle through them. It builds resilience, it builds the character of your team, it builds memories. 
"The players remember these things for a long period of time. It draws people closer together. And what you get out of this is a stronger team. And that's what will happen."
It is imperative for the morale of this generation and the well-being of an RFU embroiled in internal strife with swingeing redundancies on their way that the upturn starts on Saturday.
"I have never seen such an upbeat group, positive, energetic and together," said Jones, who had spoken of 'splintering' in the squad as one of the reasons for a poor Six Nations. "I am so proud of them."
Jones revealed that he knows who he wants to bring on board as his new defence coach to replace the Harlequins-bound Paul Gustard but has yet to confirm whether the short-term arrangement with Australian attack coach, Scott Wisemantel, will continue beyond the tour. 
Jones has plenty on his plate yet was intending to send a good luck message to Gareth Southgate that afternoon while the squad had made plans to watch the game against Tunisia together. They are all acutely aware of how fickle sporting fortunes can be.