Even with a dour final, this should go down as Leinster's greatest European glory

Journal.ie
14/05/2018
Murray Kinsella reports from Bilbao
THOUGH THE FINISHING touch was a rather ugly and dour affair, this must surely go down as Leinster's most impressive European campaign of them all.
Two wins over the best team in this season's Premiership. Two wins over the winners of Conference B of the Pro14. Two wins over the best team in this season's Top 14.
A win against the previous back-to-back champions. A win against the Pro12 holders. And, finally, a hard-fought victory over the second best team in France this season.
In pictures: Leinster seal fourth Champions Cup final victory (Photo Services)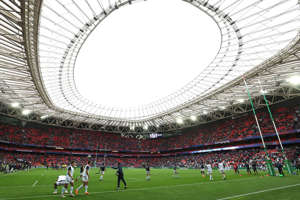 To dispatch Glasgow, Montpellier, Exeter, Saracens, the Scarlets and now Racing should see this European campaign remembered as fondly as any other of Leinster's successes, even if the final will prove to be forgettable.
"I'll keep a romantic view of it and not watch it over probably," admitted Cian Healy afterwards, but that shouldn't take away from the manner in which Leinster eked out their 15-12 win against an excellent Racing side.
It's a shame that the lack of tries mean there won't be a single, clear memory from this game to cling onto as the years pass by.
Isa Nacewa's winning penalty was straightforward but will be happily remembered by many. Garry Ringrose's break was vital, as was Jack Conan's tackling of Teddy Thomas into touch. There are lots of little bits in it, but not a big one that stands out above all.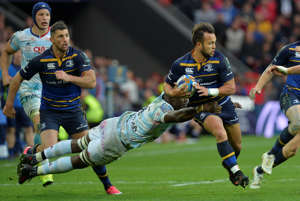 Nonetheless, the joy of the victory and the fourth European star on Leinster's jersey will mean the manner in which they were achieved will fade into insignificance.
"I was overjoyed, really overjoyed," said head coach Leo Cullen of watching Remi Tales' last-gasp drop-goal attempt sailing wide to confirm Leinster's win. "I was delighted for the players, a sense of relief.
"It was a pretty incredible feeling. It might not seem that way when you talk to me now but at that moment… I have never experienced anything quite like it, to be honest.
"When you are a player it is very different because you are in the mix, you are doing things.
"From a coaching point of view, it is a bit more mentally challenging, so I'm just delighted for all the people who are involved. We see them a very day and we thanked a lot of people at the start of the week because I think they each played a part.
"But, ultimately, our fate is decided by the 15 guys on the pitch at any given time and those guys, credit to them, they found a way. It wasn't necessarily the way we would have liked to have played but they found a way to win the game.
"It was winning pretty ugly but maybe that's what made it a little bit more sweet in many ways."
This fourth title draws Leinster level with the previous doyens of European rugby, Toulouse.
While Leinster have now bridged a six-year gap between 2012 and this year's success, the French club haven't won the Champions/Heineken Cup since 2010 and haven't even looked like contenders for years now.
"It seemed like Toulouse were that club that were going to kick on," said Cullen. "You have to keep chipping away, keep trying to get better. I suppose there's a lesson in that too; don't stop at four.
"You need to keep evolving all the time and keep getting better. Toulouse are a good lesson for us because if you sit still for too long, people will pass you by. We've had to wait so long to get to this stage again.
"Hopefully, it won't be another six years."
There is plenty of reason to believe it won't be that long a wait for title number five.
Cullen's players are certainly of the belief that their squad has the youth and ability to drive onto more European glory sooner rather than later.
"You have to have a dream and a vision and the plan is to put a lot of stars on the shirt," said 30-year-old Healy. "Not four, not five – I want to see Leinster grow and be dominant in Europe for years.
"The crop that is coming through and long after I'm gone, they'll be holding that and hopefully doing that."
Reflecting on Leinster's journey to this point, it's impossible to overlook Cullen making a ballsy call to hand full European debuts to Luke McGrath, Garry Ringrose, James Tracy, Josh van der Flier, Peter Dooley and Ross Molony against Bath in January 2016.
Only three of those players featured in Saturday's final win over Racing, but it was a pointer around how Cullen was willing to back the next wave of talent.
"That was a brilliant day," recalled McGrath. "There were six of us getting our first starts. That had a lot to do with it, getting that experience.
"We went away to Wasps the next week and got a serious lesson learned but Isa and Johnny spoke. They have so much experience, they've won three titles before this one.
"The younger lads would listen to Johnny and Isa speak all week. They've done it before and we follow."
Our ⭐⭐⭐⭐ General pic.twitter.com/xvxs6BpJ5n

— Leinster Rugby (@leinsterrugby) May 13, 2018
The leadership of Sexton and Nacewa has been pivotal, of course, and the loss of the 35-year-old will be keenly felt within the playing group next season.
"How we go without Isa is going to be a big challenge," said Cullen. "He is such a key figure, someone is going to have to step up now because he is an amazing individual.
"I couldn't put into words how special he is in terms of his influence on the group, on the club. That's something we need to figure out."
Sexton and others like Healy and Sean O'Brien will need to deliver even more leadership in Nacewa's absence, but the younger generation feel they are ready to step up themselves.
"This is only the beginning, to be honest with you," said back row Conan, who is still only 25.
"There are so many lads and even though it's unfortunate that the likes of Jordi Murphy are leaving, we have Dan Leavy, James Ryan and all guys like that of a similar age and we have all played together for a few years already
"This is only the start and it's such an exciting prospect to see what these lads can do in the coming years."