Kyle Edmund ready to calmly climb even higher after Novak Djokovic win

The Guardian
15/05/2018
Kyle Edmund, the absurdly quiet man of tennis, might be ready to make some noise but solely with the "thwap" of his racket strings as he unleashes another withering forehand here this week and perhaps at the French Open starting on Sunday week. Even beating Novak Djokovic in Madrid a week ago to move into the top 20 for the first time failed to disturb his submarine‑level temperament. Unlike some others the young Yorkshireman has not had to learn quietude.

Born in Johannesburg, nurtured in the East Ridings and residing comfortably in the Bahamas, he oozes calm. Efforts to get Edmund to find his inner Andy Murray have failed miserably.
"It's another win," Edmund says of defeating Djokovic, without a trace of arrogance. "That's my job: to win tennis matches. So, it's not like I go crazy about it. But I respect the win in terms of who Novak is. He's a legend in the game and in history."
Related: Kyle Edmund in profile (Mirror)
Edmund has an acute appreciation of where he has come from and where he might be heading. He played his first clay match in Goole as a 12-year-old and has steadily fallen in love with a surface that, for many players outside Spain and France, appears on their radar with the menace of quicksand. If there is to be a surprise winner – or even finalist – in Roland Garros, it could be Edmund.
While he knows he is British No 1 because of the absence of the recuperating Murray, Edmund is also aware that he is worth his place among the young contenders who are gathering to nudge aside the game's long-time masters.
"To be able to be on court, first of all, is sometimes a bit surreal when you are growing up," he says. "But, as I've been on the Tour a lot more, you have to try and beat these guys – because that's your job. It's nice to be able to go on court with Novak and know you are able to beat him. It gives you confidence, for sure."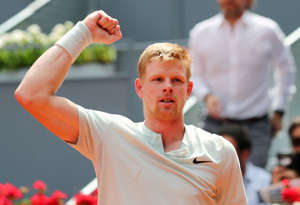 He will take plenty of that into the second round here on Wednesday, when he plays Lucas Pouille, who beat Andreas Seppi in three sets. If Edmund wins, he will almost certainly meet the defending champion, Alexander Zverev, on Thursday – and there could hardly be a greater contrast in temperaments. The German with the Russian genes is loud, explosive and dangerous.
Zverev, who dismantled Djokovic in the final last year, opens his account on Wednesday against the Italian wildcard Matteo Berrettini, who shocked the rising American Frances Tiafoe.
Edmund, meanwhile, is reluctant to tamper with his game – an uncomplicated expression of flat power on both wings, behind a big if temperamental serve – and says: "In terms of what you do, that doesn't really change. You have the same thought process and work on the same stuff. It's not like you suddenly change as a person, either."
He has won $1m this year and 16 of his 24 matches but should have lifted his first Tour title when he reached the final in Marrakech last month. But he could not get past the world No 355, Pablo Andujar, and was deeply disappointed. But unlike in the past there was no spirit-dip: three days after winning a doubles title with Cameron Norrie in Estoril Edmund beat Djokovic – then the world No 10, David Goffin.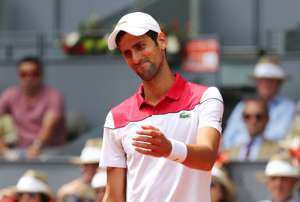 Here he dropped a set against the 34-year-old Tunisian Malek Jaziri but impressed with a strong finish. To guard against the possibility of future upsets against outsiders Edmund has brought in a former international sprinter, Darren Chin, to supplement the training regime of Ian Prangley.
Chin worked with Usain Bolt in Jamaica for two years and will fill in when Prangley cannot tour. He has noticed areas where the player can improve his movement, identifying, "acceleration and body positioning". Chin adds: "The way you lift your feet, being light on your feet, Kyle tends to hit the ground quite heavy. Over time we will try to get it lighter, and the stretching as well."
As for Edmund's brief problems with his hip, when pain there stopped his progress in the semi-finals at the Australian Open, Chin says: "We definitely keep on top of his hips. That's the thing with tennis: because you are playing pretty much every day, it is hard to get the quality training in."
None of which will faze Edmund. Although he recognises that the wider media pack is circling with each big win, he never forgets that tennis is his job. "I know that's going to happen so, when it comes, it's not I guess a massive surprise," he says.
"That's just going to happen, I'll just get on and do it, have my time training and preparing and trying to get myself in a good place and meet the requirements off the court. I guess that's part of being a professional."
Related: The highest earning tennis players in the world (StarsInsider)