Liam Plunkett relaxed about his England place as he joins Sri Lanka ODI tour after getting married

Daily Mail
19/10/2018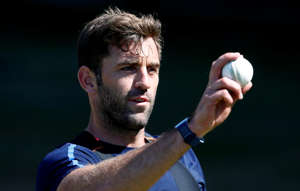 Liam Plunkett is relaxed about inviting competition for his England place after missing the start of the Sri Lanka tour to get married.
Plunkett's wedding with long-term American partner Emeleah took place last Saturday in the Cotswolds, the same day his team-mates were busy winning the second one-day international 5,000 miles away in Dambulla. 
The 33-year-old booked the date when it looked as though the Test leg would be held in October but when the fixtures flipped, Plunkett put family first.
Download the Microsoft News app for your Android or iPhone device and get news & live updates on the go.
He and his new wife have now joined the trip, with an unusual honeymoon itinerary that takes in two ODIs and a Twenty20.
Yet competition for places has risen in his absence, with rookie seamers Olly Stone and Tom Curran taking advantage of the senior man's absence to make impressive contributions in the series.
'We were so far into the wedding preparation...a lot of people had booked flights and I wasn't interested in paying them back!' said Plunkett of his decision to press ahead.
'I spoke to Morgs (captain Eoin Morgan), and the hierarchy, and he encouraged me to go ahead with it. In the back of your mind you know someone will come in and do well, but that's just sport, right? It's good for the team that people come in and do well.
'Hopefully I get the nod and play one or two games here but if not I'll hopefully get a go again.'
Plunkett is not expected to feature in the fourth game of the series, in Kandy on Saturday, due to a lack of acclimatisation time but is unlikely to be kept on the sidelines for long.
Since coming back into the side after the 2015 World Cup debacle he is England's most successful 50-over pace bowler, taking 75 wickets in 44 games at an average of 27.45. 
Among seamers only South Africa's Kagiso Rabada and New Zealand's Trent Boult have been more prolific in that time.
'It's nice to have some credit in the bank, it's not been a one-off over the last few years,' he said.
'I think England know what I can bring to the game. But if someone comes in and gets four or five then it's hard to say no to them. We've seen it with the batting, with the top two changing a bit.
'If I don't get the nudge I will graft hard. People forget for the first seven years of my England career, I didn't play much, I was 12th man or 13th man the whole time. I know how to deal with the situation.'
Given England's extensive touring commitments wives, girlfriends and children are welcome visitors on the team's winter travels, a policy Plunkett was happy to take advantage of.
'I got married, I couldn't just say 'cheers, thanks for being my wife. See you in a month', he joked.
Pictures: England's predicted squad for the World Cup (Read Sport)
'It's nice that she gets to come out, she's doing her own thing while we train and I'm glad to be here.'