Six Nations 2018: Eddie Jones warns England may not escape their 'bad habits' until the 2019 Rugby World Cup
The Independent
11/03/2018
Eddie Jones has warned that England may not fix their "bad habits" until the 2019 Rugby World Cup due to the lack of time that he gets with the players, with their consecutive defeats against Scotland and France potentially a sign of things to come over the course of the next 18 months.
Saturday's surprise 22-16 loss to France, two weeks after a 25-13 defeat by Scotland, saw Ireland claim the Six Nations title and end England's dominance on the competition under Jones, whose side failed in their bid to become the first team to win three outright championships in the tournament's 135-year history.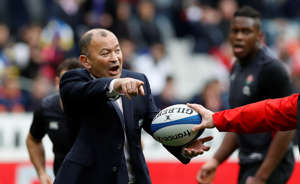 But while the failure to achieve such a feat is not the end of the world given Jones' plan to build for the next World Cup in Japan next year, a third straight loss – against Ireland this weekend – would ring alarm bells for the Australian and represent the first time that England had lost three Six Nations matches in the same year since 2006 – a run of results that eventually led to the sacking of head coach Andy Robinson later that year.
A loss to the recently-crowned champions this weekend will almost certainly not cost Jones his job, given the success in winning 24 of his 27 games in charge since the start of 2016, but the 58-year-old is aware of how their Six Nations rivals have learned to expose England's biggest weakness in competing regularly at the breakdown. Part of the problem is that the Premiership often sees rucks go uncontested, whereas both the Pro14 and Top 14 sees possession regularly challenged for after the tackle by more than one player.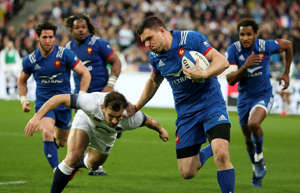 Asked if their problems against Scotland and France came as a surprise, Jones answered: "No, not at all, because when you get under pressure, old habits come back. We've got to break old habits and that's one of the hardest things in life to do.
"Our players tend to sit back and not go with the ball-carrier, because of habits they have, and we're working hard to change that habit, but when we're under pressure it comes back, therefore we get a gap between the ball-carrier and the second man.
"I think we've always had that problem; we've always been aware of it and these games have exposed it. Sometimes you need to get the lesson before you learn – and this will be a valuable lesson for us."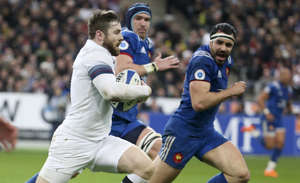 Jones will be partially relieved to have these problems arise now and not in 18 months when Japan 2019 gets underway, but the short-term concern remains great – especially with the visit of newly-crowned champions Ireland to Twickenham next up. Joe Schmidt's side will already leapfrog England and move into second place in the World Rugby rankings on Monday, and unless England can beat the jubilant Irish in the Grand Slam decider, they will end the Six Nations in third and more than six ranking points behind the All Black.
However, he is not blessed with time to address the issues identified. After next weekend's finale, the players will return to their clubs until June's three-Test tour of South Africa, with just one training camp planned between the end of the season and next November's autumn internationals when England will face New Zealand for the first time since 2014.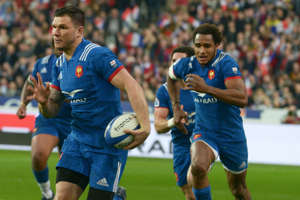 But Jones will not be taking matters out of his own hands and into the Premiership clubs, despite identifying that the problem may lie rooted in club rugby, and that could result in England taking quite some time before being able to show an improvement.
"It's not a clubs problem. It is our problem," he said. "We've got to fix it, because that's the sort of rugby we're playing. We can't expect club teams to play international rugby, just as we can't expect to play club rugby. It's a problem we've got to fix. It's a sizeable but fixable problem. We can address it and keep getting better at it, but the reality is that we probably won't get better at it until the World Cup."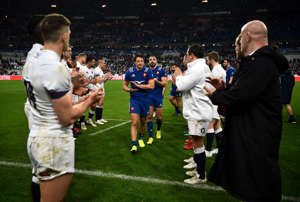 Another part of the issue has been the loss of two power players in Billy Vunipola and Nathan Hughes. Vunipola has started just one Test in 14 months, while Nathan Hughes suffered his second left knee injury of the season on Saturday when Wasps and England teammate Joe Launchbury and French fly-half Francois Trinh-Duc cleared out of a ruck and crashed into his standing leg – the second time England have suffered an injury in such circumstances after Ben Youngs' incident against Italy.
That leaves Jones with only Sam Simmonds to select at No 8 from the players that he has used so far this tournament, with Vunipola still yet to return from a broken arm suffered in January, and there was an interesting response from Jones when asked if he had any more power runners capable of coming into the squad at No 8.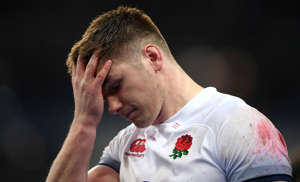 "Well as you know, we can only pick from the Premiership, so we can only pick players from the Premiership," Jones cryptically answered. Of course, former Bath back-row Carls Fearns is currently out of the England fold after deciding to stay in France, but his comments could well have been aimed towards Hurricanes captain Brad Sheilds, who will swap New Zealand for England later this year when he joins Wasps and automatically qualifies for eligibility through his English-born parents Danielle and Nigel.
Six Nations team of Round 4 (Read Sport)
Never miss an important story, Follow us on Facebook, and on Twitter