'I felt I was not a good mom': Serena Williams details post-partum struggles

The Guardian
07/08/2018
© Mal Taam/CSM/REX/Shutterstock Serena Williams reached the Wimbledon final in July. Serena Williams has said concerns over motherhood have affected her recent form.
Williams suffered the heaviest defeat of her career last week when she lost 6-1, 6-0 in just 52 minutes to Britain's Johanna Konta at the the Mubadala Silicon Valley Classic.
Watch: Serena Williams's Most Precious Mom Moments (Provided by Instyle)
"I read several articles that said postpartum emotions can last up to 3 years if not dealt with. I like communication best. Talking things through with my mom, my sisters, my friends let me know that my feelings are totally normal. It's totally normal to feel like I'm not doing enough for my baby."
The 36-year-old took an extended break to give birth to her daughter, Alexis Olympia, but returned to the circuit earlier this year and reached the final of Wimbledon last month. 
"I work a lot, I train, and I'm trying to be the best athlete I can be," she wrote. "However, that means although I have been with [my daughter] every day of her life, I'm not around as much as I would like to be. Most of you moms deal with the same thing. Whether stay-at-home or working, finding that balance with kids is a true art. You are the true heroes. I'm here to say: if you are having a rough day or week–it's ok–I am, too!!!"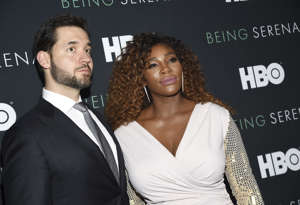 © Evan Agostini/Invision/AP Professional tennis player Serena Williams and husband Alexis Ohanian attend the premiere of HBO's "Being Serena" at the Time Warner Center on Wednesday, April 25, 2018, in New York. (Photo by Evan Agostini/Invision/AP) Williams has been open about the difficulties she has faced with motherhood. In February she described the complications when she gave birth. "I almost died after giving birth to my daughter, Olympia," she wrote in an article for CNN.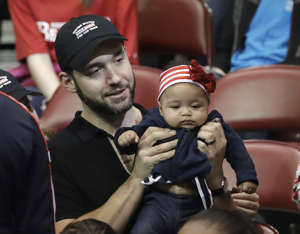 Williams said the pregnancy had gone smoothly before she encountered problems: "First my C-section wound popped open due to the intense coughing I endured as a result of the embolism. I returned to surgery, where the doctors found a large hematoma, a swelling of clotted blood, in my abdomen. And then I returned to the operating room for a procedure that prevents clots from traveling to my lungs."

Williams has said she expects to play later this month in the US Open, a tournament she has won six times. 
Related: Serena Williams through the years (Provided by Photos Services)