'We responded with a good performance,' says Arsenal manager Arsène Wenger

The Guardian
09/03/2018
© EPA Arsene Wènger is greeted by AC Milan's head coach Gennaro Gattuso before the UEFA Europa League clash at San Siro. Arsene Wènger complimented his players for at last showing a reaction to the "nightmare" period they have endured with an authoritative 2-0 win at Milan.
Arsenal have taken a significant stride towards a place in the Europa League quarter-finals, and showed they are capable of repairing some of the damage inflicted during a difficult campaign.
"At some stage you need to respond and to respond together with a good performance. That's what we did," said Wenger. "It was backs to the wall and we needed to find the mental resources. In one week you do not become a bad team or a bad player. Nothing is permanent in life."

Arsenal won with a convincing team performance crowned by goals from Henrikh Mkhitaryan and Aaron Ramsey, ending a run of four consecutive defeats in accomplished style.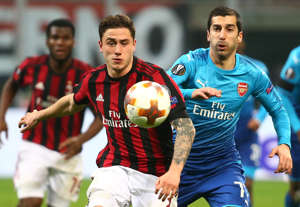 © Reuters AC Milan's Davide Calabria in action with Arsenal's Henrikh Mkhitaryan Wenger was impressed to see his team show their spirit in adversity but stressed that the tie was far from over, perhaps mindful that his team took a healthy 3-0 lead in the last round against the Swedish team Östersund before under-performing and slipping to a home defeat in the second leg. "We won a game, we are not qualified. We have to finish the job at home. Nothing is 'chiuso' [closed] at the moment.

"The result will lift the belief in the team a little bit. Because when you lose three days in six days it's always very difficult. It's difficult to recover from a defeat in a cup final when you put so much effort in.
"It's like a boxing match when you are half knocked down and you have to face another opponent before you got up again. When you have big disappointment you forget quickly you have some qualities. Now we want to keep our focus and finish the job next week. That is the target."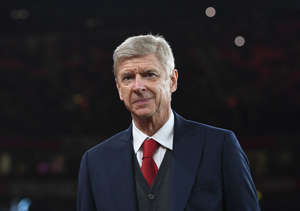 © press association Wenger was impressed to see his team show their spirit in adversity Milan's manager Rino Gattuso was bitterly disappointed as his team's inexperience was exposed as Arsenal got their act together. "We made a lot of mistakes, we were not compact. Arsenal's quality was higher and we suffered for that. But in football never say never. We will go there and play. It is not finished although it is very, very difficult."
Arsenal face Watford on Sunday before the return leg against Milan next Thursday at the Emirates, and Wenger is taking nothing for granted as he tries to oversee the kind of mini-revival that can bring a silver lining to a stormy season.
Related: Arsene Wenger previews AC Milan Europa League tie (Provided by Mirror)
For more of the most popular News, Sport, Lifestyle & Entertainment on MSN, Follow us on Facebook, and on Twitter