Arsenal charged by FA over fan pitch invasion during Manchester United victory
The Independent
14/03/2019
Arsenal have been charged by the Football Association over the pitch invasion by a fan during last weekend's 2-0 victory over Manchester United.
Shortly after striker Pierre-Emerick Aubameyang scored a second-half penalty to secure the victory, a supporter ran onto the field of play and made contact with United defender Chris Smalling, before running towards the Arsenal players celebrating in front of the North Bank.
© Provided by Independent Digital News & Media Limited The FA has now charged Arsenal with failing to ensure their fans "conduct themselves in an orderly fashion", and have given the club until next Friday to respond.
An FA statement read: "Arsenal FC has been charged with breaches of FA Rule E20(a)and (b).
"It is alleged the club failed to ensure that its spectator[s] conducted themselves in an orderly fashion and refrained from encroaching onto the pitch during the Premier League fixture against Manchester United on Sunday [10/03/2019]."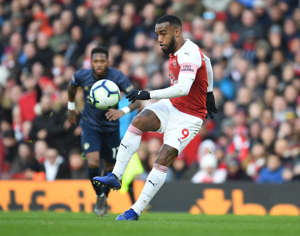 The invading fan, a Gary Cooper, 30, of Chertsey, was subsequently arrested and charged. He was bailed to appear at Highbury Corner Magistrates' Court on Tuesday 26 March.
In the wake of the match, an Arsenal spokesperson said: "We utterly condemn the behaviour of the individual who ran onto the pitch and approached Chris Smalling during today's match.
© 2019 The Arsenal Football Club Plc LONDON, ENGLAND - MARCH 10: Granit Xhaka scores for Arsenal during the Premier League match between Arsenal FC and Manchester United at Emirates Stadium on March 10, 2019 in London, United Kingdom. (Photo by Stuart MacFarlane/Arsenal FC via Getty Images) "We would like to apologise to Chris and Manchester United, and are pleased that the individual was apprehended and arrested.
"We will be working closely with the Metropolitan Police in their investigation. The individual will also be banned from Arsenal matches home and away. Our matchday staff receive ongoing training on managing incidents such as this."