Chelsea to decide on Maurizio Sarri's future after Europa League final

The Telegraph
15/05/2019
Chelsea will leave a decision on Maurizio Sarri's future as head coach until after the Europa League final against Arsenal.
Despite Sarri still fearing he could be sacked after just one season in charge, in which he has secured Champions League qualification, Chelsea are yet to settle on a definitive course of action.
Video: Maurizio Sarri believes Chelsea 'deserve a trophy' after reaching Europa League final (The Independent)
Winning a trophy and beating a London rival could certainly help Sarri's bid to start a second season at Stamford Bridge, but he has not been offered any assurances.
Italian reports claimed on Wednesday that Sarri is a 'dead man walking' regardless of the result against Arsenal in Baku on May 29, but that is not thought to be the case.
There is interest in him from his native Italy, particularly from Roma who have already been turned down by former Chelsea coach Antonio Conte.
© 2019 Sebastian Frej/MB Media LONDON, ENGLAND - APRIL 18: Maurizio Sarri of Chelsea looks on during the UEFA Europa League Quarter Final Second Leg match between Chelsea and Slavia Praha at Stamford Bridge on April 18, 2019 in London, England. (Photo by Sebastian Frej/MB Media/Getty Images) Sarri has publically claimed he ideally wants to stay at Chelsea and in England. His position has improved over the past fortnight, during which Chelsea qualified for next season's Champions League and finished above Tottenham Hotspur in third place in the Premier League.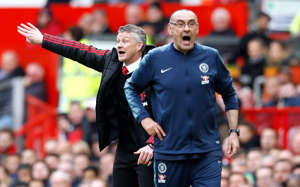 But concern remains over the disconnect between Sarri and a section of the match-going supporters, who chanted for him to be sacked and abused his style of football earlier in the season.
The bad feeling towards the Italian has calmed since the victory over Cardiff City, but Sarri did not join the Chelsea players on their annual lap of appreciation at the end of the final home game or go over and clap the travelling support at Leicester City.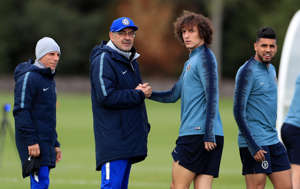 © PA Wire/PA Images Chelsea manager Maurizio Sarri (second left) and David Luiz (second right) during a training session at CFC Training Ground, London. (Photo by Mike Egerton/PA Images via Getty Images) A victory over Arsenal could not only secure silverware and ease some of the disappointment over Chelsea's results against their rivals in the League, but also please some of the discontented supporters.
Defeat, however, could also put Sarri back into a difficult position, when owner Roman Abramovich comes to make a decision over his future.
Abramovich would not have been impressed by Sarri's criticism of the timing of Chelsea's post-season trip to the United States for a charity match ahead of the Europa League final.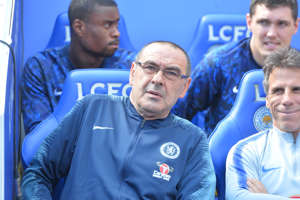 © 2019 Plumb Images LEICESTER, ENGLAND - MAY 12: Chelsea Manager Maurizio Sarri during the Premier League match between Leicester City and Chelsea FC at The King Power Stadium on May 12, 2019 in Leicester, United Kingdom. (Photo by Plumb Images/Leicester City via Getty Images) It is understood that Abramovich was due to be at Chelsea's 'Final Whistle on Hate' match against The New England Revolution in Boston in the early hours of Thursday morning.
Sarri was on the brink of being sacked twice this season, with England assistant Steve Holland lined up as an interim manager, but results and performances improved at the right time.
There is also the potential significance of a transfer ban for Abramovich to consider when deciding on Sarri's fate. Chelsea are still fighting the two-window punishment from Fifa with the Court of Arbitration for Sport.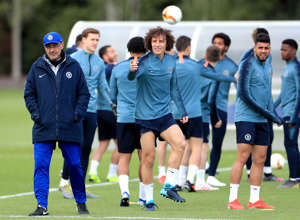 © PA Wire/PA Images Chelsea manager Maurizio Sarri (left) and David Luiz (right) during a training session at CFC Training Ground, London. (Photo by Mike Egerton/PA Images via Getty Images) But whether or not CAS freeze their ban, allowing Chelsea to sign players this summer, while the case is put together and considered could have an impact on Sarri.
Sources believe that Sarri's position would be strengthened if Chelsea were banned from signing players this summer, with the theory being that the Blues may be more likely to consider a change if they can make signings this year ahead of a future ban.
Gallery: The 51 best players in the Football League this season (FourFourTwo)
MSN UK are Empowering Happiness for mental health awareness month. Find out more about our campaign and the charities working to stop people falling into crisis here.