Danny Cipriani interview: 'England call-up means nothing if I don't make the most of it'

The Telegraph
15/05/2018
Danny Cipriani has revealed he does not know what he would have done with his future if Eddie Jones had not called him into the England squad to tour South Africa, though he does believe that "this is the best version of himself" on display after a chequered career.
It was only when Wasps team-mate Tommy Taylor reached across the breakfast table in the team canteen on Thursday morning to show Cipriani the sports headlines on his mobile phone that the fly-half realised that "the dream, the burning desire, the huge driver of playing for England again" had come one step closer. It has been a decade since the 30-year-old last started a Test for England, three years since he won the last of his 14 caps, and Cipriani is the first to state that the call-up "means nothing if I don't make the most of it".
Related: 'I had offers from abroad' (Sky Sports)
That battle to convince everyone of his value has been long-running, with his director of rugby Dai Young remarking on Tuesday prior to this weekend's Aviva Premiership semi-final against Saracens at Allianz Park that Cipriani's defence "could be the difference between us winning and losing the game".
There have been other sorts of misgivings, but the player himself has never given up on his determination to work his way back into the England frame. Wasps did not look to extend his contract as the player weighed up lucrative offers to move to France. If Cipriani had gone abroad, his England career would have been over.
"Had the call [from England] not come, I don't know how I would have felt," said Cipriani, whose move to Gloucester was finally confirmed on Monday . "I probably would have had a lot of advice to try to chase the money. My agent got four-to-five calls from English clubs on the day the squad was announced. I just hadn't thought about it [not making the cut]. I was trying to let it flow, rather than thinking about it. 
"Luckily, I was part of the squad. If I hadn't been, it was definitely a decision I would have had to make fairly soon because teams in France were pressing for me to do it. I'd never given up on it [England].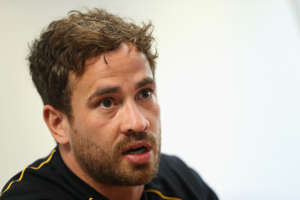 "Otherwise I would have signed contracts months ago. I've always wanted to get picked, but you just have to take the humble pie, go back and keep learning and improving until you give no reasons not to get picked. It's not been easy to hold out in that way. When it's meant to be, it will all fall into place. I've got an opportunity to go in there now and try to leave a positive imprint."
Jones has stated that he did not consider Cipriani to be a backup player, that either he had to be first-choice or not in the squad at all. Jones also tossed out a throwaway remark last week that Cipriani could find himself "on the plane back from Johannesburg… if he was a bad character". Cipriani acknowledged the worth of Jones's assessment that he was not a natural understudy.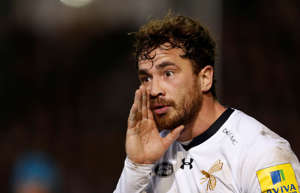 © Action Images/Matthew Childs Wasps' Danny Cipriani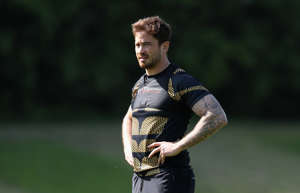 © David Rogers/Getty Images Danny Cipriani looks on during the Wasps training session held at their training ground on May 15, 2018 in Coventry, England.
"There might have been some truth in that," said Cipriani. "Rightly or wrongly, I guess I've always been me, and it's either put me in good stead or not. I think mistakes get viewed as such a negative thing now. When a kid makes a mistake, he gets told off and in trouble. You learn from mistakes – it's how you keep improving, how you keep getting better. So, for me, the mistakes I have made, hopefully I am the best version of myself right now."
Jones has been in constant touch with Cipriani over the last couple of years, telling him he wants to see "some creativity" from him when he arrives in camp. First, there is a semi-final to navigate against Saracens and a head-to-head with Owen Farrell. Cipriani has cleared a sizeable hurdle in making it back into the squad, but he is not making the mistake he has made before of thinking he has cracked it.
"I've been here before and it's not about following the wave up and down, otherwise your emotions keep riding with it," said Cipriani. "It's about staying on an even keel so you make sure you can keep performing and keep improving. 
"It's not like it is me trying to create some hero story by staying here to play for England. It's just I want to represent my country, to deliver a good message that you can make mistakes, learn from them and keep driving forward. There was a sense of happiness [on hearing the news].
"It's good news, but it just means nothing if I don't make the most of it. If you are just happy with getting in the squad, then it is a quick route out."
Related: Failed sporting prodigies (Omnisport)