Eddie Jones backs Chris Ashton to 'sniff out a try' against the All Blacks

The Telegraph
09/11/2018
(Video provided by Sky Sports)
Eddie Jones has turned to Chris Ashton to help "change England rugby history" against New Zealand on Saturday.
The Sale Sharks wing has been chosen for his predatory instincts as a means of altering the narrative of matches between these countries. Even at Twickenham, England have been a mere supporting cast to the back-to-back world champions, with only five wins in 22 matches.
Jones is bullish about recasting that record, aware of the pressing need to score tries. Hence the recall for Ashton, one of the game's most potent operators, as he proved when he broke the French Top 14 record in his one season at Toulon. He plundered 24 tries that year before returning to his home country to tilt for a World Cup place. This is his opportunity to shoot high, and England's chance, too, to add a significant notch to their belt.
Download the all-new Microsoft News app to receive up-to-the minute news from the world's best sources – available now on iOS and Android
"Playing against New Zealand is something in your life that you never want to regret and for our players there is a chance to change England rugby history," said Jones. "Of our players, 33 per cent have beaten New Zealand and we want to come off the field on Saturday with 100 per cent having beaten New Zealand."
It is seven years and 100 Tests since the All Blacks lost to a side who did not score a try. New Zealand have scored 59 tries in 10 Tests this year while England have managed only 22 in nine, drawing a blank against South Africa last weekend in a 12-11 win. Ashton is charged with boosting that tally.
"Chris can sniff a try from anywhere," said Jones of the man whose last start for his country was four years ago in New Zealand, when his side were beaten 36-13. "He's a try-getter and to beat New Zealand you have to score tries. It is nothing coached with Chris.
© Getty images Chris Ashton is back in the England starting XV - The RFU Collection "You can only stuff up guys like that by coaching them. You just give them a free rein, give them a framework to operate in, make them feel good about themselves, make sure they've got a smile on their face and away they go.
"If Chris hadn't got into so much trouble [with various suspensions] he'd have played more Tests already. He's always up to no good. Wherever there's trouble, there's Ashton. Perhaps he's got a deal with a lawyer that he gets paid extra if he gets more work. Chris is a good player and has been for a long time."
And will he be advising against the trademark "Ash-splash" try celebration? "I don't care what he does. I haven't even thought about it."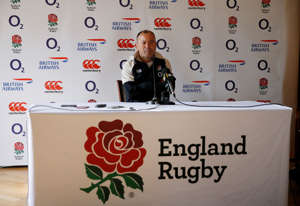 © Thomson Reuters Rugby Union - England Team Announcement Press Conference - Pennyhill Park Hotel, Bagshot, Britain - November 8, 2018 England head coach Eddie Jones during the press conference Action Images via Reuters/Andrew Boyers For Ashton to flourish, many other things have to fall into place. The pack, where there are two changes – Ben Moon leapfrogging his Exeter team-mate, Alec Hepburn, on the loosehead and Bath's Sam Underhill coming in for the injured Tom Curry – have to chisel decent ball and the back-line has to put it to good use.

Central to the latter part of that equation is Owen Farrell, starting as fly-half for only the fourth time under Jones. As the tactical fulcrum of the side, Farrell has plenty to offer. As its emotional heartbeat, too, he is indispensable.
Farrell was the centrepiece of post-match scrutiny against the Springboks for his contentious last-minute bone-shuddering tackle on Andre Esterhuizen. Although many felt the tackle to be illegal, it was deemed fair by the referee, Angus Gardner, although it was no coincidence that World Rugby reiterated on Thursday its stance on cracking down on "no arms tackles and high tackles".
© Thomson Reuters Rugby Union - England Training - Pennyhill Park Hotel, Bagshot, Britain - November 7, 2018 England head coach Eddie Jones and England's Ben Te'o during training Action Images via Reuters/Andrew Boyers "If he [Farrell] was Johnny Sexton then we'd be able to complain about him [on his behalf] but because he is Owen Farrell he's allowed to be hit late," said Jones, who has had to manage Farrell's workload this week, especially as he took a blow to the hip.

"He's a tough rooster so he gets up. He takes the ball to the line, puts his body on the line. He keeps doing it. Owen doesn't play in a dinner suit. He is a warrior. Players like him are never 100 per cent right in terms of fitness. They get on the field, they play and they give you everything they've got.
"Owen wants to play every week. He is a competitor. If we are playing marbles on a Wednesday, he wants to play. You can't put blokes like him in cotton wool. They want to play for their country. They want to make their country great."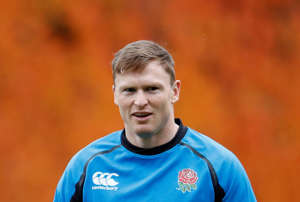 © Thomson Reuters Rugby Union - England Training - Pennyhill Park Hotel, Bagshot, Britain - November 7, 2018 England's Chris Ashton during training Action Images via Reuters/Andrew Boyers Jones kept stressing that he sees every one of his 23-man squad as equal in merit and that the two changes made on preference, Ashton and Moon, were simply suited to the starting-finishing dynamic.

"If I had my way, I'd have all the players numbered the same," said Jones. "Some guys will start, some will finish. History tells us that New Zealand win most of their games in the last 20 minutes. So, which one is more important this week, the starter or the finisher?
"The acceleration requirement of the players is 30 per cent more than it was two or three years ago. The game is physically more intense so you need to be able to fill the high work-rate positions with two players. It is about trying to maximise the 80 minutes."
England's bench sees Bath's Zach Mercer making way for the fit-again, Test-proven Courtney Lawes. Manu Tuilagi failed to pass muster due to a niggling groin problem, although Jones declares the Leicester centre to be "99.99 per cent fit."
Tuilagi scored in the 2012 win over the All Blacks. So, too, did Ashton. Jones will be hoping for a repeat performance.