Six Nations permutations: How Wales, England and Ireland can still claim title on the final weekend

Evening Standard
11/03/2019
© Provided by Independent Digital News & Media Limited Round five of the 2019 Six Nations is almost upon us, with one team still chasing a coveted Grand Slam and a Triple Crown and two others remaining in the hunt for a Championship win.
After victories over France, Italy and England, defensively stout Wales survived a second-half onslaught against Scotland at Murrayfield last weekend and victory over last year's champions Ireland in Cardiff in 'Super Saturday's' middle fixture will see them wrap up a first Grand Slam since 2012 in Warren Gatland's final year at the helm.
Video: Eddie Jones aiming to settle scores with Scotland (Evening Standard)
That fixture kicks off just over two hours before England welcome injury-riddled Scotland to Twickenham, meaning that the hosts - whose own Grand Slam dreams were scuppered at the Principality Stadium last month - will know by the time the latest Calcutta Cup clash begins whether or not they still have a chance at the title.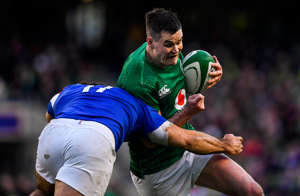 © SPORTSFILE Dublin , Ireland - 10 March 2019; Jonathan Sexton of Ireland is tackled by Etienne Falgoux of France during the Guinness Six Nations Rugby Championship match between Ireland and France at the Aviva Stadium in Dublin. (Photo By Brendan Moran/Sportsfile via Getty Images) If Wales are defeated by Ireland on home soil or the match is drawn, then a victory would be enough for England to triumph.
However, a draw between Wales and Ireland combined with an England loss means that Gatland's side would still win the Six Nations but without the Grand Slam they so desperately covet.

As it stands ahead of round five, Wales sit top of the table on 16 points, with England's three bonus-point wins meaning they are only one place and one point behind on 15.
If England were to secure another bonus point against Scotland and Wales did not so in a win over Ireland, then Gatland and co would still be victorious owing to the three bonus points automatically awarded to the team that wins a Grand Slam.
Gallery: Six Nations - The teams and their records (Photo Services)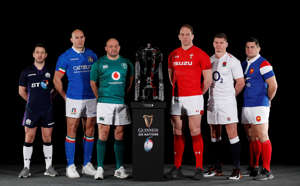 Ireland are currently two points adrift of Wales and to win back-to-back titles they would need to beat them and hope that Scotland can defy their ongoing fitness struggles to claim a second successive win over England.
As for the rest of the table, Conor O'Shea's Italy - losers of 21 consecutive Six Nations fixtures dating back to 2015 - are guaranteed to finish bottom once again and neither fourth-place Scotland or fifth-place France, currently tied on six points, can hope to jump into the top three after disappointing campaigns.