Talking rugby: Eddie Jones faces six critical months to shape his World Cup squad

The Telegraph
27/08/2018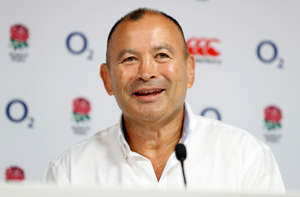 Eddie Jones can be grateful to Danny Cipriani and Chris Ashton for reminding him at the start of this endless season of the value of contingency planning.
Both were named for Jones's first England training camp early this month. Both now have question marks hanging over them as the squad for the real business of the November internationals takes shape in Jones's mind over the coming six weeks.
The best-laid plans of head coaches rarely come to pass as injury and suspensions impact on selection, although New Zealand seem to do very nicely no matter which version of their blueprint is in use.
Other countries, though, have neither the depth of talent nor  the deeply ingrained rugby intelligence to shuffle their resources at will and still come up smelling of roses as the All Blacks did once again at Eden Park on Saturday night.
A column in this weekend's New Zealand Herald was headlined: 'Just Give Us The Cup Now.' Arrogant? Presumptuous? Both of these, yet also probably prescient.
There is little doubt that as this domestic campaign opens with a rattling-good round of Gallagher Premiership matches, it is the 2019 World Cup that will be at the forefront of talk in and around the sport. No matter inter-club tribal rivalries, it can be no other way. In a little over 12 months, England will head to Japan all too aware that their prospects are as finely-balanced as were those of Stuart Lancaster's squad three years ago. Then it was Wales and Australia who tipped England into a pit of despair. This time it is France and Argentina who pose the biggest threats to progress through to the knockout stages. The Pumas beat South Africa in Mendoza on Saturday night and are proven performers at World Cups, while France are France, forever a pain.
Jones and Gareth Southgate are not obvious bedfellows yet it will be hard to shake off points of comparison over the next year. Rugby could certainly do with a dose of the feel-good factor that infused Southgate's England in Russia.
It is not just that Jones's team have hit a bumpy patch, their 25-10 win in the third Test against South Africa in Cape Town ending a run of five successive losses, but that the bounce and empathy of Jones's first two seasons in charge seems to have dissipated. Things have become cranky and hangdog. That is what defeat brings.
Of course, these are fine-line matters and an upbeat mood will not be restored merely by throwing open the media doors as Southgate did and inviting all-comers to the ball. But if there is one thing that did appear to come from the about-turn in how England football conducts itself it is that Southgate's players were encouraged to be open and freethinking, not afraid to reveal their character and be of independent mind.
England's rugby team need to project that self-same air of authority in all that they do, be it standing up to Jones if they feel that training is too arduous or that the game plan needs to be tilted within the course of a match. The All Blacks counter-attack without fear. England need that get-up-and-go in their rugby.
That is what Jones will be looking for in the coming weeks, players of self-determination and attitude. The England head coach needs to be challenged by his players, as once a Martin Johnson or Lawrence Dallaglio did. That is why Dylan Hartley's recovery from the effects of concussion is a boon to Jones. At the age of 32, Hartley may not have the zip and pace of Saracens' Jamie George but he does have presence. England need the hardheadedness that he brings to the set-up.
This next six months are critical in the shaping of England as they prepare for Japan. Jones has only nine matches in which to cement his thinking or to admit one or two bolters to his World Cup plans. By the time England are in their four-match warm-up programme next August, it will be too late for any radical diversion from the script. It is the four-Test November series – South Africa, New Zealand, Japan and Australia – along with the 2019 Six Nations that will give shape and edge to England's plans.
Whether Cipriani or Ashton have a part to play in that project remains to be seen. Certainly, Jones will want to be persuaded that Cipriani's late-night kerfuffle in Jersey was something of an aberration for the born-again fly-half, one who worked so hard to win back trust yet who behaved like a pillock. There was a danger as the Rugby Football Union instigated its own inquiry after two different hearings by court and club of Cipriani acquiring victimhood status.
As he himself admitted, he deserved sanctioning and even though a clip round the ear is no longer considered a legitimate form of punishment, that is what ought to have been administered.
If Cipriani plays with gusto and smartness for his new club, Gloucester, then there is no reason for Jones not to have him in his selection thoughts. The benefits of having competition for places in a squad was shown by Beauden Barrett's virtuoso four-try performance against the Wallabies, with the All Black fly-half supposedly under pressure from Richie Mo'unga.
Ashton has no such opportunity before November but his try-scoring prowess is such that if he hits the mark for Sale Sharks when he does eventually make his bow, then he, too, should be in consideration.
England have no tour next June, so this season effectively does not end before events in Japan. There is much to play for, from first whistle at Ashton Gate on Friday night to the clubs' Twickenham denouement on June 1.
Jones will not be the only one watching avidly.