Towering Toronto Wolfpack set to grow rugby league in Europe's cities

The Guardian
06/10/2018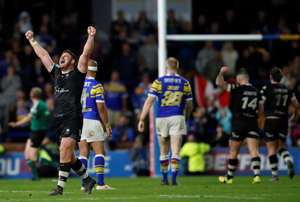 Heard the one about the Australian who founded a Canadian rugby league team to play in England? For a sport which has spent most of its 123-year history confined to northern towns, rugby league's landscape has changed more in the last two years than perhaps ever before.
In August, there was Catalans Dragons' groundbreaking victory in the Challenge Cup final, while Toronto Wolfpack have been ticking along nicely for the past two years more than 3,500 miles away.
Scepticism was at an all-time high when Toronto were admitted into the Rugby Football League in 2016. Nobody was quite sure how to receive such a unique project from the game's governing body but on Sunday the Canadians could be about to gatecrash the top table much sooner than anyone expected, with promotion to Super League assured if they beat London Broncos in the Million Pound Game.
Download the Microsoft News app for your Android or iPhone device and get news & live updates on the go.
Video: London Broncos prepare for crucial Toronto trip (Sky Sports)
"We're creating a rugby revolution in Toronto," says David Argyle, the man behind the project. The Australian mining tycoon moved to Canada almost 20 years ago but his love for rugby league never wavered, not least when the opportunity to bankroll a new franchise in Toronto materialised. "Rugby league, along with Toronto Wolfpack, has achieved what the NFL has flirted with for years: a transatlantic team based in England. We're at the cutting edge of sport, and the NFL are looking at this and watching on, I promise you."
Logistically, Toronto play their games in blocks to minimise transatlantic travel, which will continue next year. If promoted, they will spend a fortnight based in Manchester, playing two away games, before returning to Canada for two fixtures at Lamport Stadium, where crowds average around 8,000.
"The inroads we've made with the people of Toronto already is incredible," Argyle says. "We've got one guy who drives from West Virginia – around eight hours – for every game, then drives back."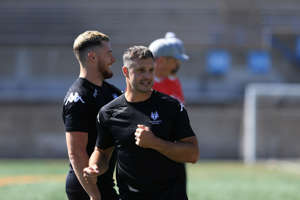 But Argyle's millions are not simply being spent on building a rugby league juggernaut in Toronto: he wants to create a much greater, far-reaching legacy for the brand. "It's very important to develop rugby players of the future," he says. "We already have one Canadian-born player in Quinn [Ngawati, who made his debut last year] and there will be more to come. We work closely with Rugby Ontario in their endeavours, who put 100,000 kids through their programme. What we can offer at the Wolfpack is a pathway into professional rugby, irrespective of the code."
The harsh early-year climate in Toronto causes problems but Argyle has devised a plan that will not only counter that but help spread the growth of the game. "We'll be playing some of our early‑season home games in other capital cities across Europe that people will enjoy," he says, with Copenhagen, Dublin and Nice three potential bases. "We'll be taking Super League to major European cities that haven't seen it before: what's not to like?"

Argyle's plans for world domination do not end there. He wants to bring international rugby to Toronto next year, with the 30,000-capacity BMO Field, home of Toronto FC, a venue Argyle believes would "sell out in a heartbeat". "If we get promoted, our target is 15,000 visiting fans next year," he says. "That would mean UK-based arrivals at Pearson Airport would increase by 14.5%, and room occupancy would be up by 2% just because of the Wolfpack."
And if Sunday's game does not go to plan, and Toronto fail to win promotion? "Regardless of that, there will be a celebration," Argyle insists. "We will celebrate the success of the year and the growth of the brand no matter what – but if we win, those celebrations may be a touch more exuberant."
🗣 "There's no tomorrow so to speak, after this, so our boys are in good form, they're in good mood and we're looking forward to a good game against a @LondonBroncosRL side who, like ourselves, have earned the spot on this stage."

Paul Rowley ahead of Sunday's Million Pound Game pic.twitter.com/G0fAmEzGGu

— Toronto Wolfpack (@TOwolfpack) October 5, 2018