WTA backs Williams' sexism claim

Sky Sports
10/09/2018
© Provided by BSkyB Getty The WTA has backed Serena Williams' claim that sexism played a role in the code violations she received during the US Open women's final.
Just as the trophy presentation for Novak Djokovic's third US Open title was beginning the WTA chief executive Steve Simon released a statement about the events of Saturday's match which saw Naomi Osaka defeat Serena Williams to win her maiden Grand Slam title.
Williams received three code violations during an emotion filled final - an initial code violation for coaching, followed by a point penalty for racket abuse before receiving a game penalty for calling umpire Carlos Ramos a "thief".
Download the all-new Microsoft News app – available now on iOS and Android
In the statement the WTA voiced support for coaching on the Grand Slam stage and called for equal treatment of players in the officiating of matches.

"Yesterday also brought to the forefront the question of whether different standards are applied to men and women in the officiating of matches," Simon said in a statement.
"The WTA believes that there should be no difference in the standards of tolerance provided to the emotions expressed by men vs women and is committed to working with the sport to ensure that all players are treated the same. We do not believe that this was done last night."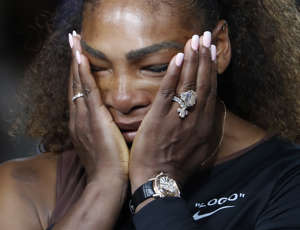 © AP Serena Williams reacts during the trophy ceremony in the women's final of the U.S. Open tennis tournament, Saturday, Sept. 8, 2018, in New York. Naomi Osaka, of Japan, defeated Williams. (AP Photo/Adam Hunger) The first violation for coaching, which isn't allowed during any men's matches but is permitted on the women's tour except in Grand Slam tournaments, came when Williams' coach Patrick Mouratoglou was seen gesturing to the 23-time Grand Slam champion.

Williams said she had not cheated and never received on-court coaching but Mouratoglou admitted in a post-match interview he had coached and suggested it was widespread within the game.
"We also think the issue of coaching needs to be addressed and should be allowed across the sport," the statement added.
© Provided by BSkyB Getty "The WTA supports coaching through its on-court coaching rule, but further review is needed.

"Yesterday's match showcased one of tennis's new stars as well as one of the greatest players of the game. We look forward to more thrilling matches between these great athletes and hope that what we all witnessed yesterday never happens again."
Video: Naomi Osaka wins controversy filled U.S Open Final (cbc.ca)