Brighton attractions

The Telegraph
17/02/2017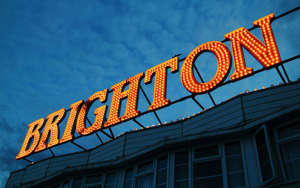 © Provided by The Telegraph Brighton Pier is one of the many attractions in the seaside town CREDIT: AP/FOTOLIA An insider's guide to the best things to do and attractions in Brighton, including visiting the Royal Pavilion, Kemp Town, Hove and Brighton Pier. By Louise Roddon, Telegraph Travel's Brighton expert.

Brighton was the favoured seaside bolt hole of the Prince Regent – and he left his stamp on the city with a collection of Regency architecture, fine parks and bejewelled churches. He also bestowed his libertine attitude on Brightonians – and the combination of showy facade and untamed core is typical to the city, even today.
Enjoy the glitz, but allow time to unearth the Brighton that locals love: a slow meander through village-like Kemp Town, a trawl through the narrow bohemian backstreets of North Laine – still better, a quiet moment in one of the city's retro tea rooms or pubs.
Royal Pavilion
© Provided by The Telegraph Brighton has a glut of splendid architecture, but the Royal Pavilion steals the show CREDIT: AP/FOTOLIA Prince Regent's farmhouse turned pleasure palace is Brighton's most distinctive icon, and a visit here is like gorging on too many cream cakes. Built between 1787-1823, this mock-Mughal extravaganza is a riot of jelly-mould domes and twiddly minarets. The best, most excessive bits though, are inside. There you'll find flying dragons, swirly carpets, a much-gilded Banqueting Room, nodding mechanical Mandarin figurines, and sublime hand-painted Chinese wallpaper.
Address: 4-5 Pavilion Buildings (03000 290900;  brightonmuseums.org.uk) 

Opening times: open daily, October-March 10am-5.15pm; April-September 9.30am-5.45pm
Tickets: £12.60 adults, £9.60 children
Brighton Museum and Art Gallery
Located in part of the Prince Regent's old stable complex, this is a delightfully accessible museum with a permanent collection spanning ancient Egyptian bits and bobs, Brighton seaside memorabilia, and first rate post-war British art. Past exhibitions include Sickert and Paula Rego.
Address: Royal Pavilion Gardens (03000 290900;  brightonmuseums.org.uk) 
Opening times: Tues-Sun, 10am-5pm
Tickets: £5.20 adults, £3.00 children
Brighton Toy and Model Museum
A fabulous diversion for bored children on rainy days. This modest museum underneath Brighton Station is packed to the rafters with stuffed bears, old mechanical toys, model ships and wooden puppets, with not a PlayStation is sight. Best of all is the circuitous 1930s track carrying antique model trains on a snaking ride around the museum.
Address: 52-55 Trafalgar Street (01273 749494;  brightontoymuseum.co.uk)
Opening times: Tues-Fri: 10am-5pm. Sat: 11am-5pm
Tickets: £6.50 adults, £4.00 children
Brighton Pier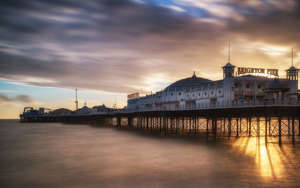 © Provided by The Telegraph Brighton Pier captures the kiss-me-quick appeal of a traditional British seaside holiday CREDIT: AP/FOTOLIA Yes, the shiny-shiny one – not the grungy burnt-out pier to the west. Brighton Pier is still the place for shot-in-the-arm seaside fun. You can easily waste an afternoon playing the slots, riding the dodgems and scoffing too much candyfloss. A recent addition is the vertigo-inducing Air Racer, based on an Orlando model, with a softer kids' version called Leonardo. The pier is also licensed for marriages.
Address: Madeira Drive (01273 609361;  brightonpier.co.uk) 

Opening times: Mon-Fri, 11am-7pm; Sat, 10am-8pm; Sun, 10am-7.30pm
British Airways i360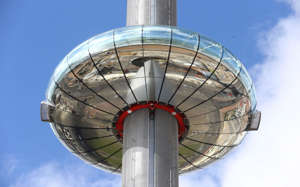 © Provided by The Telegraph The British Airways i360 "vertical pier" is the world's tallest moving observation tower CREDIT: GARETH FULLER,GARETH FULLER Float above the city and seafront in Brighton's futuristic "vertical pier". This is the world's tallest moving observation tower, featuring a glass doughnut-shaped viewing platform that gently glides 138 metres above the city and Sussex coastline. The ride lasts 20 minutes, and on a clear day you've views over back gardens, church spires, genteel Regency squares and out towards the Downs and Beachy Head.
Address: Lower King's Road, Brighton BN1 2LN (03337 720360; britishairwaysi360.com )

Opening times: Sun-Thurs: 10am-9pm (low season, 11am-5.30pm); Fri-Sat: 10am to 10pm (low season, 10am-7pm)
Tickets: £15 adults, £7.50 children
Volk's Electric Railway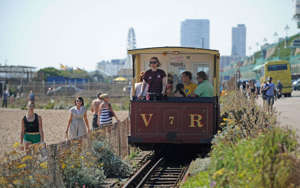 © Provided by The Telegraph Volk's Electric Railway lays claim to being the oldest of its kind CREDIT: ALAMY A great way to keep small kids amused, this narrow gauge electric railway (said to be the oldest operating electric railway in the world) takes you on a slow trundle eastwards, stopping just before the Marina. There's a halfway stop at Yellowave Beach Sports if you fancy tea and a spot of beach volleyball. Note: the train will be out of action until summer 2017. 
Address: 285 Madeira Drive ( volkselectricrailway.co.uk )

Opening times: Mon-Fri 11.15-5pm; Sat and Sun, 10.15-5pm
Hove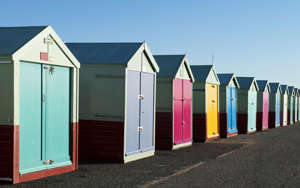 © Provided by The Telegraph Colourful beach huts line the seafront at Hove CREDIT: AP/FOTOLIA Or, as the locals say, "Hove Actually". Hove has always set itself apart as Brighton's more respectable neighbour. Interesting, when you consider the first ever blue movie was shot in a Hove garden. But that's another story, best told in the local cinematic history section of the Hove Museum & Art Gallery.
Hove and Brighton became an item in 1997, but the union never quite blurred the boundaries. Despite Hove's newly minted dinky restaurants and burgeoning list of celebrity residents, it retains its air of stately superiority. Stroll along its beachfront, and you'll see what we mean: sweeping clotted-cream-coloured Regency squares, spangly-smart beach huts, well-dressed (well, less grungy) locals walking neat little dogs. It's all a breath of fresh air when Brighton's beaches are heaving.
Kemp Town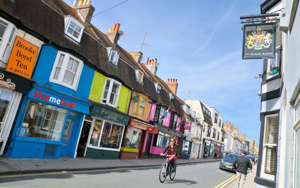 © Provided by The Telegraph Kemp Town is one of Brighton's most colourful neighbourhoods CREDIT: ALAMY Kemp Town  is Brighton's charmingly lively neighbour – a mixing pot of gay bars, interior design shops, seaside cottages and wedding-cake Regency crescents. Meander along Sussex Square, Arundel Terrace or Lewes Crescent and you'll end up longing for one of the period sea-facing properties where post-war luvvies found respite from London's hectic scene. Blue plaques abound, on the former homes of Larry Olivier and Joan Plowright in Royal Crescent, Max Miller in neighbouring Burlington Street, and, on Marine Parade and Gardens, Terence Rattigan and Flora Robson.
Sea Life Brighton

The Victorian Gothic Sea Life Brighton has had a recent update which involved stripping back the fabric to reveal glorious brickwork and polychrome arches. With its enormous scrubbed-clean fish tanks, an afternoon here spans admiring Amazonian archer fish and tiny poisonous dart frogs to enjoying an impressive new rainforest adventure. Finish with a glass-bottom boat ride over turtles and sharks.
Address: Marine Parade (0871 423 2110;  visitsealife.com/brighton/ )
Opening times: daily, 10am-6pm
Tickets: individual (3 years and over) £22.50, but family deals available online
Brighton Beaches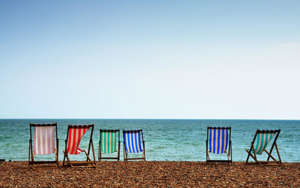 © Provided by The Telegraph Brighton's beaches each have their own flavour, but they're all pebbly CREDIT: AP/FOTOLIA Like the city's "villages," each of Brighton's beaches has a distinctive flavour. Just west of the pier, arty shops, jewellers, ceramic stalls, a fabulous hat shop and ice cream kiosks occupy the old fishing huts and boat builders' sheds known as the King's Road Arches. Among these, the charming Brighton Fishing Museum (free entry) charts the city's long-lost fishing industry with pride of place given to an old Sussex clinker boat. (Stop at Jack and Linda's smokehouse kiosk opposite, for delicious crab sandwiches and hot homemade fish soups).
Further on, trade your loose change for copper pennies in the tiny and fun Mechanical Memories Museum (also free), where vintage slot machines, one-armed bandits and saucy "What the Butler Saw" peep shows chink and crank away in perfect working order.
DAY TRIPS
Lewes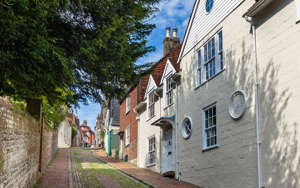 © Provided by The Telegraph Lewes exudes a well-heeled artsy charm and is just a few miles away from Brighton CREDIT: ALAMY Located about six miles east of Brighton, Lewes exudes a well-heeled yet artsy charm. It's hugely telegenic – ripe in fact for a TV detective series set among those squiggly cobbled lanes, medieval cottages and antique shops. You can tour the Norman castle, pop into Anne of Cleves' house, learn about the Protestant martyrs – or save your visit until November 5, when Lewes' bonfire societies burn an effigy of the Pope and parade in costume through the streets. Be warned though, the event attracts thousands of visitors.
Devil's Dyke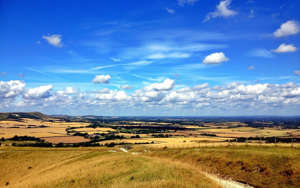 © Provided by The Telegraph South Downs National Park is just an open-top bus ride away CREDIT: AP/FOTOLIA On a bright, breezy day, nothing beats a ride on the open-top 77 bus up to Devil's Dyke – Brighton's closest slice of the South Downs National Park. The Dyke itself is a steeply-sided gulf gouged from the chalk downs during the Ice Age. Fantastic for picnics, roly-poly races, bluebell walks in spring, and far-reaching views across the gentle Weald. Afterwards, wander down to Fulking for a slow pint or two at the Shepherd and Dog – pure pub perfection, with beams, local ales and an extensive beer garden.
Take the 77 bus from various stops including Brighton Station and the Pier ( brighton-hove.gov.uk ), £4.50 return (two children per adult travel free). Shepherd & Dog, The Street, Fulking (01273 857382,  shepherdanddogpub.co.uk ).

The Undercliff Walk
Stretching 3.5 miles from Brighton Marina to Saltdean, The Undercliff Walk was built in the Thirties to provide sea defences for the crumbling chalk cliffs. Today its promenade provides a gorgeous little-known stroll where you can inhale the salty sea air, pause at cliff cafés or pootle among the rock pools at low tide.
Rottingdean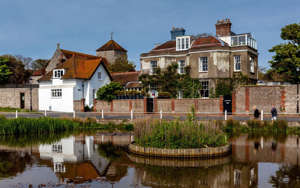 © Provided by The Telegraph Period houses overlook the village pond in Rottingdean CREDIT: ALAMY Just before Saltdean is Rottingdean – a small seaside village that rose to prominence in the late 19th century when it became popular with artists and writers. Edward Burne-Jones loved it, so too, his nephew, Rudyard Kipling who made his home here on the green. You can't tour the house, but Kipling's flint walled garden is a delight – so too, the village, church and tea shops. Buses 12, 12A, 2 and 2A regularly travel to Rottingdean from Brighton's city centre ( buses.co.uk ).
21 European cities that Londoners can visit in the morning and be back by dinner time