Travelodge offer 10% off ALL bookings for today only

Mirror
17/02/2017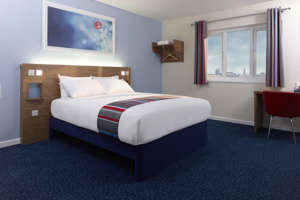 © Provided by Trinity Mirror Plc The perfect excuse for a mini-break Craving a mini-break? Whether it's a trip away with your family, friends or significant other, a mini-break is the perfect way to add a little spice to your daily life.

Treat yourself to a spontaneous (but wallet-friendly) trip away, as Travelodge unveil 10% off ALL stays - as long as you book yours today.
The 10% discount will last just 24 hours and to claim, you'll need to enter the code KINDNESS17 at the checkout. It's all part of Random Acts of Kindness Day and will end at 23.59 tonight (17 February).
The discount is valid for stays of up to two nights at all 528 Travelodge hotels between 2nd March and 28th April 2017.
Whether you're after trip to London with your friends, a romantic city escape or a family trip to the countryside with your kids, you can save 10% off your booking - wherever you want to go.
Here's our round-up of the 7 best getaways below.
Top Travelodge deals
Edinburgh Dreghorn Travelodge, £39.60
Enjoy all the beautiful sights of Edinburgh without the hustle and bustle of the city centre, by staying at Edinburgh Dreghorn.
Conveniently located close to the famous castle, zoo and national museum, you could also stop for a spot of skiing at the world's largest dry ski slope nearby, or for a drink along the Royal Mile.
Price based on one night stay on 23 - 24th March.
Liverpool Central Travelodge - The Strand, £34.20
Whether you're a Beatlemanic or an art fanatic, there's something for everyone in the city of Liverpool.
Stay right in the heart of the action, close to the riverside, central shops, museum, Tate and Albert Dock, which are all within a mile of the hotel.
Price based on one night stay on 23 - 24th March.
Travelodge Perth Broxton Junction, £31.50
If you're looking for a rural retreat, this picturesque Scottish town on the banks of the River Tay looks like something off the front of a postcard.
Stroll through the beautiful gardens of elegant Scone Palace, gaze at the views from Kinnoul Hill or wander through the Elcho Castle orchards. Or if that's not quite for you, there's also the Famous Grouse distillery or Perth Concert Hall and Racecourse.
Price based on one night stay on 23 - 24th March.
Half term activities you can do on a budget: From half price tours to free kids cooking classes
London Greenwich Travelodge, £53.10
London is usually off limits in most Travelodge deals - apart from this one! Staying just outside the very centre of town can save you a lot of money, add on a 10% code and Voilà!
Greenwich is an idyllic, riverside part of London that has a strong bar and restaurant scene, conveniently connected to the centre by tube, DLR and the scenic clipper boat. It's also home to the o2 arena if you fancy catching a concert.
Price based on one night stay on 23 - 24th March.
Travelodge Leeds Central, £45.90
An eclectic mix of shops and buzzing venues located right on your doorstep, the city of Leeds is especially suited to those looking for an activity-filled day of shopping, theatres, museums and live music.
Stay right in the centre of the lively and historic city, where you're in walking distance of the buzzing nightlife and restaurant scene, plus all the main attractions such as the Royal Armouries Museum and Kirkstall Abbey.
Price based on one night stay on 23 - 24th March.
Travelodge Cardiff Atlantic Wharf, £37.80
Cardiff is well known for its vibrant town and nightlife, but the Welsh capital is also a massive cultural hub, especially if you stay in the scenic Cardiff Bay.
A historic yet ultra-modern city, the hotel sits close to the waterfront, and is home to the Millennium Centre (the heart of performing arts), Principality Stadium, boat trips, funky bars and an array of restaurants - which are all within walking distance.
Price based on one night stay on 23 - 24th March.
Travelodge Manchester Central Arena, £33.30
Shop until you drop in the shopping capital of the North, then head over to the Printworks in the evening and discover a plethora of restaurants, clubs and bars.
Ideally located near the railway station and in the centre of town, Manchester's ability to have you lost is one of its most appealing qualities, whether its in a vintage clothes store or a huge shopping precinct.
Price based on one night stay on 23 - 24th March.
RANKED: The 19 cheapest holiday destinations on earth in 2017
RANKED: The 19 cheapest holiday destinations on earth in 2017