Why you should book your 2017 holiday now

AOL Travel UK
24/06/2016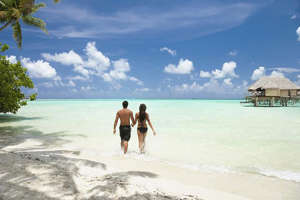 © AOL Travel UK When is the best time to book a holiday for 2017? If you want the best availability, hottest deals and ensure you get a space on one of the most popular tours, the earlier the better.

With the 'safe' destinations selling out fast, flight prices fluctuating throughout the year and more people travelling than ever before, there's never been a better time to book your holiday early. We spoke to a few travel industry experts to find out their predictions for the year ahead, which types of trips will really save you money (and stress) when you avoid leaving it to the last minute, and why cruisers and families, especially, should start planning next year's getaway now.
While it may seem rather premature to start thinking about next year when you've not even had this year's holiday, booking flights early it's a wise idea, says Chris Clarkson at online travel agency Sushine.co.uk. "Flights up to February 2017 and even a bit further into the year are already available to buy and can be the best prices when they've just been released," he says.
There's no doubt that booking early has financial advantages. It's not just that you're more likely to bag the best deals; it also gives holidaymakers more time to spread the cost. Many travel companies only require a small deposit to secure a holiday and the remaining balance can be paid off bit by bit or in full by a certain date. This can offer greater flexibility to those who like to plan ahead for their escapes but who may not have the cash immediately available.
There's also the feelgood factor. Wayne Perks at Teletext Holidays says that being an early bird is an excellent mood booster, and research by the website reveals that almost a third of Brits say booking a holiday puts them in a good mood by giving them something to look forward to.
Booking early has huge advantages when it comes to securing a hotel. HotelsCombined's Dmitrijus Konovalovas reveals that there are other ways accommodation bookers can leverage the system for savings. "While a non-refundable rate will be economical for those booking in advance, holidaymakers might consider booking their room on a refundable basis. Most refundable bookings can be cancelled up to 48 hours before arrival. Choosing accommodation for a 2017 holiday now – on a refundable basis – affords you ample opportunity to watch the prices fluctuate, cancel and rebook when the price is right." This tactic also offers you a safety net if the pound – or euro – fluctuates dramatically throughout the year.
For many British tourists, safety has become the most important factor in travel decisions in recent years. Andy Jones of specialist escorted tour operator Newmarket Holidays warns that this year many destinations, especially those considered 'safe', such as resorts in Spain and Portugal, sold out early and there were many disappointed people who were unable to book their first choice. "This is not going to change in the future as long as the uncertainty of travel continues," he says.
For cruise holiday fanatics, advanced booking means that you can pick the cabin that particularly appeals to you, rather than select from remaining cabins closer to the departure date, says Andrew Say at independent cruise specialist Reader Offers Ltd. "Planning ahead ensures that they can select the destination, cruise line, ship and cabin of their choosing and really enjoy their preferred cruise itinerary," he says.
And if you have certain dates and destinations in mind, last-minute cruise bargains can be harder to find. Adam Coulter at CruiseCritic.co.uk: "Cruises that take place during the summer and school holiday periods book up early, especially for cabins that sleep three or more and are in demand by families." Those who plan ahead are often rewarded with access to added-value promotions, which include anything from complimentary drink packages to included gratuity or airfare, helping you to save hundreds of pounds.
Planning on taking a once-in-a-lifetime trip next year? If it's for a particular event, such as the cherry blossom in Japan, or a sought-after holiday like the trek to Machu Picchu, you'll be disappointed if you leave it to the last minute. Gorilla viewing is another very popular holiday, but in order to limit our impact on the animals' environment, places are limited. Arno Delport at Acacia Africa says: "There are fewer than a thousand endangered mountain gorillas left and permits are like gold dust. You should consider booking your trip now, especially if you are aiming to include a one-hour audience with the silverback and his band in peak season."
Exodus Travel also runs a number of trips which require early booking or one-off adventures. The Inca Trail, for example, requires a permit and these sell out way in advance. The permits are released in January for the whole year and the first departure in 2017 is in March. It is crucial to book at least six months in advance as the permits seem to sell out faster each year. Exodus tells us that for 2016, all permits for the entire month of May sold out on the same day they went on sale.
Meanwhile, families looking to get ahead of the game can enjoy great prices without the stress of planning a last-minute holiday. Niel Alobaidi at Emirates Holidays reveals that Dubai is becoming an increasingly popular destination for travellers with children and booking school holiday dates early is imperative if you want special room types like interconnecting rooms, family suites and the best views, as well as a stay in a top hotel.
Tuscany, as one of the most popular destinations every year for Brits, is another destination that sells out fast, especially villas. Sean Caulfield at villa booking website To Tuscany says: "One-bedroom cottages with private pools are always the first to sell out. Big villas for large gatherings are also in high demand. As for timing, the school summer holidays are obviously high season, but the weeks around Pentecost, late May and early June, are a very busy period."
So what are you waiting for? If you know where you want to go and when, then it's well worth booking right now. And remember to tell us in the comments below what you're planning and what your experiences of booking early are.