10 reasons why you should visit Belfast in 2018

Evening Standard
11/11/2017
© Provided by Evening Standard Limited History fills the streets through well preserved architecture and striking murals, and unbeknown to many it has also become a melting pot of fantastic restaurants, gorgeous hotels and a surprising hub for film and TV production, including global phenomenon Game of Thrones.
Last month, Lonely Planet named Belfast as the best place to visit in 2018 - so there's never been a better time to visit.
If, like John Snow, you know nothing… here are 10 reasons to book a trip to Northern Ireland's buzzing capital next year:
1. A nautical past of Titanic proportions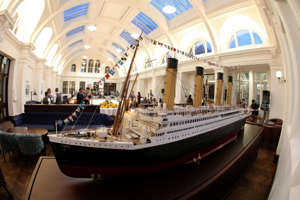 © Provided by Evening Standard Limited Belfast's proud and respectful connection to its maritime past is evident throughout the city, most noticeable in the aptly named Titanic Quarter. Back in the day, Belfast was the prime location for shipbuilding and at the forefront of this booming business was Harland & Wolff, a firm that designed and built many ocean liners, including the Titanic and HMS Belfast.

The ship builder's headquarters have been transformed into the Titanic Hotel, a stunning boutique hotel paying homage to the 'ship of dreams' with a chic designer renovation. Over 100 rooms have been decked out with comfortable beds, luxurious linens and opulent interiors, to reflect the building's illustrious past and well preserved original features. If you wander the hallways, a series of plaques and paintings will educate you on the fateful journey taken by passengers and crew all those years ago.
A stone's throw from the Titanic Hotel is the experiential museum Titanic Belfast. Housed in an award winning architectural structure that's worth a visit in its own right, here you can delve deeper into the Titanic's watery past, from the design and construction to the discovery of the wreck 73 years later. Nine interactive galleries, an entertaining ride and an immersive movie screening of the wreck make this a must visit attraction. 
2. Its history
Like so many cities across the world that have seen periods of great conflict, Belfast is a city that's still coming to terms with its turbulent past. Whatever your politics, the effect on those that lived through 'The Troubles' is undeniable and unforgettable. Murals depicting fallen heroes from both Protestant and Catholic sides are displayed on houses and buildings across the city, whilst the Peace Wall, with its written messages of hope and prayers, cuts a striking image through the city's most affected areas. Take a guided tour with a local to learn more about its tumultuous history. touringaroundbelfast.com.
Some hotels might shy away from the fact they've been a regular target of terror and destruction, but not the Europa Hotel, which is widely recognised as "Europe's most bombed hotel". The Europa Hotel is in the heart of Belfast's vibrant city centre and has elegant rooms with bath tubs, walk-in showers and big TV, making it a first choice for tourists, celebrities and presidents alike - just ask former guest Bill Clinton. hastingshotels.com. 
3. A buzzing food scene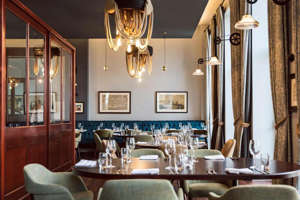 © Provided by Evening Standard Limited Belfast has all the ingredients for a foodie's 'meal come true'. From street markets and food stalls to fine dining and Michelin starred restaurants, every taste is well catered for in this flavoursome city. Standout Michelin star restaurant, OX Belfast, came to life in 2013 when friends Stephen and Alain decided to bring their passion for inventive flavour combinations to the city's restaurant scene. Using their experience of working in some of Paris's most demanding restaurants, the duo have created a dynamic menu using the finest local ingredients and their own original style.
Carnivores should grab a table inside the Bullitt Hotel's bustling restaurant, Taylor & Clay. Prepare to feast on Wagyu beef, lamb rump, pork chops and locally caught fish, all grilled to perfection on the restaurant's bespoke Asador Grill.
Once you've had a good grilling, head upstairs to the newly opened rooftop bar for a cocktail and spot of people watching. Don't forget to swing by reception when you leave and have a look at the painting of Hollywood icon Steve McQueen who starred in the classic movie Bullitt - you might spot the damage that was made when the painting was stolen by a doctor and her best friend the night the hotel opened. Local legend has it this crafty pair of old dames nicked the painting, got halfway down the street but ditched it on the pavement so they could make a speedy getaway.
Belfast's famous St George's Market is one of the city's oldest attractions and dates back to 1890. The bustling market is a local hot spot, filled with everything from the local to the continental - think cheeses, tapas, crepes, coffee and organic produce. For info about opening times and how to get there,visit belfastcity.gov.uk
4. The drinking scene
Expect to come across many a watering hole during your stay in Belfast, especially in the city's famed Cathedral Quarter, a lively hub of bars and restaurants. There's nothing quite like strolling the streets and discovering those hidden gems all for yourself, but for those who are keen to drink in a (slightly) more orderly and informed fashion, reserve your place with Belfast Food Tours, where your tour guide will take you on a Whiskey Walk or a Gin Jaunt and keep you merry with a selection of the finest gins and whiskeys served in some of the best bars in Belfast.
5. A Walk of Art
© Provided by Evening Standard Limited Periods of hardship and conflict often go hand in hand with times of great artistic expression and Belfast is no exception. For a fully immersive tour around the city's culturally rich Cathedral Quarter and its vibrant street art, book yourself on the Seedhead Arts Walking Tour, which is led by local artists.
Get your camera ready as you walk down Commercial Court – there's a small alleyway covered in the famous faces of Irish folk, like Catchphrase's Roy Walker and songstress Sinead O'Connor. Beyond the alleyway lies a wonderful square with 360 degrees of colourful street art depicting city life, from well-known television shows like The Fall with Gillian Anderson and a cheeky take on Game of Thrones to cityscapes and welcoming rainbows celebrating diversity. 
6. Don't Miss…
Set in the city's beautiful Botanic Gardens, Ulster Museum has recently undergone a £17m makeover and at 8,000 sq metres, it's Northern Ireland's largest museum. Set aside a couple of hours to explore its amazing collections of archaeology, local history, zoology, photography, new media and botany. The city's connection to Game of Thrones can also be found here with an epic 77-metre long tapestry that brings to life the people, places and events from the first 7 seasons of the show.
Belfast has a rich and varied history that's perfectly represented throughout the city by its prominent architecture. Sitting proudly in the centre is Belfast City Hall, a magnificent building constructed in 1898 and reminiscent of London's St. Paul's Cathedral. This is still a functioning council building but the east wing has been completely renovated to house a 16-room exhibition detailing the history of this great city, from its humble beginnings to the industrial boom and right up to present day all within the City Hall's original architecture. 
7. Victorian Pleasures
For some well-deserved down time, take a stroll through Belfast's thriving Botanic Gardens, open to the public since 1895. Rose gardens, cast iron glasshouses and rare oaks dating back to the 1880s can all be found along its enchanting borders and pathways. For location and opening times, head to www.discovernorthernireland.com. 
8. You Can Bank On It
Set within the original headquarters of Ulster Bank, The Merchant Hotel's spectacular façade is equally matched by its sumptuous interior which feature a mix of gorgeous Victorian rooms and stylish Art Deco suites. You'll be well fed and watered - Bert's Jazz Bar is a Parisian-style bistro with a spectacular brunch with a soundtrack of live jazz to toe-tap to.
And there's a spa and rooftop hot tub to keep you pampered.​
9. A Bit Of R&R in Holywood
Once you're all partied and cultured out, head to The Spa at the Culloden Hotel on the outskirts of Belfast for some five star relaxation. Set in 12 acres of perfect gardens and peaceful woodland, it has everything on the menu from massages and facials to full body wraps. End your visit with a snooze in the relaxation room or sweat out those toxins in the steam and sauna cabins.
10. Winter Is Coming
There might be seven kingdoms in George R. R. Martin's hugely successful novels but there are ten Game of Thrones doors dotted all over Northern Ireland to celebrate the country's link with the classic TV series. Fans flock from far and wide to catch a glimpse of the various filming locations made famous by the show but after Storm Gertrude hit in early 2016 a good few trees were destroyed – namely the Dark Hedges used as the backdrop for Kingroad. After the storm salvaged wood was used to make 10 doors with intricate carvings incorporating symbols and key scenes from Season 6. Only one of the doors is in Belfast in Cathedral Quarter - just pop inside The Dark Horse, grab yourself a whiskey and decipher the symbols on the door.
Once you've had your fix of Westeros, head into the land of Narnia and discover where C.S Lewis was born. A Belfast native from birth, celebrated author Clive Staples Lewis was born in 1898 on Dundela Avenue and grew up in the city. Take the C.S Lewis Tour and find out where he lived and what inspired him to write such a well-loved series of literary classics. 
Five Facts about Belfast
Oscar Wilde thought there was only one beautiful building in Belfast, not just any building… it's now home to a branch of Marks & Spencer's.
Led Zeppelin's Stairway to Heaven was first played in Belfast's Ulster Hall.
Air conditioning was invented in Belfast.
Belfast's motto is Pro tanto quid retribuamus. It's translated as "What return shall we make for so much?"
Belfast is where the one and only Eamonn Holmes was born and raised… thank you Belfast. visitbelfast.com
Related: Titanic Passenger's Haunting Letter Sells For Record Price (Provided by Wochit Business)
For more of the most popular News, Sport, Lifestyle & Entertainment on MSN, Follow us on Facebook, and on Twitter