7 secret charming old towns for a cosy winter break in Europe

Evening Standard
11/10/2017
© Provided by Evening Standard Limited With summer already feeling like a lifetime away, it's time to stop chasing the sun and start embracing the cosy autumn temperatures - and there's no better place to do it than at one of Europe's old towns.
What could be more romantic than breathing in a healthy dose of fresh air while strolling aimlessly amongst chocolate box towns, stopping only to admire the fairytale views with a warming glass of gluhwein?
If you want to avoid heaving crowds of tourists in Bruges and Prague, there are plenty of lesser-known options on the continent for the intrepid traveller.
From hidden German gems to a the next big Insta-destination in Estonia, we've got your winter hit list sorted.
Ghent, Belgium
Medieval Ghent is Belgium's best kept secret. While Brits abroad arrive fresh off the boat in Brussels and Bruges, this fairytale port city is still fairly under-the-radar with most people, making it the perfect escape for a low-key getaway. While you'll easily fall in love with beautiful Patershol (the historic old quarter and it's Flemish architecture) it's not all listed buildings and handsome bridges: underneath all of its quaint charms, Ghent has a young, arty energy with a burgeoning art and music scene - particularly in hip Kunsten-Kwartier, where Ghent's 70,000 students live.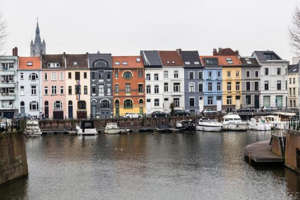 Trondheim, Norway
Trondheim looks like a scene from a snow globe when the temperatures drop: all powdery snow-covered streets, twinkling fairy lights and colourful gingerbread-like houses. It's a city known for its students, cycling and gastro credentials. Make sure to check out popular food spots Romog Kjøkken, Credo and Folk & Fe - they're all listed in the White Guide, the Nordic region's answer to the Michelin Guide. Beer is big news in Trondheim, so it's worth making the hour drive to Tautra brewery, where you can sample the famous Norwegian ales brewed on-site.
Sibiu, Romania
Idyllic Sibiu is nestled in Romania's verdant Transylvanian countryside, at the foothills of the Cindrel Mountains. Most people head to neighbouring Bucharest for a winter escape, but clever tourists make a play for this lesser-visited Saxon city. In the winter, a traditional Christmas market takes over it famous Piata Mare plaza, which is a big draw for people looking to get into the festive spirit early. Here you can glug a glass of mulled wine while scoffing roasted almonds amongst some of Europe's finest Baroque architecture.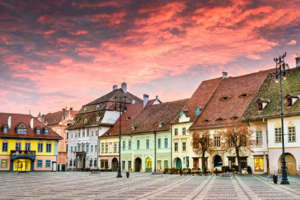 Tallinn, Estonia
Estonia's capital city one of the most underrated cities in Europe, but it's finally having its moment. People are starting to cotton on the other-worldly beauty of its old town, with its gothic towers and medieval dwellings. Locals recommend climbing up the 258 steps of the St. Olaf's tower to get a good view of its red rooftops and church spires in one go. Make sure to check out the uber trendy Rotterman Quarter, where you can spend a whole day getting lost in the many galleries, independent shops and neighbourhood restaurants that occupy its converted industrial buildings.
Rothenburg ob der Tauber
Ever wanted to walk around the fictional town of Hogsmeade? Our guess is that Rothenburg ob der Tauber in the Franconia region of Bavaria is the closest you'll get. This walled gingerbread town is all half-timbered buildings, Christmas shops, turrets and clock towers - it's basically a fairytale come true. There's lots to see: the Market Square with its 14th century buildings, the Town Hall Tower chich has one of the best views over the city and the rather terrifying Medieval Crime and Punishment Museum. 
Bremen, Germany
This Hanseatic city in northwestern Germany is one of the oldest in the country, and is famous for inspiring the Grimm's folklore story of the Musicians of Bremen. The old town itself is like a scene from a Dicken's novel during snowfall, and is one of Germany's 38 UNESCO World Heritage Sites. As Christmas gets closer, the city becomes even more magical with an atmospheric market festooned in fairy lights.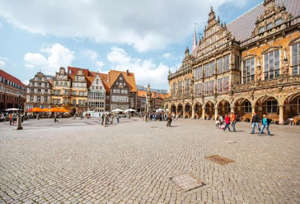 Ljubljana, Slovenia

Cobbled squares, pavement cafes, postcard-worthy canal bridge scenes… it's easy to see why people fall for Slovenia's little-known capital city. Ljubljana, translating literally to 'beloved', isn't as big as the likes of Paris, Madrid and London, but it more than makes up for its shortcomings in bags of local charm and character - it even has a castle looking over the entire city. If you're a fan of plants, this place has plenty of home inspo. As Europe's greenest city, there's plantlife literally everywhere, with flora and fauna weeping over the edges of canal banks and trailing onto the streets. Better yet, it's super affordable: a pint of beer will set you back around £2.
Related: The world's drunkest countries (Provided by LooveFood)