All alcohol bought at airport shops to be placed in sealed bags under plans to crackdown on drunk passengers

The Telegraph
11/04/2018
All alcohol bought at airport shops will be placed in sealed bags under Government plans to crackdown on drunk passengers who disrupt flights.
Ministers are considering the move in order to enforce a potential ban on travellers drinking their own alcohol on flights.
The Government is also considering the introduction of tougher penalties for drunkenness on aircraft and overhauling licensing laws for airside premises in England and Wales.
The measures have been set out as part of the Government's work to develop its new Aviation Strategy 
Intoxicated passengers disrupting flights is a fairly common problem with more than one in six people who have flown in the past three years having witnessed aggressive or drunken behaviour while on board, according to research conducted by the Civil Aviation Authority.
Some 420 disruptive passenger incidents were reported to the regulator in 2017 but the real extent of the problem could be significantly more serious because many incidents are not formally recorded.
Sealed bags are currently only used for airport alcohol purchases by passengers taking multiple flights to enable them to pass through additional security checks.
But there is no ban on passengers consuming their own alcohol while they fly - although this is a policy of UK airlines.
In the US, only alcohol served by cabin crew can legally be drunk on a plane.
Existing laws prohibit a person being drunk on an aircraft, with a maximum punishment of two years in prison and an unlimited fine.
The Government's proposal to ensure duty free alcohol is placed in sealed bags would mean passengers would not be allowed to open or consume it until they reach their final destination.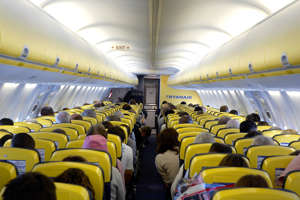 The plans to do more to crackdown on drunk passengers were welcomed by Airlines UK, the industry association representing UK-registered carriers.
A spokesman for the group said its members were doing "everything they can" to tackle the problem of disruptive passengers, including supporting a voluntary code of conduct.
He described the introduction of sealed bags as "a really interesting idea" and welcomed the Government's decision to consider "closing the licensing loophole".
Last month an easyJet flight from Manchester to Paphos in Cyprus was diverted to offload four women after a group were drinking, swearing and threatening passengers.
In August a mid-air brawl involving men and women broke out on a Ryanair flight from Newcastle to Alicante in Spain.
The carrier claimed the incident demonstrated the need for a two-drink limit per passenger at airports.
The Government is due to put its Aviation Strategy out to public consultation later this year and hopes to have finalised the document early in 2019.
Related: Singapore Airlines has some of the best plane food out there — here's an inside look at how the airline makes 50,000 meals a day (Provided by Business Insider)
Never miss an important story, Follow us on Facebook, and on Twitter