Eyes of the tiger: face to face with wild Bengal tigers on safari in India

Evening Standard
08/10/2018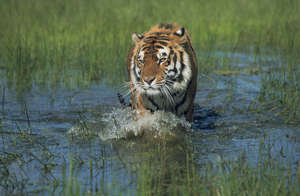 A rustle in the trees. A glimpse of orange. Or are we imagining it? Some more movement. Sandy footsteps. Binoculars. Is it really a tiger?
At 6am, pre-breakfast and just after sunrise, it's easy to think it could be a mirage, but it's not. We reverse the jeep, focus and there's no mistaking it.
We're eye to eye with a wild tiger, there are mere metres between us and she is staring at us as intensely and inquisitively as we are at her.
It's the kind of moment where time stands still for a short while and your mind forms a mental polaroid which you know will be with you for life.
As we look on, it's clear that this is no zoo animal, and nor is it a creature at a busy safari park, so used to human interaction that people are no longer a novelty. Our guide is almost as awestruck as we are – he has been working at the location for six months, doing trips with tourists most days, and this is only the second tiger encounter he's had there.
The rarity makes it all the more special. Dinosaurs aside, there can be few animals so ubiquitous, well-known and well-loved – by everyone from toddlers to grown-ups, featuring as popular cartoon characters, cereal emblems and cuddly toys – yet so unlikely to ever be seen in the wild.
Download the Microsoft News app for your Android or iPhone device and get news & live updates on the go.
That's partly because the ways and places in which tigers live make them tricky to spot – much trickier than lions, for example – but mainly down to there being scarily few of them around. Global numbers have depleted from around 100,000 a century ago to less than 4000 today, though in more recent years they've not been doing so badly – at a low point a decade ago there were barely 3000 of them.
It is initiatives like Project Tiger, launched by the Indian government 45 years ago to protect habitat, eliminate hunting and encourage breeding, which have helped boost numbers, and today well over half of all the world's tigers are in India, with numbers growing. They are spread between nature reserves such as Satpura National Park, in the central Madhya Pradesh region, where we caught our glimpse, and safaris to see them are becoming an increasingly important source of income for both government and the private tourism industry.
Our adventure started at Denwa Backwater Escape, the base of Pugdundee Safaris within Satpura Tiger Reserve, a few hours drive from Bhopal airport which is itself a short connecting flight from Delhi.
Watch: Leopard rescued from drowning in deep well in India [Newsflare]
We then moved on to Pench Tree Lodge in another national park, a few hours' drive away – round the corner by India's standards. It's here that has some of the best chances in the country (and therefore the world) of spotting a wild tiger, though nature is nothing if not unpredictable and it was at Satpura – where the chances are lower – that we got our sighting.
Both wonderfully peaceful retreats built in clearings at the heart of the wilderness, we sleep in beautifully rustic and romantic treehouses and are indulged with excellent home-cooked meals on stylish dining patios, relaxing between drives into the wild to try and spot tigers, and dips in the pool to cool off afterwards.
Though there's no disguising the luxury at either of the beautiful lodges – leather seats, cotton sheets – they tread a neat line between grandeur and grass roots, with an eco mindset prevailing throughout. Water is filtered on-site to avoid the need for plastic bottles, ingredients are painstakingly local, and employees come from within the community with profits poured into local initiatives too.
While sightings of tigers may be impossible to guarantee and easy to miss, you won't go without spotting some impressive wildlife.
At Pench, the very jungle which inspired Rudyard Kipling's The Jungle Book, even if Shere Khan doesn't come out to play, his mate Baloo, the sloth bear, is very likely to and is a spectacle to behold in his own right.
Wild dogs and leopards are also out and about, along with numerous wild and wonderful monkeys, deers and birds.
In that respect, it's not quite all about the tigers, but if you want the best chance of coming face to face with one of the few thousand of them out there, then you're in the right place. And when it comes to a winning combination of luxury, knowledge and awareness of environmental and social factors, Pugdundee are a safari company that's earned their stripes.
Visit pugdundeesafaris.com for more information and to book.
Flight Centre (0800 082 5922 /www.flightcentre.co.uk ) offers an "Unexplored Wildlife of India" package from £2,349 per person sharing for an 10 day/9 night itinerary including 2 b&b nights in Delhi (including a city tour and Rickshaw Ride at Old Delhi), 3 nights in Satpura staying at Pugdundee's Denwa Backwater Escape and 3 nights in Pench at Pench Tree Lodge. This package includes return International flights from Heathrow to Delhi, domestic flights and all road transfers in an air-conditioned vehicle with English speaking guide/driver. Accommodation in Satpura and Pench is in beautiful Pugdundee cottages and includes Full Board.
Gallery: Peek inside Earth's best destinations to see wildlife [StarsInsider]
Search on Bing:
More about India