How to see Peru's incredible 'rainbow mountains'

Evening Standard
15/03/2018
© Provided by Evening Standard Limited Ever since Machu Picchu was discovered on July 24, 1911 by American man Hiram Bingham, tourism to the area has been rife.

But, if my Instagram feed is anything to go by, Machu Picchu may now have a competitor for the most interesting mountaintop in Peru.
Vinicunca Mountain is part of the Peruvian Andes and it one of the world's most incredible geological features.
The mountain is striped with a range of colours including deep maroon, gold and even lavender and blue hues.
Naturally created over time by different layers of sediment and environmental conditions, these mountains are notoriously hard to reach and require a multi-day trek.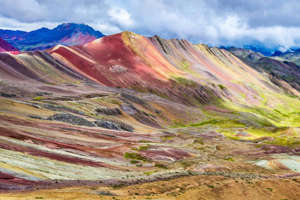 © Provided by Evening Standard Limited (Shutterstock) Local Peruvians believe the mountain to be holy and a deity of Cusco, the closest major city to the mountain. Each year thousands of Quechua pilgrims hike to Vinicunca for the Star Snow festival which takes place a week before the Corpus Christi feast on May 31.
Located 100km southeast of Cusco, the mountain has an elevation of 6,384 metres – towering over Machu Picchu's elevation of 2,430 metres.
The trek to Vinicunca will take you along ancient paths that link traditional farming and Quechua camel-herder villages. Beginning in Ocongate, it goes around the edge of Ausangate (the most popular route to see Vinicunca) and should take around six days.
Unlike the Inca trail leading to Mach Picchu, the Ausangate trek requires no permit and it relatively quiet so you likely won't see another traveller.


© Provided by Shutterstock Rainbow Mountain, Pitumarca, Peru Wildlife you can expect to see along the way include condors, vicunas, bobcats and pumas and the campsites are often next to gorgeous lakes and you can bathe in several hot springs along the way.
The trek is considered fairly difficult and fitness levels will need to be high as the levels of altitude can change quickly.

The best way to visit the peaks are through a tour operator which can offer a number of treks from four to seven days and some can be done partly on horseback. The dry season falls between May and September each year which is the best months to do the trek.
Flights to Cusco begin at £555 return.
Related: Adventurers exploring an active volcano! (provided by BuzzVideos)
For more of the most popular News, Sport, Lifestyle & Entertainment on MSN, Follow us on Facebook, and on Twitter