V&A Dundee to open this weekend - and put Scotland on the design map

Evening Standard
13/09/2018
© Provided by Independent Digital News & Media Limited The V&A have confirmed that Dundee's Museum of Design will officially open this weekend September 15, 2018. 
An £80 million pound project that's been in the works for over a decade, the building has been designed by Japanese architect Kengo Kuma. 

The first exhibition will be titled Ocean Liners: Speed & Style and will document the golden age of ships. It will explore design and engineering of liners as well as the fashion and lifestyle of those who travelled on them.
Download the all-new Microsoft News app – available now on iOS and Android
According to The Scotsman, people will be able to see a panel fragment from the Titanic's first-class lounge, a Cartier tiara recovered from the sinking Lusitania during the First World War, and a Christian Dior suit worn by actress Marlene Dietrich as she arrived in New York City on board the Queen Elizabeth in 1950.
The building's interior, as well as the permanent collection, is still being kept top secret however it is known that more than 300 artworks - from paintings and sculptures to fabrics and jewellery - will be on display. The two-storey oak tearoom, created by Charles Rennie Mackintosh at the beginning of the last century, will be completely rebuilt inside also.
Alongside this, two out of the four permanent galleries will be dedicated to exploring Scotland's history of art and design.
Related: The world's most beautiful waterfalls that you didn't know existed (EasyVoyage)
Tipped to become not only a national landmark - it's Scotland's first design museum - it will also attract a new wave of tourism to Scotland's fourth city.
Malcolm Roughead, VisitScotland's Chief Executive, said: "The opening of V&A Dundee will be a game-changer for tourism in Dundee, propelling the East of Scotland into the global spotlight and shining a light on all this incredible corner of the country has to offer.
"Such a highly-regarded attraction has the potential to transform local tourism and will undoubtedly draw visitors from far and wide. This represents an unprecedented opportunity to showcase Scotland's cultural offering, in turn growing the local economy, creating jobs and sustaining communities."
The new landmark, with it's complex geometry, stretches out into the River Tay, connecting the city with its historic waterfront.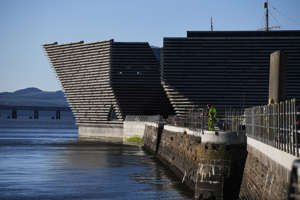 © Getty A general view of the V&A museum designed by Japanese architect Kengo Kuma on February 9, 2018 in Dundee, Scotland. Philip Long, Director of V&A Dundee, said: "The opening of V&A Dundee is a historic occasion for Dundee, for the V&A, and for the very many people who played a vital part and supported its realisation. This is a very proud moment for all involved.
"V&A Dundee's aspiration is to enrich lives, helping people to enjoy, be inspired by and find new opportunities through understanding the designed world. After years of planning, we are thrilled at being able to celebrate the realisation of the first V&A museum in the world outside London."
Start planning your trip now.
Watch: The 'slowest express train in the world' lets you enjoy Switzerland's scenic views (Travel + Leisure)
Search on Bing:
More about New York City
Search on Bing:
More about New York City