What could Thomas Cook's financial problems mean for your holiday?

The Telegraph
04/12/2018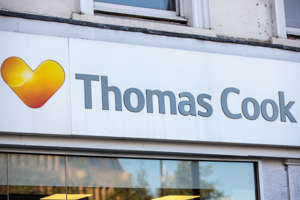 A special message from MSN:

While Christmas is a time of joy for most of us, that's not the case for the UK's most vulnerable children and young people. We've partnered with giving platform Benevity to raise funds for two charities - the NSPCC and The Children's Society – to try to help change that. You can help make a difference - please donate now.
The ongoing jitters around Thomas Cook's sliding share price has brought into the view the sort of nightmare scenario that would occur should one of Europe's largest tour operators collapse.
The holiday company founded in 1841 has issued two profit warnings in as many months and subsequently watched its value plummet. Though Thomas Cook may be deemed 'too big to fail' when it comes to tour operators, and is currently battling to reassure investors that its slump is temporary, its struggles should remind holidaymakers of the need to be aware of how and by whom their trip is protected.
What has happened to Thomas Cook?
The world's first tour operator, and the UK's third largest, said its summer profits were hit by the UK's long-lasting heatwave, as well as England's success in the World Cup. Simply put, it blamed holidaymakers shunning getaways in favour of basking in the British sunshine and watching football.
Chief executive Peter Fankhauser said in July that the heatwave across Europe "was delaying the decisions of customers to book", and that though destinations such as Turkey and Tunisia were experiencing a recovery, it was not yet enough to bolster the books.
Thomas Cook said demand for the pair, as well as Egypt, was strong but at lower prices, with customers turning away from dearer resorts in the Canary Islands.
While the tour operator manages the short-term crisis of its margins and debt, it also has a longer term fight on its hands as it seeks to compete with more agile web-based travel agents. Last week, the market value of website On the Beach surpassed that of Thomas Cook, reflecting a shift in the way the British public book holidays.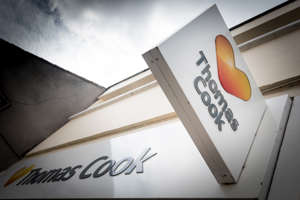 Should I be worried about my holiday?
Not necessarily, Thomas Cook has moved to reassure investors it has the financial strength to navigate the leaner winter months.
Additionally, all holidays booked through Thomas Cook will be Atol protected, which means that your money is guaranteed by the Government, via the Civil Aviation Authority (CAA).
The scheme means that should a tour operator collapse before your trip, either a refund or replacement holiday will be provided.
What would happen if I were stranded abroad?
Though winter is a quieter time for the operator, there are still thousands of holidaymakers abroad with Thomas Cook, enjoying winter sun in the Caribbean or festive trips to the Arctic Circle.
If you are abroad on a protected package holiday and your tour operator fails, then the CAA will cover whatever arrangements are necessary for you to finish your trip and get home.
What about Thomas Cook Airlines?
This is where the situation becomes a little more complex. The airline arm of the operator is separate and sells both packages and flight-only trips, some of which are not Atol-protected.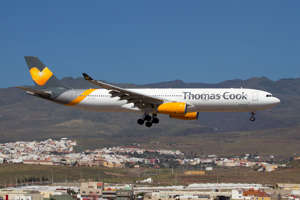 Atol protects bookings when flights and accommodation and/or car hire are purchased from the same operator and, according to the CAA, "some flight-only bookings - usually those where you book flights but do not receive your tickets immediately".
The Thomas Cook Airlines terms and conditions states that "not all flights offered and sold by us will be financially protected under the Atol scheme".
The CAA says that customers can check if their purchase is Atol-protected by ensuring they are given an Atol certificate at the time of booking.
The support given to airline customers in the wake of the collapse of Monarch last year was actually contrary to the rule book as many holidaymakers were repatriated despite booking a break that was not Atol-protected.
In terms of profitability, Thomas Cook Airlines has had a strong year, helping offset some of the tour operator's worries elsewhere.
Have many other travel companies gone bust this year?
At least six UK tour operators have collapsed this year, according to the CAA, including Milburn Travel in September and Lee's Travel last month, the most recent failure.
The CAA issues specific guidance for each failure of a tour operator, advising customers on which parts of their bookings remain valid and how to claim back any lost money.
It has been a tough year for airlines, too, with at least 13 collapsing, including low-cost carrier Primera Airlines.
The airlines that have collapsed so far this year
Air2There Airlines
Cobalt Air
Small Planet Airlines
Primera Airlines
Waves
Skywork
JetGo
NextJet
Nature Air
Latin American Wings
Pawa Dominica
Polar Airlines
Fly Viking
Nick Trend, Telegraph Travel's chief consumer editor, said the failures highlight the financial risk to travellers should their airline go under.
"It's a sobering reminder for consumers to make sure that they are protected against potential failures," he said. "The problem when scheduled airlines collapse is not just the disruption to passengers' travel plans – they may also lose their money and risk being stranded abroad and having to pay for a new flight home.
"Currently there is no automatic financial protection in such circumstances. The government ordered a review after the collapse of Monarch, but it has yet to report its findings. It is an issue which has long been highlighted by Telegraph Travel."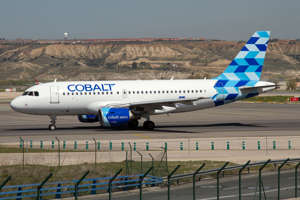 What can I do to protect my money?
First and foremost, ensure you book any package holiday with an Atol-protected tour operator. Nick Trend recommends anyone booking any sort of package or flight ask what protection they have.
If it is not possible to book with an Atol-bonded company, or you booked independent travel, ensure you pay by credit card. If the value is over £100 you will probably be protected by Section 75 of the Consumer Credit Act 1974. You may also have similar cover if you paid by Visa debit card. Check the arrangements with your bank. The Section 75 cover will only refund the money you paid for the original cost - it will not help you get home if you are stranded abroad. You will have to pay for new flight in this case.
It is also worth noting that most travel insurance policies do not offer protection against airline failures, and those that do often charge extra for it. If you wish to check your policy the section you are looking for will be called either Scheduled Airline Failure, or End Supplier Failure.
If your policy has Scheduled Airline Failure cover, then you will be able to claim back the cost of your flight if you are unable to travel. If you are abroad the policy will pay the cost of a one-way ticket (in the class you originally booked) to get you back home. It will not cover your unused elements of the holiday such as hotel accommodation and car hire.
If you have End Supplier Failure cover then you get both the scheduled airline failure cover and the cost of any other elements of the trip (hotel, car hire etc) which you have had to cancel because of the collapse.
Search on Bing:
More about Europe
Search on Bing:
More about Europe