Your 2018 guide to the Hamptons, USA

Evening Standard
11/06/2018
© Provided by Evening Standard Limited When you think of the Hamptons, what springs to mind? Carrie, Miranda, Charlotte and Samantha of Sex and the City fame enjoying that weekend on the beach? Ina Garten, the Barefoot Contessa, and her famous Cobb salads? The Real Housewives of New York City?
The East End of Long Island has long-been synonymous with glamour and luxury, the rich and the famous. The Cotswolds of the East Coast, it's a neighbourhood marked by exclusivity, where seaside properties are much in-demand and come with eight figure price tags attached.
But what actually is 'the Hamptons'? And what can you do there if you are, merely, a tourist (one without that Little Black Book of high profile contacts to tap)?
Fancy finding out? Keep reading...
Where (and what) are the Hamptons?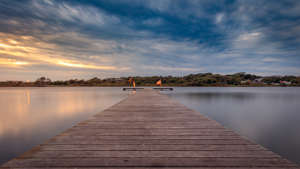 © Provided by Shutterstock Long Island sunset The Hamptons is a corner of Long Island, USA made up of a collective of villages and hamlets in the towns of Southampton and East Hampton.
A popular (and famous) seaside resort, it's connected to New York City and other parts of Long Island via a number of roadways, of which the Montauk and Sunrise Highways, are undoubtedly the most renowned.
Where to stay?
For a luxury visit, head to Gurney's Montauk. Situated on the seafront of Montauk (a hamlet), it boasts 146 rooms, suites, and cottages, and access to a 2,000-foot private sand beach.
A Standard King Ocean View room is the ultimate in understated luxe: dressed in neutral colours, it offers a king-size bed (naturally), a walk-in rain shower and a terrace with partial views of the ocean.
Its pricier cousin, the Oceanfront Two-Bedroom Suite, offers two king-size beds, a queen sofa and outstanding views of the ocean beyond.
What to do there during the day? Head to the resort's Beach Club. It delivers on beach chairs and day beds - on which you can while away hours in the sun - and serves up mouth-watering plates of shrimp skewers, bbq hot dogs and lobster rolls, all washed down - if you so choose - with pineapple mojitos and the Gurney's Punch.
Scarpetta Beach, Gurney's Montauk's night restaurant, offers all-manner of plates to delight, from Lobster Tagiatelle to Black Cod and Long Island Duck. For that holiday post-sun nightcap, frequent the Regent Cocktail Club and sample their Margarita or Cucumber Gimlet.
Elsewhere in the Hamptons, there is Baker House 1650, East Hampton's most luxurious and historic hotel, Hero Beach Club - a chic Montauk residence featuring Balinese-inspired design - and Topping Rose House, a stately, restored 19th-century boutique hotel based in Bridgehampton.
Where to dine and drink?
Home to a number of VIPs, it's little wonder there are a great many top class places to eat - and drink - in the Hamptons .
Take Nikki Beach. A pop-up of the renowned international beach club at Southampton's Oreya, its menu changes daily but there is the promise of seafood and rosé and, really, what else is required?
The Highway Restaurant is an established Hamptons stalwart, and this season will also be featuring a pop-up of celebrated Japanese restaurant, Shuko. Usual plates to expect include Squid Ink Rigatoni, the Classic Cheeseburger and Prosciutto & Fennel Sausage Meatballs, with a choice of broccoli rabe, tri-colour quinoa and grilled asparagus on the side.
Lulu Kitchen & Bar is where to go for your sundowners. Think jalapeño infused tequila cocktails and the 'You Are Lulu' creation, of pear Grey Goose, St. Germain, Aperol, citrus juice.
For straight-up lobster rolls and cocktails, head to Grey Lady, or if it's a simple picnic and a bottle of wine you're looking to enjoy, look to Wolffer Estate Vineyard.
Where to shop?
And so we arrive at a key Hamptons pull: the shopping. Where should you shop when there? Where shouldn't you shop, more like?!
Zimmerman originated in Sydney and has a variety of swim and resort-wear made for the Hamptons - ideal if your two-piece collection brought over from Blighty needs a little mid-holiday upgrade.
For men and women's clothing and accessories which are contemporary, elegant, and understated in feel, head to ​Club Monaco, and for classic American resort-wear, where else but the trusty Ralph Lauren?
For something new, Gwyneth Paltrow's modern lifestyle brand, Goop, is unveiling its Hamptons boutique, Goop MRKT, which is set to feature all sorts of summer essentials.
Related: The secrets of the world's coolest airports
For a wide selection of designer gear, go to What Goes Around Comes Around as there, you'll find a refined selection of vintage designer items from the world's most notable brands: Gucci, Chanel, Christian Dior, Prada, Louis Vuitton, Hermes and so it continues.
Oliver Peoples, an optical boutique, is where to pick up some stylish shades, and for your one-stop-shop for all your beauty needs, it's got to be Bluemercury: all the Moroccanoil, La Mer, Kiehl's and Bobbi Brown you could wish - and a whole lot more to boot. 
Search on Bing:
More about United States