UK weather forecast: Warnings issued with heavy snow, hail and strong winds set to arrive

Evening Standard
16/01/2018
Video provided by Met
The UK is set to be battered by heavy snow, hail and strong winds, with weather warnings issued across large parts of the country.
A yellow warning for snow and ice has been in place across much of Scotland and Northern Ireland since Monday, however the Met Office has issued one for northern England and Wales throughout Tuesday.
Travel delays are possible and there is a chance of power cuts throughout the day.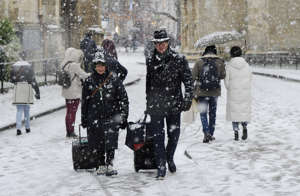 © PA Warnings issued with heavy snow, hail and strong winds set to arrive London has been issued with a weather warning for wind on Wednesday and Thursday, with disruption likely on roads and railways.
A Met Office spokesman said: "You could sum up the whole week by saying it will be cold with strong winds and periods of sunshine.
"Any kind of weather you want we have got it - apart from heat.
"There's going to be an awful lot of sun showers, which we weren't seeing last week. This week there will be a lot more changing.
"There will be low temperatures by day, peaking around five or six degrees.
"But with the strength of the winds it will feel closer to one or two degrees."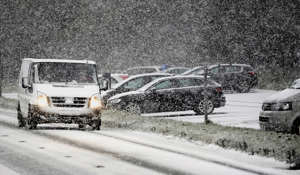 © PA Warnings issued with heavy snow, hail and strong winds set to arrive Snow showers will be heaviest and most frequent across western Scotland, where high ground is likely to see 10 to 20cm building up.
There may also be more than 15cm over the hills of Northern Ireland, especially in the north.
At low levels throughout the warning area, two to eight centimetres will be more typical.
Showers will be accompanied by hail and lightning at times, particularly across western Scotland, with potential for disruption to power supplies from lightning strikes.
© Provided by Independent Print Limited image Strong winds bring the potential for temporary blizzard conditions and drifting of lying snow, mainly over high ground.
This warning is to remain in place until Wednesday at 6pm.
Meanwhile, northern England and Wales could see two to six centimetres accumulate in places, especially above 100 metres.
On lower levels, there is likely to be a slushy cover of one or two centimetres.
The warning is in force between 4am on Tuesday and 11am on Wednesday.
Wednesday will also see yellow alerts for snow and wind later in the day.
For more of the most popular News, Sport, Lifestyle & Entertainment on MSN, Follow us on Facebook, and on Twitter