UK weather forecast: Warnings over snow and ice after Storm Caroline leaves homes without power

Evening Standard
08/12/2017
 Video provided by Met
Snow is expected to fall across parts of the UK today after Storm Caroline swept through the country, leaving hundreds of properties without power overnight.
Forecasters have issued a yellow severe weather warning for snow and ice on Friday covering much of Scotland, Northern Ireland, Wales and parts of northern and western England.
The Met Office has said "isolated snow showers" could be possible in London and the South East, but it is likely to be a largely sunny, albeit cold day.
© Provided by Independent Print Limited stormcaroline.jpg Forecasters said the snow is likely to be up to 5cm deep in places, while 10 to 20cm is possible for some locations, mainly in northern Scotland, Northern Ireland, north Wales and perhaps the northwest Midlands.
Icy surfaces are also likely, especially overnight and during the morning, while strong northwest winds may cause blizzard conditions at times across northern Scotland.
Very strong winds are expected to continue through Friday with gusts of 70 to 80mph at times, especially over Shetland.
© Provided by Independent Print Limited More than 4,000 people were without power for parts of Thursday, with hundreds of homes across parts of Caithness, Orkney and Shetland left with no electricity overnight due to worker safety reasons.
Scottish and Southern Electricity Networks director of customer operations Dale Cargill said: "We would also like to apologise to any customers who remain off supply and would like to reassure them that we are well prepared and resourced to carry our repairs to our network and will resume efforts first thing tomorrow morning.

"With heavy snow and risk of lightning forecast for many parts tomorrow as well as the continued gale force winds we remain on yellow alert."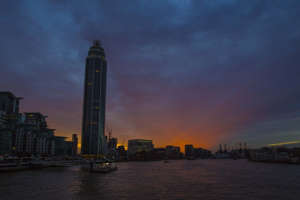 © PA Sunset over the River Thames in West London as severe gales and snow showers have caused travel disruption, school closures and power cuts as Storm Caroline sweeps in to the UK. Many train services in Scotland and passengers faced further disruption when a trampoline blew onto the line in East Renfrewshire.
Mark Ilderton, head of integrated control at the ScotRail Alliance, said: "There will continue to be disruption as we work to get things back to normal.
"Wind speeds remain too high in the very north of Scotland, which is why services to Wick, Thurso and Kyle of Lochalsh remain suspended. It is not safe for services to resume in that part of the country."
During Friday, increasingly frequent snow showers already affecting parts of Scotland, Northern Ireland and northern England will extend across many other northern and western parts of the UK.
The heaviest and most frequent of the snow showers will progressively become confined to northeast Scotland during Saturday.
A number of schools will remain shut in the Highlands, having closed when the storm first brought high winds on Thursday.
Never miss an important story, Follow us on Facebook, and on Twitter