London weather: Forecasters warn ice could cause commuter chaos after 'coldest night of year'

Evening Standard
12/12/2017
 Video provided by Met
Icy conditions could cause chaos for rush-hour commuters following another night of sub-zero temperatures in London and across the UK.
The Met Office has issued a warning over stretches of ice on the capital's roads, pavements and cycle paths as millions of Londoners head to work.
Forecasters had predicted the coldest night of the year so far with some regions witnessing -15C, beating Sunday night's low of -11.6C in Northumberland.
© Provided by Independent Print Limited A yellow weather warning in the capital and the South East has been extended until 11am on Tuesday, following a period of prolonged snowfall.
The Met Office stated: "Ice is expected to form on some surfaces from late Monday afternoon and last overnight into Tuesday morning.
"There will probably be icy stretches on untreated roads, pavements and cycle paths with some injuries possible from slips and falls."
It is expected to stay dry and sunny throughout Tuesday in London, but with temperatures not exceeding 3C.
On Monday, the deep freeze left thousands without power across the country and hundreds of schools were forced to close. Meanwhile, commuters on the roads, rail and airways were hit by delays and cancellations.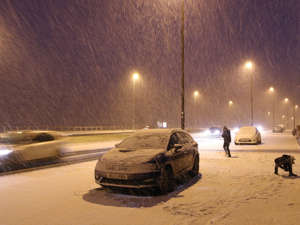 © PA Falling snow in Whiltey Bay, as heavy snowfall across parts of the UK is causing widespread disruption, closing roads and grounding flights at an airport. The AA had its busiest day of the year with around 25,000 calls from motorists, but said it expected a similar day today.

AA president Edmund King said: "We expect Tuesday to be extremely busy as temperatures plummet overnight, causing even more hazardous conditions on already wet and slippery roads.
"All of our patrols are working hard throughout the country to help those broken down or stuck in ice and snow and we have plans in place to ensure our call operators can travel to and from work safely to answer emergency breakdown calls."
The British Red Cross has been out in force across the UK with teams as far north as Caithness checking on vulnerable people with power cuts, and volunteers in Wales transferring staff and supplies between hospitals in weather-hit areas.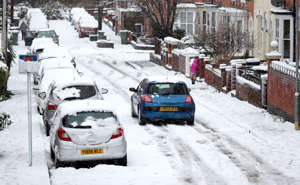 © PA Motorists brave the snow in Worcester, as heavy snowfall across parts of the UK is causing widespread disruption, closing roads and grounding flights at an airport. Simon Lewis, head of crisis response at the British Red Cross, said: "Since Friday, our volunteers have been helping medical staff reach patients, and checking on vulnerable people in rural areas, especially after power cuts.
"Our 4x4 ambulances have also provided essential support in these dangerous conditions.
"Our volunteers have shown fantastic commitment to their communities these last few days and I'd like to thank them for their considerable efforts in what have been challenging circumstances."
The TUC called on employers not to force staff to make hazardous journeys into work, saying firms in areas of the country affected by the snowy conditions should have put out advice to their staff on what to do when snow, ice and a lack of public transport prevents them getting to work.

Policies should also cover what parents should do if schools close and they have no alternative childcare, said general secretary Frances O'Grady, adding: "It is essential that employers don't force staff to make dangerous journeys for the sake of presenteeism.
"For many employees the bad weather will have made their commute virtually impossible, but thankfully many bosses now have 'bad weather' policies so staff know what is expected of them."
Never miss an important story, Follow us on Facebook, and on Twitter