A peek inside the next BMW 3-series

CAR
14/11/2017
A peek inside the next BMW 3-series
© Bauer Media 2017
► Next-gen BMW 3-series details
► Latest spyshots reveal interior
► 3cyl tech, hybrids galore for G20
Related: BMW 3 Series - What you need to know (Press Association)
Latest spyshots have given us our best look yet inside the next BMW 3-series, including a full digital instrument panel, likely to be made available on high-end variants.
The next  3-series, codenamed G20, aims to close the gap with the new class-leaders, the latest Mercedes-Benz C-class and new Jaguar XE.
Gone are the days of BMW hegemony in this important sector, and they're pulling out all the stops to close the gap.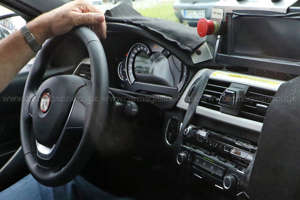 It's not so long ago that Munich released a facelifted version of today's 3-series, but we can lift the lid on its successor - the all-new model is coming in 2018. This is BMW's best-selling model by some margin - it's vital that they gun for class honours.
Our latest spy shots – click on the image above to browse the full gallery – also show a plug-in hybrid version testing, with an extra 'fuel cap' in the left front wing, concealing the socket for the charging cable.
And if you're interested in the high-performance BMW M3 derivative, codenamed G80 and on sale in 2020, don't miss our separate detailed scoop here.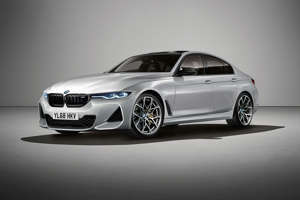 CAR has built its own artist's impressions (above) to show how the go-faster 2020 M3 will look, building on the basic 3-series bodyshell with a sporting bodykit wrapped around a water-injected, turbocharged straight six mustering close to 500bhp.
The big news is the addition of all-wheel drive - a first for an M3. Read our full report for the full skinny on the new M3.
New BMW 3-series design: 'modern without bling, functional yet more emotional'
The current 3-series is aerodynamically efficient and cleverly packaged, if a little generic in the BMW jellymould.
The design needs to move on, insiders admit, and it will do so by redefining the overall proportions, the relation between the more muscular body and the sleeker greenhouse, and the stance which will likely be sportier.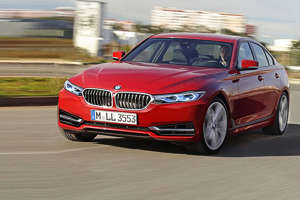 BMW 3-series G20 - CAR artist's impression Our artist's impression of the regular, non-M3 3-series (above) points to a modest refresh: sharper creases, harder edges, more adventurous radii and even tighter cutlines, our Munich moles suggest.
Audi has become very good at putting these difficult features into production, and BMW should also be able to machine a more distinct quality touch into the sheet metal of G20.
What helps in this department is the highly flexible new architecture known as CLAR - short for cluster architecture, which is set to form the backbone of all future rear-wheel drive BMWs.
Quality: target the same level as Audi and Mercedes-Benz
Forget for one moment planned eye-catchers such as polished wheels, matt paint, LED matrix headlights and motorised grille louvres. These items may be currently en vogue, but the next 3-series is less about equipment-related bling than the car it replaces.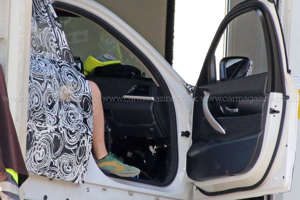 It's more about substance, character, craftsmanship, visual and haptic quality, say our sources. Which is relatively easy to implement but positively expensive to fund, especially for a mid-margin high-volume product like this.
But to close the gap to the competition, BMW must invest in better materials, enhanced specification and higher-quality details such as carpets, rubber seals and sill covers. While G20 will again offer a choice of equipment packs, this time it is safe to expect more content as well as more variety and better value for money.
Expect the option of upgraded sport brakes, power boost for the M pack, bespoke assistance systems and a top-notch infotainment for the luxury model lines.
Efficiency: enter three-cylinder engines and a scalable hybrid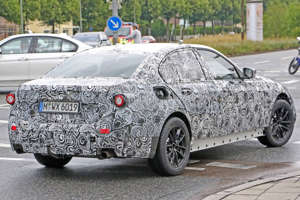 The G20 3-series is all set to undercut the 100g/km CO2 emission mark by introducing the miserly three-cylinder engine to the near-premium segment. While the new 316i will be powered by the 136bhp 1.5-litre unit we know from the 218i, the 316d shares its 122bhp diesel with the Mini Cooper D.
One rung up, the modular 2.0-litre fours are going to account for the lion's share of future 3-series sales.
Other new engines include:
3.0-litre sixes which gain approximately 30bhp in power and 30Nm in torque over the current vintage 
328i is rated at 260bhp
340i six-pot good for 365bhp 
330d and 340d remain loyal to the classic straight six 
M3 and M4 straight six, e-chargers and water injection for 500bhp
As far as electromobility goes, we should see at least two plug-in hybrids: - a 1.5-litre version with a 60kW e-motor good for a 30-mile range, and a 2.0-litre model with a 90kW e-motor permitting a 50-mile radius.
Ergonomics: innovative integration of software and hardware
As far as assistance systems go, the new 7-series sets the template for the G30 new 5-series and its little brother, the G20 Three. This car will park itself via remote control, stay in lane or change lanes, overtake self-actingly under certain conditions, brake when required, monitor turns and crossroads, drive semi-autonomously on the autobahn and in stop-and-go traffic at up to 40mph.
Although the cockpit looks familiar, it boasts a variety of fresh TV quality instrument graphics, a more comprehensive head-up display, and a large colour monitor in the centre stack which blends touchscreen access, gesture control and voice activation with the good old iDrive handwheel.
In hybrid variants, the driving experience switch and the drive mode selector will be combined in a single manettino-style toggle, sources say.
Dynamics: the fusion of a cushier ride with sporty handling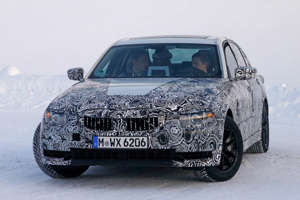 Unlike the C-class and the new 5-series, G20 will not be offered with optional air suspension. But it will get adjustable dampers, switchable anti-roll bars, second-generation active steering and a new torque vectoring system which piggybacks ABS and DSC.
The longer wheelbase, wider track, lower centre of gravity and lighter kerb weight should enhance handling and roadholding, too.
Also on the cards are stronger brakes, reduced-friction wheel bearings, adaptive elastokinematics including track and camber modulation, xDrive AWD with faster torque distribution and aluminium-carbon-fibre compound wheels. While xDrive is a box to be ticked by the new 420bhp M350i MPA (M Performance Automobiles) model, M3 and M4 may again stick with two-wheel drive.
Follow us on Facebook and on Twitter
______________________________________________________________________________________________
Related: BMW electric '3 Series' revealed (Auto Car)