Kia Picanto 1.0 2 (2017) review

CAR
09/05/2017
Kia Picanto 1.0 2 (2017) review
© Bauer Media 2017
► All-new Picanto driven
► Tested with 1.0 three-pot engine         
► And in biggest-selling 2 spec
Zippy, characterful and cheap-to-run, a well-executed city car is one of the pleasures of motoring – and a difficult challenge for car makers to get right. Kia's all-new Picanto nailed the brief when we drove the GT-Line 1.25 model earlier in 2017, but how does it fare decked out in the trim and engine combination which the bulk of its customers will actually plump for?
Bereft of the GT-Line version's stylish bodykit and giving away 20bhp to the 1.25, is this mid-spec model still all the city car you'll ever need?
Video provided by Auto Express
What's happened to the angry looks?
It's the aggressive GT-Line bodykit – or lack thereof – on this one-up-from-poverty-spec 2 version. The sports front and rear bumpers are gone, as are the slightly OTT twin exhaust pipes, LED daytime running lamps and 16-inch alloy wheels.
Instead, customers are treated to a more Plain Jane exterior lacking much of the GT-Line's flair. Rarely does a city car's spec have such an impact on its appearance.
How does it drive?
Unsurprisingly the Picanto is happiest in an urban environment with its small engines, neat dimensions and turn-on-a-penny manoeuvrability.
And yet, it's far from a one-trick pony. Overall refinement is impressive and manages to put a number of larger cars to shame. There's a noticeable absence of significant wind noise and the smaller 14-inch alloy wheels supress tyre roar well.  
The coaster like-rims also have a pleasing effect on the ride quality. Going over a bump or crack in the road produces little drama, with the whole chassis working to minimise cabin intrusion. You don't have to worry as much about scuffing the wheels on urban kerbs, either, as they're shielded by high-profile tyres.
The five-speed manual gearbox is another highlight, offering up a short and pleasantly precise throw. You certainly need to work it in order to get the best of the engine, but doing so is a surprisingly enjoyable experience.
So it's just as good as the 1.25 GT-Line?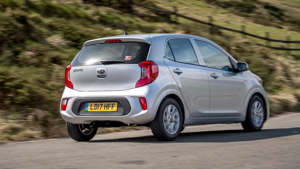 Not quite. While the 66bhp 1.0-litre motor is the usual characterful and thrummy three-pot affair, it's not turbocharged. Torque, therefore, is 90 vs 71lb ft in the four cylinder's favour and when you're pulling around just a thousand kilos of Kia, that extra oomph makes a difference.
Make no mistake, it's plenty capable in and around the city but venture elsewhere and you'll start to wish you'd gone with the 1.25. You need to actively plan ahead for upcoming hills, while motorway ventures are best kept sporadic if you want to keep the engine in its comfort zone.
The character of the 1.0-litre doesn't quite suite that of the Picanto either. While the 1.25 will rev-out in a smooth and linear fashion right to a heady 7000rpm red line, the three-pot is more reluctant, preferring instead to reach its 5500 rpm peak and then politely ask for a gearchange. It's at odds with the rest of a car intent on squeezing every last bit out of its components.
That carries over to the handling, too. We drove both the 1.0- and 1.25-litre cars over a selection of twisty country roads and can report that the latter is noticeably more fun. Odd, since Kia insists the chassis and suspension setup is identical.
The steering is weightier and more positive, something which we can only put down to the larger 16-inch wheels of our 1.25 test car and the slightly heavier engine's extra weight over the nose.
What's the equipment list like on 2 spec cars?
Most of the important stuff is on there, including air-con, all-round electric windows and an FM/AM radio, and goodies such as Bluetooth, a leather-trimmed steering wheel and a glossy centre fascia make it feel a touch more upmarket.
Also encouraging is the presence of dinky 14-inch alloy wheels. They don't sound like much, but you'd usually be restricted to steelies with hubcaps on rims of this size.
As with most Kias, there's not much in the way of options save for a broad selection of metallic paint and interior colour packs. One option you may want to spec, however, is the Advanced Driving Assistance Pack (ADAP) at £350. Adding autonomous emergency braking, it comes as standard on 3, GT-Line and GT-Line S models.
Verdict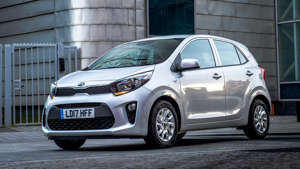 The Kia Picanto has all the makings of an excellent city car. It's small, nimble, cheap to run and punches well above its weight for refinement and standard equipment on higher-trim cars.
The three-cylinder engine is perfectly fine for trundling around the city, but if you plan on doing much in the way of motorway driving we'd opt for the 1.25. It suits the car's energetic character and shouldn't cost much more to run, offering up quoted fuel economy of 61.4 to the 1.0-litre's 64.2mpg.
That said, it may be worth waiting a little longer for the 99bhp turbocharged version of the three-cylinder motor, due at the end of 2017. Keep an eye out for CAR's first drive in the coming months. 
Specs
Price: £10,750
Engine: 998cc 4cyl petrol, 66bhp @ 5500rpm, 71 lb ft @ 3500rpm
Transmission: Five-speed manual, front-wheel drive
Performance: 13.8 sec 0-60mph, 100ph, 64.2mpg, 101g/km
Dimensions: 3595/1595/1485