Amitabh Bachchan pens heart-rending note on the death of Aishwarya Rai's father

India Today
20/03/2017
© Provided by India Today The Bachchans are going through a difficult time. Aishwarya Rai Bachchan's father passed away on Saturday, after a prolonged battle with disease, leaving the family bereaved. Amitabh Bachchan penned an emotional note after the loss. Taking to Twitter, he wrote, "Death has but one end, and words cannot define it."
T 2468 - Death has but one end .. and words cannot define it ..!!

— Amitabh Bachchan (@SrBachchan) March 18, 2017
The actor also expressed his grief on his blog, where he wrote, "That call you wait anxiously knowing that it will come, and come it does to end all other calls .. glimpses of reactions in the mind, of the lost one, of those that shall reflect on the lost one .. and suddenly then in the midst of sorrow and grief among the grieved and grieving .."
Big B added, "That walk to the ultimate destination and the reality...Embracing the tragedy, the discussions on its transport, its rituals, its formalitiesâ€...The custom, the tradition, the visitors with the sadness and the embrace of consolation, the last rites, the carriage, the placement, the cremationâ€...What to say what to put out where to put to.. All laden with grief and departure."
Krishnaraj Rai breathed his last on Saturday at the Lilavati Hospital in Mumbai, where he had been admitted to the ICU and put on a ventilator. His funeral was held at the Vile Parle Seva Sansthan Shamshan Bhoomi. Bollywood personalities like Shah Rukh Khan and Sanjay Leela Bhansali came to pay their last respects.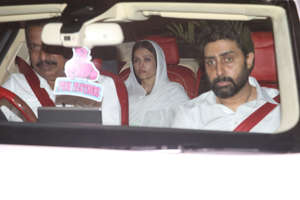 More from India Today

India Today