Justin Bieber is shirtless as he leaves India. See his exclusive photos

The Indian Express
15/05/2017
© Indian Express
After a glamorous concert at Mumbai's DY Patil Stadium, Justin Bieber has finally left India. The Canadian pop singer had come to India with the most lavish demands which had reportedly included a jacuzzi, 10 luxury sedans, two Volvo buses, a ping pong table, PlayStation and many more. The "Baby" singer was supposed to be in India for five days, and visit historic places like Jaipur and Agra. Reportedly, he even had plans of riding a camel and getting a picture of himself, sitting on THE BENCH of the Taj Mahal. But he probably couldn't extend his stay because of the terrible heat the country has to bear every summer. We have got our hands on photos of the singer at the airport and he is without his shirt as he gets off a car.
The "Sorry" hitmaker even ditched a yacht party which was attended by many A-listers of Bollywood. However, the singer had spent time with the underprivileged kids in Mumbai and indulged in a game of football with them before his concert at DY Patil Stadium.
Justin Bieber's concert was one of the most awaited events this year that witnessed a massive crowd. The singer is supposed to perform at Johannesburg, South Africa on Sunday, hence that might probably be his next stop unless he wishes to drop in some other country and do a little sightseeing. If there was game where he is brilliant, it would be the game of hide and seek. Although all eyes were on him, ever since he came to India hardly anyone could spot him when he decided to take a quiet midnight stroll at the Gateway of India in Mumbai.
Recommended: Bollywood stars at Bieber's concert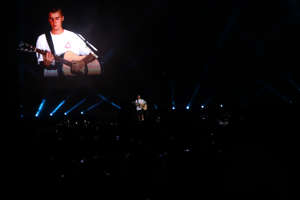 Bollywood stars at Justin Bieber's India concert