EXCLUSIVE: British teenager who stunned America's Got Talent judges has been BUSKING across the UK to fund singing lessons and to give her father petrol money

Daily Mail
14/06/2018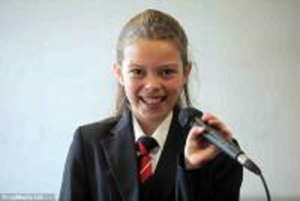 The schoolgirl, pictured in uniform at The Academy at Shotton Hall, in Peterlee

America Got Talent's singing sensation, Courtney Hadwin, has been been busking across the country in order to fund her dream MailOnline can reveal.
For the past two years the girl who has wowed America has been performing on the streets of the UK to pay for her singing lessons.
The money also goes towards her dad, Paul, to help pay for fuel to take her to gigs and to her favourite busking spots in London, York and the North East.
But the talent, which blew away the AGT judges and earned her the Golden Buzzer straight through to the finals of the show, has not gone down well with fellow buskers the teenage sensation's granddad said on Wednesday. 
In his home in Inverness the proud grandfather, Tom Storey, a security guard, told the MailOnline:' The shopkeepers and the punters love Courtney but the other buskers don't. 
'They keep asking her to move away because she is always the big attraction and attracts the crowd. It doesn't go down well with them.
'Although she is shy and retiring as soon as she gets a Mike in her hand she becomes another person. Simon Cowell even said that on America's Got Talent.
'It's a complete transformation in character.
'The busking has been paying for her music lessons and for petrol money.'
'If she wins the million pounds it will be some transformation of the familiy's finances.'
Tom, 60, revealed to the MailOnline that Courtney chose to enter the American version of the show rather than Britain's Got Talent because the 'UK doesn't get her' and they are 'confidant she will do well in the US'.  
He believes that Courtney would crack the States after her disappointment of losing out in the UK's The Voice Kids.
He said: 'we always believed she would do well in the USA. We knew they would get it in a way that the UK didn't.
'We believed in her and knew that she would go down a storm over there.
'I am so proud of her. I wanted to tell everybody about the US audition but we were sworn to secrecy. 
'My partner, Aileen, and I were told we would be disowned if we breathed a word. It was hard to keep the secret. I was bursting with pride and wanted the world to know. They know now alright.'
The grandfather revealed the other heartache and the torrent of abuse that came after The Voice.
He said: 'Poor Courtney received dogs abuse after it. Online people were quite cruel saying she was not a singer but a shouter but for every one which abused her there were hundreds praising her. She came through it but it was upsetting.'
And Tom told MailOnline that all Courtney's stunning dance moves are self taught.
He said: 'She watched James Brown and practiced all the moves. He is one of her heroes. She also loves Janice Joplin and Otis Reading. A lot of youngsters nowadays have probably never heard of them but they are an inspiration to Courtney. She's got an old head on young shoulders.
'She's back home now and I spoke to her this morning. she's got her feet firmly on the ground. She's more tired than excited. We are going down in next month and I can't wait to give her a big hug'.
Courtney's dad was with her in the States.
Mum Ann-Marie, Tom's daughter, stayed behind to look after her young sister and brother, Melissa and Paul.
Said Tom: ' Melissa is a good singer but has not got the dedication of Courtney who began singing at nine. Young Paul can't sing. Theresa's no history of music in the family only my father who sung like Mario Lanza.
'Ann-Marie is not a singer and neither is dad Paul. We don't know where Courtney has got it from but got it she has. She's also learning keyboards'
And already the 13-year-old schoolgirl sensation knows exactly what she wants to do in the future.
Said proud as punch Tom: 'She wants to make it in big but if that doesn't happen she has an ambition to be a music teacher'. 
Earlier on Wednesday an unearthed video showed Courtney showing off her stunning singing voice at a school open mic night three years before she appeared on the US TV show. 
The schoolgirl was filmed performing in the atrium of The Academy at Shotton Hall, in Peterlee, County Durham, in September 2015.
What is the golden buzzer?  
The Golden Buzzer gives each of the four judges and the host the opportunity to send an act straight to the quarterfinals.
This allows the act to skip a judge vote and more rounds of competition.
Each judge can only use the golden buzzer once during the auditions stage of the competition.    
Mandel became the third to use the golden buzzer this season, following Tyra Banks, who used it for acrobatic group Zurcaroh and Cowell who used it for singer Michael Ketterer.
Then just 11 years old and in year 7, Courtney is seen confidently belting out Great Big World and Christina Aguilera's soaring duet, Say Something, into a microphone set up on the mezzanine - leaving her teachers and peers in awe. 
The video was uploaded to the school's Facebook page and has since been viewed nearly 5,000 times. But that is just a fraction of the attention that Courtney has garnered for her latest performance.  
Courtney, now 13, has become an overnight sensation following her amazing audition on Tuesday night's episode of America's Got Talent.  
She received a standing ovation from all four judges for her stirring rendition of Otis Redding's Hard to Handle and impressed Howie Mandel so much he hit the 'golden buzzer', fast-tracking her to the live quarterfinals.  
The teenager is no stranger to talent competitions, having narrowly missed out on the top prize on The Voice Kids UK last year.
But unlike many budding stars Courntey is not a show-off when she is away from the spotlight. Indeed her own grandfather describes her as 'painfully shy'. 
Courtney, a student at The Academy at Shotton Hall, in Peterlee, has been performing locally since primary school but first made headlines last year when a video of her singing during a lunchtime open mic session went viral.
She is supported in her singing by her mother Annmarie and father Paul, who have sent her to lessons to help train her voice. She is an older sister to Paul and Melanie.
In a 2016 interview, Mrs Hadwin described how her daughter, then just in primary school, worked tirelessly on her voice. 
She said: 'She comes in from school, does her homework and then she practises singing every night.'
Speaking to FEMAIL today, neighbour Lesley Creamer told how she hears the talented teenager 'singing through the walls'. 
© Provided by Associated Newspapers Limited The emotional schoolgirl hugged her father on stage amid the thunderous applause
She added: 'She doesn't really speak but when she sings, you can really hear her.'
Courtney's quiet nature was apparent when she stepped on stage to audition in the packed auditorium during a trip to Los Angeles earlier this year.
She was reassured by judge and former Spice Girl Mel B, who said: 'I know this is a big stage with lots of people here but you're here for a reason so go for it and good luck.' 
Child star: Courtney's achievements so far
By the age of 11, Courtney Hadwin, now 13 had already: 
As the music started, Courtney's nerves disappeared and she launched into a confident performance of Redding's 1968 hit, complete with enthusiastic dance moves befitting of a fully-fledged rocker.
Host Tyra Banks, who was watching from the wings with Mr Hadwin, was left in awe of the performance. 
The transformation stunned judge Simon Cowell, who said: 'Bloody hell Courtney. 
'You were this shy little thing when you came out. Then you sing and you're like a lion. I mean, genuinely incredible.'  
But it was comedian and actor Mandel who sealed her fate. 
The judge compared the 13-year-old to Janis Joplin, who won a record deal as a youngster at a festival. 
Though he couldn't offer a record deal, he said the best he could do for Courtney was to press the Golden Buzzer, parachuting her straight to the live show. 
'You are not from this era. You're from a whole different era,' he said. 
Each judge can only use the Golden Buzzer for one act during the audition stages, so the Canadian was clearly overwhelmed by the teenager's talent.
Courtney was joined on stage by her father, who hugged her as she wiped back tears. Mandel and presenter Banks later joined the singer on stage.
Courtney later posted on Twitter: 'I didn't know what to expect when I auditioned for @AGT but the golden buzzer was more than I ever could have dreamed of. Thank you so much @howiemandel I am so happy and can't thank you enough xx'.
The 13-year-old will now appear before the judges on the live shows, where audiences will play a role in deciding whether she takes home the $1million prize.
Courtney and Mr Hadwin are believed to have travelled to Los Angeles for the auditions earlier this year. It is thought they will return to the US for the live shows. 
Hometown star 
Courtney has been singing for a number of years, after taking singing lessons. 
She has appeared at local open mic nights and concerts, including the South Tyneside Festival in July last year where she entertained more than 18,000 fans. 
After Courtney was nominated in the Best of Hartlepool competition in 2016, her mother Annmarie said: 'I am so proud of how she has done in the last two years.
'She comes in from school, does her homework and then she practises singing every night... She works really hard and never really goes out with her friends as she is always busy.'
Speaking to FEMAIL, neighbour Ms Creamer, who works in the local post office, said she hears Courtney practising from next door. 
'I have known her since she was tiny, I can hear her through the walls,' she said. 
'When we moved next door we heard her all the time. She doesn't really speak but when she sings, you can really hear her.
'She's always had that voice and she's always singing. She's always sang old songs and has the best voice.
'I watched America's Got Talent on my phone this morning and I was just like 'WOW!'
'People were saying she hadn't got through but when I looked I saw she got through and she got the golden buzzer. She did well in The Voice as well.
'The family are so nice, it will mean a lot to her to be in the live final.'
Sharon Boardman's daughter Chloe Boardman, 12, went to primary school with Courtney. She described Courtney's voice as 'lovely'.  
The 48-year-old said: 'It was amazing to see her on the telly and nice to see her.
'They are a lovely family, I don't know her really well but I say hi to her mum and dad. She has got a good voice.'
Neighbour Ruth Tait, 79, added: 'It is nice to hear that she is doing so well. If she wins a million dollars at 13-years-old I would imagine she would be set up for life. 
'I'm very proud of a local girl making it onto such a big stage.' 
Social media sensation      
Courtney first made headlines in June last year when a video of her performing solo in a classroom went viral, Chronicle Live reported.
Courtney left classmates in awe when she belted out Great Big World and Christina Aguilera's Say Something during the open mic session hosted by music teacher Dan Robson.
The video of Courtney's performance was uploaded on the school's Facebook page, where it was met with likes and comments from excited fans. 
She told the publication at the time: 'I haven't been able to walk down the corridor at school without someone stopping me and saying 'well done'; it's been weird but good at the same time.
'I don't really get nervous so even though I was singing in front of hundreds of people I just got on with it.'
Like many aspiring chart-toppers, Courtney has already built a devoted fan base online. 
The teenager regularly posts on Twitter, YouTube, Instagram and Facebook, where she keeps fans updated with upcoming performances and new releases. 
A recent Instagram post shows Courtney sitting at a computer holding a sheet of hand-written song lyrics. 
Another social media clip captures the schoolgirl rehearsing a new track at her keyboard at home.  
The posts are often met with excited comments from fans, who praise her as 'great' and 'amazing'.
The Voice Kids 
Courtney was just 12 years old when she appeared on ITV children's talent show The Voice Kids last summer.
However the aspiring singer was initially less successful than she was on America's Got Talent, with just one of the three judges - McFly star Danny Jones - turning around at her audition.
She stuck to her rock and soul roots, performing Ike & Tina Turner's Nutbush City Limits and Martha and the Vandellas' hit Dancing in the Streets in the first two rounds of the competition.
She followed it up with a third classic, James Brown's I Feel Good.
Courtney showed off her dance moves throughout the talent show, giving judges and viewers a powerful all-round performance. 
It was enough to earn Courtney a place in the live finals of the show, which returns to ITV this summer, under the guidance of mentor Jones. 
Speaking ahead of The Voice UK semi-finals, the schoolgirl's grandfather, Tom Storey, told the Inverness Courier he was 'over the moon' at her success. 
He also revealed she was 'painfully shy'. He said: 'If you ever met her you would hardly believe she was the same girl singing and dancing on that stage. 
'But as soon as she gets a microphone in her hand, well, it's like two different people.'
However she missed out on taking home the top prize, which was won by 14-year-old Jess from Essex.
A special message from MSN:

Nine million people across all age groups and walks of life in Britain are affected by loneliness. We've partnered with giving platform Benevity to raise funds for three charities - Mind, the Campaign to End Loneliness, and Wavelength – to tackle this debilitating and complex issue. You can help make a difference - please donate now.