Whitney review: dark family secrets help explain the diva's sad demise

The Telegraph
3 days ago
Dir: Kevin Macdonald; 120 mins; cert tbc
The second and more "official" feature documentary about the steep, upsetting parabola of Whitney Houston's life, Kevin Macdonald's Whitney comes about a year after Whitney: Can I Be Me, Nick Broomfield's exploration of her pressurised career and drug-assisted burnout. That film lacked either the endorsement or extensive involvement of the Houston family, above all her mother, Cissy Houston, presented there as the main architect and oppressive controller of her fame.
Watch Whitney documentary trailer (Provider: LA Times)
The danger is what protective agendas might colour the exercise. It's curious that Cissy appears only at the very start of the film, interviewed briefly in the very church where her daughter's funeral took place. This doesn't help the cause in terms of allaying a viewer's doubts: it feels like Macdonald is taking care to placate Cissy and give her a degree of authorship.
© Provided by The Telegraph Whitney Houston with her mother Cissy CREDIT: ROBIN PLATZER
Whitney's ex-husband, Bobby Brown, is a star contributor on paper, but he clams up totally when Macdonald tries to steer the conversation towards drugs, with the revealingly sinister comment, "That's not what this film is about."

Macdonald shows he's under no obligation to agree, though, and there's clearly an inner circle of trust he thinks can be fruitfully accessed. Sometimes he's right. Plenty of his other interviewees fill in the blanks – especially Whitney's two brothers, who bombastically confess to their own drug use, and one of whom, Gary Garland, says he was molested as a child by a female relative.
Whitney's aunt, Mary Jones, who found her body in the Beverly Hilton hotel, has much to add, including the brand-new detail that this abuser was in fact Whitney's older cousin Dee Dee Warwick, sister of Dionne. The revelation feels all the more convincing coming from such a sympathetic source, and gives the film a news value otherwise somewhat lacking.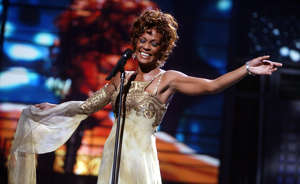 © Getty Singer Whitney Houston There's no one explanation, obviously, for how a career as dazzling as Houston's was from about 1985-1999 could implode so quickly and distressingly over the next decade. The film deals with earlier setbacks – like the demoralising moment when she was booed at the 1988 Soul Train awards, essentially for sounding too white. There was a tug of war at that stage of her career between "fad music" and "legacy music". 

However beyond her own control it might have been, this packaging of Whitney's talents didn't halt her ascent to megastar status when The Bodyguard came out in 1992, providing her not only with a global blockbuster hit, but the best-selling single by a woman in music history: the repurposed Dolly Parton ballad which not even igloo dwellers could avoid after the film opened.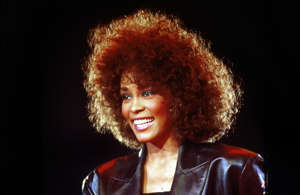 © Getty American singer Whitney Houston, June 1988. Whitney's sexuality is still a matter of thorny dispute, not least because of Cissy's disapproval – absent here – of her close relationship with creative director and some-time lover Robyn Crawford. Garland doesn't come off well when he refers to Crawford as "evil, wicked" and "a nobody" whose influence on his sister he didn't like.

It's acknowledged that the family's homophobia was a troubling factor, and even – according to Mary Jones – that the aforementioned childhood abuse could have complicated Whitney's sexual preferences in adulthood, explaining the forced normativity of the Houston-Brown marriage.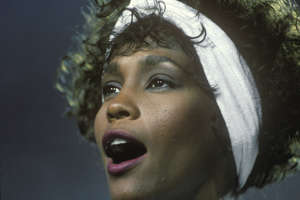 © Getty Singer and actress Whitney Houston Public mockery of Houston's declining health, after a disastrous Diane Sawyer interview in 2002, was brutal and debilitating, too – we get a clip, for instance, from a hideously unfunny Family Guy episode pillorying her emaciated body and need for a fix. The film is oddly unmoving as a memorial, but as with Amy Winehouse, it inspires a collective mea culpa for the feeding frenzy of public judgement that only turned to sympathy when it was far too late.

Whitney is showing as part of the Cannes Film Festival and will be released in the UK on July 6.
Related: Whitney Houston: Her Life in Pictures (Provider: People)
Whitney Houston: Her Life in Pictures For more of the most popular News, Sport, Lifestyle & Entertainment on MSN, Follow us on Facebook, and on Twitter